NEVER SAY DIE!
Posted on April 18th, 2017
By Dr. Tilak S. Fernando
'Never say die' was the slogan adopted by Senaka Edirisinghe in Kandy, from the time his daughter Jeewanthi was in his wife's womb.
At first, it was a hard fought battle with the gynecologist who monitored his wife's pregnancy from the beginning. The baby was due on 24th October 2009, but the birth did not take place on the date. Meanwhile, Mrs. Edirisinghe, through her maternal instincts, became apprehensive when she felt 'less movement' of the baby, which was conveyed to her husband.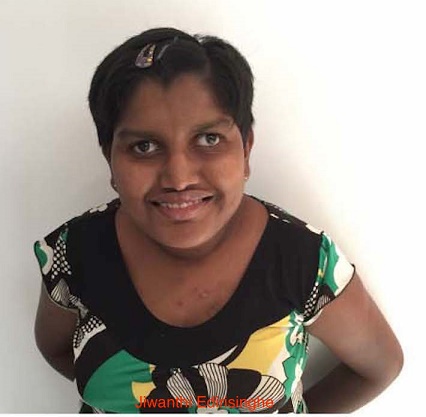 Senaka panicked and contacted the gynecologist, who paid no heed to his comments! Worried Senaka then became an irritation to the medical team and began to plead with the doctors to perform a caesarean operation "to save his wife and the unborn child," but the attitude of the medical team at the Peradeniya Hospital was inconceivable.
Finally, the medical team, on their own decision, performed the caesarean operation on 6th November 2009 but, as expected by the child's parents, it was too late! The newborn baby suffered from brain damage due to 'starvation of oxygen' as a consequence of which, the child did not cry like any other normal baby when born, except a minor squeaking; she did not cry at all for three long years!
Dyslexia
During this traumatic period of three years the child's parents contacted medical experts to seek further advice on her condition, but only to be informed that the child was suffering from dyslexia and 'there was no medicine for it'!' From the time of her birth, Jeewanthi's speech and language skills followed a different development pattern in comparison with other normal children of the same age. At 4½ years of age, Jiwanthi started to crawl progressively but took her own time to develop her speech. Her father steadfastly trained her to walk and helped her with physiotherapy exercises to tone up her under-developed calf muscles. When it came to a stage where she needed assistance 24/7, Senaka Edirisinghe resigned from his lucrative position in the hotel industry to attend to his daughter's daily needs.
Schooling
In 2004 she was admitted to Mahamaya Girls' School, Kandy where she had her primary education up to the 5th Grade, where the same teaching staffs were deployed, but from 5 – 13 grades was a different kettle of fish with the interchange of teachers for different subjects. A male teacher was allotted to cater for children with special needs, but he visited the school only once a week for ' special education'. This hindrance was compounded when the Principal at Mahamaya Girls School decided that 'no girl should be left alone with the male teacher' at any time, unless at least one of the teaching staff was in the vicinity.
Perturbed Senaka Edirisinghe did not want to make a hue and cry about the Principal's decision, which he thought would affect his elder daughter's progress, who was a student at Mahamaya Girl's school at the time. Instead, diplomatically he removed Jeewanthi from Mahamaya Girls School and made arrangements for her to attend St. Anthony's Girls School at Katugastota in 2007.
Gratitude
Senaka Edirisinghe makes no bones about expressing his gratitude publicly to Randeniya Fernando (Jeewanthi's class teacher) and Principal, Pathma Lekamge at St Anthony's Girl School, for identifying Jeewanthi's special aptitudes and capabilities in music as opposed to Mahamaya school's blatant rejection and impeding his daughter's progress on her refracted talents. "There was a complete lack of attention for differently- abled children at Mahamaya Girl's School, for there were no facilities such as training on drawing, dancing, music, sports and such things " Senaka Edirisinghe still vents his frustrated views.
In contrast, Lekamge encouraged and induced Jeewanthi's embryonic talents by requesting her to partake in every school concert to increase her emotional intelligence whereby to enhance her mental faculties psychosomatically.
Senaka, being a musician himself, was an asset to his daughter whenever she performed on stage by playing a backup musical instrument. When Mrs. Lekamge noticed the father and daughter rehearsing once, she made a bold a request for the duo to perform on stage during a school concert. They received a standing ovation at the end of their performance.
Accolades of Merit
Due to the vigour and encouragement she gained at St. Anthony's Girls School at Katugastota, Jiwanthi was successful in winning a Certificate of Distinction from the Sri Lanka Festival for Performing Arts in Vocals (solo) in 2011, and the special Gold Medal for Entertainment organised by the Kandy Educational Division in 2015. On 16th January 2017, Social Services Department coordinated a function to distribute educational scholarships for 100 differently-abled children in Kandy. Jeewanthi had the rare opportunity to perform in the presence of the Minister of Social Services, on that occasion, who was overwhelmed by this young girl's talents. The Minister walked up to the stage (after the concert), praised her and made an immediate request on the spot to the Director General Social Services to explore all possible avenues to help and propagate the future of this young lass.
With much hope and expectation, Senaka Edirisinghe and Jeewanthi travelled to Colombo one morning to meet up with the Director General, Social Services only to be disappointed and to be told, 'there were hardly any music teachers to cater for differently- abled children of Jeewanthi's calibre'. They were further informed that 'even if there was an opportunity, her training programme could be limited to a maximum of two months only!
Senaka Edirisinghe feels that the attitude of the officials of the department of education and social services towards this category of differently- abled children is awfully disconsolate in recognising their artistic talents and deflected abilities, and in providing facilities and opportunities for them to reach up to national level whereby they could receive the attention of the nation so that they will have some hope of a future.
He says, 'here is a clear cut case of proving commonsense as the most uncommon commodity', as otherwise, just by utilising Jeewanthi's already proven talents, the social services department along with the department of education could benefit by appointing her as an ambassador for differently-abled children to organise fund raising musical concerts throughout the country, the benefits out of which could be expended to improve facilities for such children as much as opening up obscured talents of differently- abled children!
With his resolute determination, Senaka Edirisinghe has managed finally, by his own efforts, where everyone else has failed, an institution that caters for the differently- abled children. The ACT4 has accepted Jeewanthi, as a visiting trainee, having observed her awe-inspiring performances, which of course, is at a cost.
The ACT4 is an organisation run by an NGO where 88 partly-abled children are already accommodated presently at their premises, while 350 children attend a specially organised fully loaded daily programmes, which incorporates psychomotor therapy, vocational training skills, computer coaching and guidance, Acqua treatment – such as swimming. The dedicated staff at ACT4 are volunteers from Holland, who work enthusiastically and completely free of charge, which drives the Sri Lankan Social Services and Educational pundits into a sense of perplexity and shame!
Jeewanthi will continue her schooling at St. Anthony's Girl School till the end of 2017. She performed at the Sirasa Avurudu Wasanthaya on the 8th of April 2017 at Delthota, sponsored by Sirasa T.V.
tilakfernando@gmail.com