Sri Lanka's loss – Australia's gain
Posted on April 28th, 2017
By Dr. Tilak S. Fernando
During the last week's Sinhala and Tamil New Year 'Nonagathe' period I stopped all work, in conforming to the centuries old Sinhala traditions prevalent in our society where the majority still observes with deep respect and follow such customs with profound emotion. Next, I picked up a book from my home library titled 'Cousins' written by a Sri Lankan intellectual who was attached to the School of English, Linguistics and Media in Macquarie University in Sydney, Australia.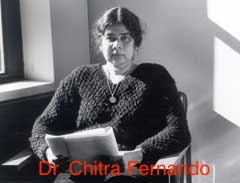 'Cousins' is a fiction based on a female character (Amitha) spanning over four decades of her life's experiences since her father's demise, concentrating on realities of real life. Focusing on Amitha's university days at Peradeniya, the author gives a comprehensive insight to the gulf between the 'exclusive' type and the 'Vidyalaya' kind of students, thus exposing the difference between the two groups – a true reality in Sri Lankan society.
As an arts graduate, Amitha becomes influenced by her deep feelings for the poor and disgusted with the recurring social injustices. This automatically draws her into a destructive social revolution between the under-privileged and the elite. Although she detests violence, yet, her sympathies go beyond her convictions towards its cause simultaneously. The author combines and projects this particular chaotic social and political phase linking with the infamous unrest between the privileged and the under privileged classes during 1972 and in 1982 in Sri Lanka.
'Cousins' is a mixture of fiction interwoven with Sri Lankan history. The Macquarie Light House Press published the book posthumously in 1999 (Macquarie University) as a tribute to her literary work after she became a victim of the terminal disease – bone cancer – in 1998. Her sister in London, Suranganie Fernando, invested on its second edition and got the book published by Sarasavi Publishers, Nugegoda in 2004, proceeds had been donated to the cancer charity in memory of her sister.
Early life
Chitra Fernando was born in Kalutara South to Arthur Fernando, a practising lawyer in Kalutara and Olive Fernando in 1935. Her early schooling commenced at Balika Vidyalaya, Kalutara, subsequently in Bandarawela and finally at Visakha Vidyalaya where her mother, Olive Fernando, was the matron at the boarding school. From Visakha she joined the University of Ceylon, Peradeniya, and graduated in 1959 with an Honours degree in English. After a brief career as an English lecturer at Visakha Vidyalaya, she worked as a temporary Assistant Lecturer in the Literature Department of the University of Ceylon, Peradeniya, until she was awarded a scholarship to the Sydney University, in 1961, where she achieved her MA status.
With much hope and enthusiasm she returned to Sri Lanka and joined the Department of Education to serve her people and the country, but murky politics in the Department of Education made her frustrated and disappointed when she was posted to rural area schools to teach English to Central School children with her MA degree! Coincidently, by a stroke of fortune, her professor at the Sydney University, under whom she did her MA degree, was appointed as the Head of the English Department to a new University in Sydney (Macquarie).
Unknown to what was taking place in Sri Lanka; the professor contacted her offering her a position in the English Language Department, Linguistic, on her merits. It was the moment that Sri Lanka's loss became a gain to Australia, when Chitra Fernando decided to bid goodbye to Sri Lanka. Her individual case was only the tip of the iceberg as far as the brain drain was concerned from Sri Lanka on roller coasters over the decades, due to political skullduggery in Sri Lankan administrations on the intellectuals and professionals.
In Australia
In Australia she became well known, accepted and admired internationally as a female writer and critic from Sri Lanka with her unembroidered contributions to worldwide journals. Throughout her career she published wide and varied literary pieces catering for children, adults, as well as to the English orientated academics. The Australian Radio adopted one of her stories in her book titled Kundalani, (a verse play) and broadcast on the National Australian Radio under the name 'Golden Bird.'
Although she settled down in Australia, out of frustration due to professional harassment during her short career in the Department of Education, she always focussed her writings with a Sri Lankan background and rural names to enrich and uphold the Sinhala literature while living in a foreign land. The plots in her novels and short stories were simple topics woven into fiction with factual experiences driving a broad cultural and/or moral message to the Sri Lankan society.
She published a children's book series, in collaboration with the Lake House Bookshops in Colombo, under the pseudonym 'Chitraleka', always-using rural names and Sri Lankan backgrounds, so that the simple minds could absorb what they read. A typical example could be highlighted as the story titled, 'A day in Siripala's life'. These stories were incorporated into books under various titles such as 'Glass Bangles', 'The Adventures of Senerat Bandara', 'Bempi Appu', 'The Crane and the Crab' and Kundalani.
Her fiction series included 'Three women', 'Between Worlds', 'Women There and Here',  all of which contained thought-provoking stories such as ' Road to Rome' 'Umbrella', 'Perfection of giving', 'Birds of Paradise' etc. Her other cutting-edge publications included 'An anthology of modern writing from Sri Lanka' co-edited with Ranjanie Obeysekera.
Dr. Chitra Fernando's reference book, 'Idioms and Idiomatacity' (Oxford University Press Publication – ISBN 0-19-437199-9), which was her thesis for the PhD, aims to explore the functions of idioms, what purpose they fulfill and aims to show how they are used. Her description of English in this book and the conclusions were drawn on material gathered from talk, letters, the media, and literature and academic writings. Throughout her thesis, her aim had been to demonstrate naturally occurring English, arguably also the most idiomatic.
The late Dr. Chitra Fernando used an adaptable and flowing style of writing in her novels, which is easy to read and understand, a remarkable talent for an academic to adopt so as not to overshoot the majority of readers' heads out of a rich language she was always accustomed to.
Reading Dr. Chitra Fernando's fiction 'Cousins' once again, not only helped me to kill time during the Nonagathe period, but gave an insight to what I had read about the terror, the killings and the total disruption as to how the general public had been through, which I had not seen or experienced, while I was abroad at the time.
tilakfernando@gmail.com