What Humbug: EU/US are blowing Muslim nations in the Middle East to the stone age but promoting Muslim rights in Sri Lanka!
Posted on June 3rd, 2017
Shenali D Waduge
It is hilarious that a group of EU & Non-EU envoys have gone to meet Muslim leaders at the Dewatagaha Mosque in Colombo. These ambassadors must take the people of Sri Lanka for fools or else they are living in a fool's paradise themselves. We ask these ambassadors to not violate diplomatic protocol by interfering in the internal affairs of nations and if they want to do any favors to Muslims, to stop bombing Muslim nations of the Middle East and destroying their ancient history by hiring trained terrorists. We must thank the EU nations for giving us the opportunity to showcase to the Muslims themselves the hypocrisy of a bunch of countries who are the real trouble makers of world chaos and disorder. To see the scale of anti Islam/anti Muslim, hate speech, discrimination and what attacks on mosques are the European examples are perfect for all Sri Lankans to wake up to the hypocrisies of these Western European Christian nations.
The EU bloc of nations comprise Austria, Belgium, Bulgaria, Croatia, Republic of Cyprus, Czech Republic, Denmark, Estonia, Finland, France, Germany, Greece, Hungary, Ireland, Italy, Latvia, Lithuania, Luxembourg, Malta, Netherlands, Poland, Portugal, Romania, Slovakia, Slovenia, Spain, Sweden and the UK
The European Court of Justice, based in Luxembourg, interprets the law for the 28-nation European Union, and its decisions are binding for member states. European Court of Justice (ECJ) allows employers to ban hijab.
European Islamophobia Report (EIR) declares that level of Islamophobia in the fields of education, employment, the media, politics, the justice system and the internet is on the rise.
According to Foundation for Political, Economic and Social Research (SETA) "Muslims are seen as the enemy 'within' Europe." The report goes on to note that "there is a wide consensus in Western societies that Muslims are not seen as equal citizens. Treating them as 'others' and subjecting them to differential treatment may also overlap with the dehumanization of Muslims.
Of the 137 mosques targeted in Europe in 2016, France saw the most with 60, followed by 54 in Germany, 21 in Sweden and two in Switzerland.
2016 – http://www.independent.co.uk/news/world/europe/thousands-take-part-in-anti-islam-pegida-protests-across-europe-a6857911.html thousands take part in anti-Islam protests across Europe
Vigilante groups across Europe
http://speisa.com/modules/articles/index.php/item.3026/vigilante-groups-are-emerging-in-europe.html
List of Islamic terror attacks
https://www.thereligionofpeace.com/attacks/europe-attacks.aspx
Europe's Muslims hates the West
http://thefederalistpapers.org/us/the-root-of-terrorism-europes-muslims-hate-the-west
Austria:
Passed legislation in 2015 banning foreign sources of financing and requiring imams to be able to speak German. Muslims make up roughly 560,000 of Austria's total population of 8.5 million. There were 156 assaults against Muslims in Austria in 2015, with the vast majority of incidents targeting women – 40% verbal attacks, 12% physical attacks on people, 5% discrimination, 3% graffiti. Guess what? As part of the 'integration law' Austria proposes to ban all Muslim face veils in public places in 2018. "We believe in an open society that is also based on open communication. Full-body veils in public spaces stand against that and will therefore be prohibited," The integration law includes mandatory German language lessons and value courses for all refugees and migrants arriving in Austria. Those who refuse to attend the courses, would be 'fined' by having their social benefits cut. So everyone's problem is learning Sinhala!
Belgium
6% of 11 million Belgians 'are Muslim. Anti-Muslim rallies in Flemish cities Antwerp and Ghent (2016). March 22, 2016, coordinated attacks at the Brussels international airport and a metro station killed 32 people and injured hundreds. ISIS claimed responsibility. Now Amnesty International says US has been supplying arms to ISIS! You can make your own deductions! Belgian Interior Minister Jan Jambon declared a significant" proportion of the Muslim community had been dancing" in the streets following the attacks on March 22; A significant section of the Muslim community danced when attacks took place,"
http://www.express.co.uk/news/world/653818/Molenbeek-terror-raid-Paris-attacks-Salah-Abdeslam-Belgium-riot-police
Belgium bans halal & kosher animal slaughter
http://www.independent.co.uk/news/world/europe/belgian-region-walloon-bans-kosher-halal-meat-islam-jewish-a7723451.html
Belgium was the 2nd country after France to ban full face veils in public in 2011.
Bulgaria
Bulgaria's Muslim population is one of the highest in the European Union – 7.3million. http://ottawacitizen.com/opinion/bulgarian-anti-mosque-protests-reflect-historical-memory
https://www.youtube.com/watch?v=jHjkrK5iMi8
Bulgarian police detain 120 after mosque attack
http://www.reuters.com/article/us-bulgaria-mosque-attack-idUSBREA1D1O820140214
Hate attacks: Bulgaria's invisible crime
http://www.aljazeera.com/indepth/features/2015/03/hate-attacks-bulgaria-invisible-crime-150302060433067.html
Croatia
Islam is the second-largest faith in Croatia after Christianity
2013 – Rocks were used to break the windows of the new Islamic center and mosque in the Croatian city of Rijeka.
Why an anti-Islam campaign has taken root in Hungary, a country with few Muslims
Cyprus
Cyprus bans Adhan at several mosques in 2015. http://www.yenisafak.com/en/life/cyprus-bans-adhan-at-several-mosques-2336744
Czech Republic
11,000 Muslims. President Zeman declared no one has invited the refugees," that the refugees are like a tsunami which will kill me," 90 percent of refugees are economic migrants," that the refugees are Islamists who are coming to subjugate Europe," that they are criminals." Yet according to a 2015 opinion poll 72.3 percent of Czechs like Zeman for his anti-refugee statements. An anti-Islamic group called We do not want Islam in the Czech Republic" received almost 140,000 likes on Facebook and presented a petition with 145,000 signatures to Czech Parliament, demanding that immigrants should be barred from the Czech Republic http://www.europenowjournal.org/2017/02/09/why-is-the-czech-republic-so-hostile-to-muslims-and-refugees/
Denmark
270,000 Muslims in Denmark
State broadcaster, TV2, found that a third of respondents believed the country was at war with Islam.
5 of the hate-speakers banned in 2017 were Muslims. 6 radical Islamic preachers were banned from entering Denmark.
http://www.euro-islam.info/country-profiles/denmark/
In 2014 Denmark banned halal and kosher animal slaughter
Denmark stops contributions to women who prefer burqa or niqab over job
Estonia
Estonian politician wants Koran banned in public places https://www.rt.com/news/338252-estonia-politician-ban-koran/
Foreign Minister of Estonia says Muslim migrants "invading Europe as part of a war against Christianity"
http://i-supportisrael.blogspot.com.au/2017/03/foreign-minister-of-estonia-says-muslim.html
Finland
Bahrain-backed mosque sparks 'Wahhabi' row in Finland
http://www.middleeasteye.net/news/bahrain-backed-mosque-sparks-integration-debate-finland-1930454778
France
France was the first European country to ban Islamic face veils, such as the burka and the niqab, in public places.in 2011. November 13, 2015 coordinated attacks in Paris at sites including a concert hall and sports stadium killed 130 people and injured hundreds. French Prime Minister Manuel Valls called for the banning of foreign funding of Islamic organisations
French authorities shut down 20 mosques and prayer halls they found to be preaching radical Islamic ideology since December 2016.
Anti-Islam in France http://parishightechnews.com/2017/05/anti-islam-in-france/
The anti-islam speech growing in France http://www.prismproject.eu/the-anti-islam-speech-growing-in-france/
France terror laws leaves Muslims in fear
https://www.theverge.com/2016/1/29/10860964/france-state-of-emergency-muslim-paris-attacks
Firebombs – Pigs heads thrown into mosques
http://www.independent.co.uk/news/world/europe/firebombs-and-pigs-heads-thrown-into-mosques-as-anti-muslim-attacks-increase-after-paris-shootings-9977423.html
Germany
91 mosques were attacked in Germany in 2016
http://www.hindustantimes.com/world-news/germany-says-91-mosques-were-attacked-in-2016/story-mXg8bwsNYFYWleFnHMI4SI.html
On 6 December 2016, Chancellor Angela Merkel said the wearing of full-faced veils should be prohibited in Germany "wherever it is legally possible".
Majority of Germans think Islam does not 'belong' in their country
http://www.independent.co.uk/news/world/europe/refugee-crisis-germany-islam-does-not-belong-in-country-a7027361.html
Islam Has No Place in German Culture, Says Two-Thirds of Germans
http://www.mrctv.org/blog/islam-has-no-place-german-culture-says-two-thirds-germans
Greece
Greek archbishop calls for halt in Athens mosque construction
https://www.dailysabah.com/religion/2016/11/03/greek-archbishop-calls-for-halt-in-athens-mosque-construction
Hungary
Bishop: It's a Muslim invasion of Europe
Hungarian mayor seeks to ban Muslims and gay people from his village http://www.independent.co.uk/news/world/europe/muslims-gay-people-not-welcome-hungary-mayor-asotthalom-laszlo-toroczkai-lgbt-rights-islamophobia-a7566916.html
Hungary's Muslims fear referendum will fuel Islamophobia
http://www.thenational.ae/world/europe/hungarys-muslims-fear-referendum-will-fuel-islamophobia
Ireland
Under siege: Ireland's Muslims speak out against violence and misrepresentation
http://www.irishtimes.com/news/social-affairs/religion-and-beliefs/under-siege-ireland-s-muslims-speak-out-against-violence-and-misrepresentation-1.2067675
Muslims flee Northern Ireland to escape anti-Islam violence
Read more at http://www.commdiginews.com/world-news/muslims-flee-northern-ireland-to-escape-anti-islam-violence-18836/#5WujwDmlG4gWUFxI.99
http://www.commdiginews.com/world-news/europe/muslims-flee-northern-ireland-to-escape-anti-islam-violence-18836/#mqHwgjjOQYr0Km9H.01
Italy
The wealthy Italian region of Lombardy has approved a burka ban in hospital and local government buildings.
In 2008 Italy's interior minister vowed to close a controversial mosque in Milan. Italian region of Liguria passes anti-mosque law.
Several towns in Italy have local bans on face-covering veils. In September 2013, 65% of the electorate in the Italian-speaking region of Ticino voted in favour of a ban on face veils in public areas by any group.
Latvia
Latvia Wants to Ban Face Veils, for All 3 Women Who Wear Them
https://www.nytimes.com/2016/04/20/world/europe/latvia-face-veils-muslims-immigration.html?_r=0
Lithuania
About 3000 Muslims live in Lithuania.
The fear of Islam in Lithuania is growing
https://www.nytimes.com/2016/04/20/world/europe/latvia-face-veils-muslims-immigration.html?_r=0
Luxembourg
Soon there will be no more Luxembourg
http://www.politico.eu/article/luxembourg-migration-crisis-eu-asylum-refugees/
Malta
Patrijotti hold protest over teaching of Islam in Church schools
https://www.timesofmalta.com/articles/view/20170402/local/patrijotti-hold-protest-over-teaching-of-islam-in-church-schools.644249
Cardinal Burke, anti-Muslim crusader Our ancestors gave their lives to save Christianity because they saw that Islam was attacking sacred truth," he said. Capitulating to Islam would be the death of Christianity."
http://religionnews.com/2016/09/07/cardinal-burke-anti-muslim-crusader/
Netherlands
Dutch cabinet approved plans to ban the full face Islamic veil in government buildings, schools, hospitals and on public transport (2015)
Party for Freedom (PVV) declares to ban all mosques.
Portugal
Islamaphobia report on Portugal – http://www.islamophobiaeurope.com/wp-content/uploads/2017/03/PORTUGAL.pdf
Romania
Romania: Lawsuit Launched to Stop Bucharest Mega-Mosque
https://www.gatestoneinstitute.org/9122/romania-mega-mosque
Slovakia
Slovakia passes law to BAN Islam from being registered as a religion http://www.express.co.uk/news/world/738462/Slovakia-law-Islam-ban-registered-religion-Eu-migrant-quota-Muslim-sentiment
Slovenia
Muslims in Slovenia: Between Tolerance and Discrimination
https://www.researchgate.net/publication/228682328_Muslims_in_Slovenia_Between_Tolerance_and_Discrimination
Thugs bombard mosque with pig's heads and jars of blood in sickening attack
http://www.dailystar.co.uk/news/latest-news/487811/thugs-throw-blood-pigs-head-mosque-Ljubljana-Slovenia-Muslim
Spain
Barcelona and parts of Catalonia have introduced a burka ban in some public spaces such as municipal buildings.
Hate crime against Muslims rises tenfold in Spain
http://twistislamophobia.org/en/2016/04/25/islamophobia-in-spain-2015-national-report/
http://www.ihrc.org.uk/publications/briefings/9536-spain-islamophobia-on-the-rise
https://ec.europa.eu/migrant-integration/news/spain-islamophobia-has-become-the-main-hate-crime%20
Sweden
21 attacks on mosques in Sweden (2016)
Sweden's largest Shia mosque burned down in suspected arson attack
http://www.independent.co.uk/news/world/europe/sweden-mosque-fire-arson-stockholm-police-jakobsberg-imam-ali-islamic-centre-a7711431.html
Sweden has had enough of Islam – https://www.youtube.com/watch?v=ge-N-MiWHIs&feature=share
Sweden protest after three mosque fires in one week
http://www.bbc.com/news/world-europe-30658482
UK
There are about 1700 mosques in the UK. Research reveals half of all Britain's mosques have been attacked since 9/11 (about 700 mosques have been targeted)
There is no ban on Islamic dress in the UK, but schools are allowed to decide their own dress code after a 2007 directive which followed several high-profile court cases. Some 57% of the British public support a burka ban in the UK, a YouGov poll in August 2016 found.
Immediately after the Manchester attack a mosque was torched in Oldham.
https://www.theguardian.com/society/2016/jun/29/incidents-of-anti-muslim-abuse-up-by-326-in-2015-says-tell-mama
https://www.theguardian.com/society/2016/jun/29/incidents-of-anti-muslim-abuse-up-by-326-in-2015-says-tell-mama
100 hate attacks on mosques since death of Lee Rigby
http://www.asianimage.co.uk/news/14917532.100_hate_attacks_on_mosques_since_death_of_Lee_Rigby/
The Heads of Missions of Australia, Canada, the Netherlands, Norway, South Africa and Switzerland
http://www.dailymirror.lk/article/Ensure-no-impunity-for-hate-crimes-EU-130055.html#sthash.bzohLtvS.dpuf
Australia
Australians oppose Mosque construction – https://www.rt.com/news/318256-mosque-protest-islamophobia-australia/
http://www.aljazeera.com/news/2015/04/hundreds-attend-anti-islam-rallies-australia-150404174512135.html
Mosque attack – http://edition.cnn.com/2016/06/28/asia/western-australian-mosque-attack/
Muslims seek increased security
http://www.abc.net.au/news/2017-01-24/wollongong-islamic-community-calls-for-increased-security/8206798
Canada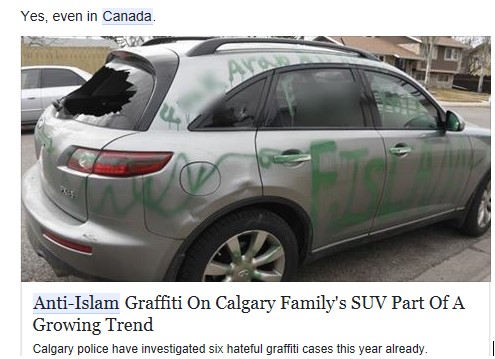 http://www.huffingtonpost.ca/2017/02/17/masjid-toronto-anti-islam-rally_n_14829456.html?ncid=fcbklnkcahpmg00000001
Anti-Islam Protesters Rip Qur'an At Ontario School Board Meeting
http://www.huffingtonpost.ca/2017/03/23/ontario-schools-muslim-prayers_n_15568254.html?ncid=fcbklnkcahpmg00000001
https://www.theglobeandmail.com/opinion/in-the-culture-of-hate-toward-muslims-dont-forget-the-made-in-canada-political-contributions/article33847973/
Norway
Norway integration minister faces resignation calls after telling Muslims 'we eat pork and drink alcohol'
http://www.independent.co.uk/news/world/europe/norway-integration-minister-muslim-eat-pork-drink-alcohol-show-face-sylvi-listhaug-a7372991.html
Norway: No Saudi mosques, as long as there's no freedom of religion in Saudi-Arabia
Switzerland
Ticino has banned full face veils in public areas.
In 2008 nationwide referendum to ban minarets on mosques
South Africa
In 2008 leaders from 15 European cities met in Antwerp, Belgium and called for a ban on new mosques and a halt to "the Islamization" of European cities.
South Africa's murder rate climbs 4.9 per cent to 51 people killed every day
http://www.independent.co.uk/news/world/africa/south-africa-murder-rate-51-killed-every-day-rise-49-per-cent-a7224176.html
US/EU/NATO lied and invaded and destroyed Iraq
US/EU/NATO lied and destroyed Afghanistan
US/EU/NATO lied and divided Yugoslavia into pieces
US/EU/NATO lied and destroyed Libya
US/EU/NATO lied and is out to destroy and divide Syria.
Just look at what these human rights angels have done to Yemen.
https://www.facebook.com/StopTheWarOnYemen/?hc_ref=NEWSFEED&fref=nf
Sri Lanka is not a brothel
When Indian leaders want to increase Tamil Nadu votes, they come to Sri Lanka and assure Eelam. When EU leaders want to get votes from minorities, they come to Sri Lanka and do the same.
Muslims of Sri Lanka must surely wake up and realize that the Sinhalese are not their enemy and cease to take part in the drama being rolled out in both Sri Lanka & Myanmar using Muslim card this time now that the Tamil card has served its purpose.
If these EU ambassadors want to help Muslims – please stop bombing the Muslim countries, dropping chemicals that are causing birth defects and millions and millions of refugees and displaced people while nicely taking over their natural resources and pretending to give these people democracy and human rights and freedoms.
Shenali D Waduge