Terror strikes: Why no Reconciliation between Christians & Muslims in Europe?
Posted on June 4th, 2017
Shenali D Waduge  
Europe has become the latest theatre for a spate of terror attacks across EU nations. European media goes into panic sensationalism mode claiming assailants shouted 'Allah Akbar' and then automatically Muslims and their places of worship are attacked leaving many Muslims to live in fear and subject to blanket discrimination & hate speech. 91 mosques attacked in Germany in 2016 alone and over half of UK's mosques attacked since 9/11. Of 743million population in Europe, Muslims account for 19million. More than a million migrants and refugees crossed into Europe in 2015 as a result of EU/US illegal bombing of Middle East nations. At the same time there are allegations that the Al Qaeda and ISIS are creations of the US/UK/EU Governments as a geopolitical tool and a means to bring legislations claiming to protect the people but in reality to stifle people's rights and freedoms. However, while envoys of these countries peddling geopolitical interests are chorusing 'reconciliation' 'peaceful coexistence' 'multiculturalism' blah blah blah, why are the countries that pen these nomenclatures not applying what they preach to themselves. Where is the reconciliation between Christians & Muslims?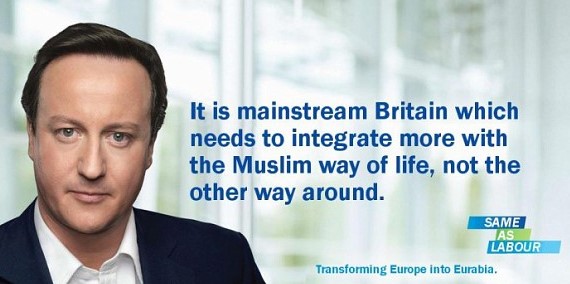 When Sri Lanka first experienced terror that was birthed and promoted by the Indian Government, no world leaders condemned India for training, arming and financing Tamil armed militant groups.
When these armed militant groups turned themselves from initially portraying themselves as a freedom fighters into an uniformed command-structure based terrorist group killing civilians irrespective of whether they were Sinhalese, Muslims, Foreigners or even Tamils including their own cadres, all that the West and their bandwagon of representatives in the form of the UN, INGOs, foreign envoys did was to issue a heartless statement condemning the attacks but asking the Sri Lankan Government to return to the negotiating table. Sri Lanka suffered over 300 suicide attacks by the LTTE and it was always 'talk to the terrorists'.
But, when a supposed attack on American World Trade Centre occurred in 2001, without even investigating who was responsible both Iraq & Afghanistan were bombed. Please explain to us why Sri Lanka had to suffer terror attacks and talk to the terrorists but the West could bomb any country it deemed its enemy?
Hillary Clinton says 'we created Al Qaeda', Amnesty International says US supplied arms to ISIS, Wikileaks says CIA created ISIS while Edward Snowden's 2013 leak of classified NSA documents also reveal the collaboration of western intelligence agencies in creating ISIS.
So when ISIS claims responsibility for a spate of attacks that has killed innocent people, in the backdrop of the accusations being made of their creators and handlers, you have to wonder who are the real 'terrorists'.
Paris shooting which left 1 police officer dead (April 2017)
Westminster attack in March 2017
Russia's ambassador to Turkey assassinated December 2016
large truck plowed through a Christmas market in central Berlin killing 12 (Dec 2016)
A police officer and his wife were killed in the French town of Magnanville in June by a 25-year-old man who had sworn allegiance to the Islamic State of Iraq and Syria (ISIS). (2016)
two men stormed a French church and took five people hostage during morning Mass. They murdered an elderly priest, Jacques Hamel, by stabbing him in the chest and slitting his throat. (July 2016)
Brussels bombings in March 2016 kills 34
Nevertheless, we cannot ignore the sufferings of minorities across Europe who are becoming victims of violence.
Bacon sandwiches are left outside mosques,
Pigs blood is being thrown into mosques
"When I became identifiably Muslim, I got nasty looks, threats and abuse, and that's an everyday experience especially because I am a white British Muslim"
Attack on Muslims increases in the UK – http://www.suchtv.pk/videos/item/47311-attack-on-muslims-increased-in-uk.html
There has been a 300% spike in Islamophobic hate crimes in Britain since ISIS' horrific Paris attacks with most victims being Muslim women wearing traditional Islamic dress.
We are really shocked at how the UK and Europe are reacting to terrorist attacks by attacking the minorities. We hope that the people understand that after the 1983 attacks there have been no revenge attacks against Sri Lanka's minorities despite LTTE carrying out over 300 attacks throughout 3 decades. It goes to also raise eyebrows as to who instigated the 1983 riots for it is generally the benefactors and the Sinhalese were definitely not the benefactors!
We seriously think that Jeremy Corbyn's advice to sit and have tea with terrorists over a good English breakfast would do wonders and appoint a team to immediately roll out a program on peaceful coexistence and enter into ceasefires, peace talks and negotiations and why not get those infamous Norwegian NGOs involved. They have excellent experience in handling terrorists … these Norwegian leaders have even shed tears at funerals of LTTE board members and spoken very vociferously on behalf of them. Please also get inputs from the likes of David Cameron, David Miliband, Kouchner, Keith Vaz etc
When UK banned the LTTE in 2000 under its terrorism act several MPs raised their objections. MPs Robert Evans, Linda Perham, Andrew Dismore, Dr. Jenny Tong, Jeremy Corbyn, John MacDonald, Andy Love. Similarly, Hon Andrew Love (Labour), Hon Simon Hughes (Lib Dem), Hon Jeremy Corbyn (Lab), Hon John McDonnell (Lab), Hon Paul Burstow (Lib Dem), Hon Susan Kramer (Lib Dem), Hon Andrew Dismore (Lab), Hon Andrew Pelling (Independent), Hon Lee Scott (Conservative), Rt. Hon Keith Vaz (Lab) and the Hon Minister Bill Rammell (Lab) who joined to sing hossanahs for the LTTE. Hope they join in to speak on behalf of the terrorists attacking Europe! Maybe one of these MPs can become a CEO of one of the terrorist front 'human rights' groups like Joan R or maybe like comrade Sooka write a few reports on the human rights violations, sexual harassment that these terrorists had been subject to!
Why not also invite Gordon Weiss to give estimates of dead or ask Francis Harrison to count the dead! We hope the UK calls for an immediate investigation into why terrorists were killed violating their human rights. This is a good job opportunity for some commission to be appointed and an excellent chance for the UNHRC to do some additional foreign tours. Maybe the UNHRC head can attend the funeral or issue a condolence message to a dead terrorist as Kofi Annan did to a dead LTTE cadre!
If the international community can insist Sri Lanka enter peace talks, negotiations and cease fires with a brutal murdering terrorist group like the LTTE, why should they not do the same with Al Qaeda, ISIS, Boko Haram, Al Nusra or any of the other militant groups now striking terror in the very back yard of the nation's forcefully delivering democracy, human rights, law & order!
This may also be a good opportunity to change UK's constitution, maybe the military needs to be pruned a bit and some of their strategic areas closed down lest it is the reason why the terrorists are angry. If the UK authorities quickly take out their notes on how the UK-based LTTE fronts and lobby groups function, the British authorities may be able to make some breakthrough. In Sri Lanka, the LTTE's mouthpiece is the TNA and it may be good to see who in the UK are speaking for these terrorists and enter into some negotiations with them. TNA leaders are demanding way too much but then UK Government should be able to deal with that aspect without too much of trouble! They are the masters of divide and rule!
Anyway, as a country that has undergone terror for 30 years and was forced to take zero action against the LTTE except talk with the terrorists, we are very concerned that the Muslims are being unfairly targeted as a result of these terror attacks. Please learn from Sri Lanka, the Tamil people were never subject to any of the atrocities that the Muslims are currently facing. Of course there are those infamous c4 edited documentaries which had been paid for by the terrorists themselves and there are outlets in the UK that burns Tamils for a fee and a doctor claims these are done by the Sri Lankan Army, but these are only commercial aspects of the problem, what is now most important is that the Muslim minority in Europe are not harmed.
We are ready to despatch our former lady President and her reconciliation team as they seem to be having the blueprint for reconciliation and everlasting peaceful coexistence. Let's see if reconciliation works in Europe first!!
Shenali D Waduge
http://www.globalresearch.ca/twenty-six-things-about-the-islamic-state-isil-that-obama-does-not-want-you-to-know-about/5414735
http://www.srilankaguardian.org/2011/10/why-are-uk-mps-supporting-ltte.html
https://pcolman.wordpress.com/2016/09/01/corbyn-and-the-tamil-tigers/