Everything back to square one –moto of yahapalanaya  ??
Posted on June 5th, 2017
Dr Sarath Obeysekera
Today I came across the same mess in Galle Face Green, (not green anymore ) where the customary Garbage mound has resurfaced .
Little further away minister of tourism was also on his daily walk and seems ignoring the mess.
After publishing opinion during  Wesak ,garbage mound has disappeared and I was feeling better ,but today I felt disgusted when I saw it again .
But today we are back to square one !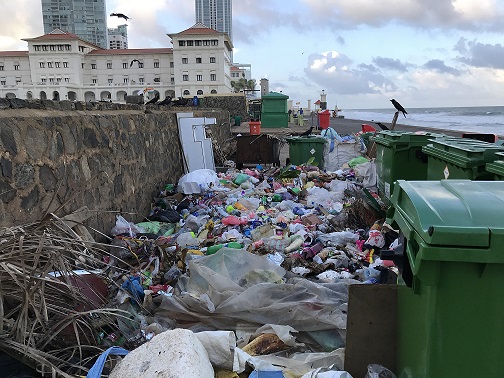 Not only garbage issue but many others are back to square one ….
I was travelling by car today and I was telling my wife that nothing is moving in this country .
Police made announcement few months back that  following  steps will be taken to control traffic
Lane discipline ………..Abandoned,  Bus lanes —forgotten ,Traffic Control Cameras….vanished ,by pass road via diyhatha Uyana to Malabe –Stand still  ,Highway connection via port from  Kelani bridge  —–no signs
Canal Transport Project………no development due to dilly dallying of corporation and ministry.
LRT ( light railway ) ………..not in the near future
Garbage treatment …………forgotten ?
I wonder when we could see some progress in the country .
Yahaplanaya need changing to sara ( tough) Palanaya by installing a tough leadership .Otherwise we will be back to square one .
Dr Sarath Obeysekera