Pakistan always supports Sri Lanka through thick and thin: Rajapaksa
Posted on June 24th, 2017
ISLAMABAD: Former president Mahinda Rajapaksa of Sri Lanka said Pakistan and Sri Lanka's mutual long relationship is sustained by cultural heritage, economies, and common stand on international issues.
We are grateful for the unconditional and steadfast support we received from Pakistan. It is a matter of deep satisfaction that I was able to raise Sri Lanka's voice with Pakistan. They have stood by us through thick and thin," he said, says a press release on Wednesday.
He was speaking at an event organised by the Center for Research and Security Studies (CRSS) and Global Village Space (GVS). The topic of the talk was Sri Lanka's Struggle for Peace and its Lessons for Pakistan and the Region." He stressed that the topic of the event was of great relevance and interest for the region.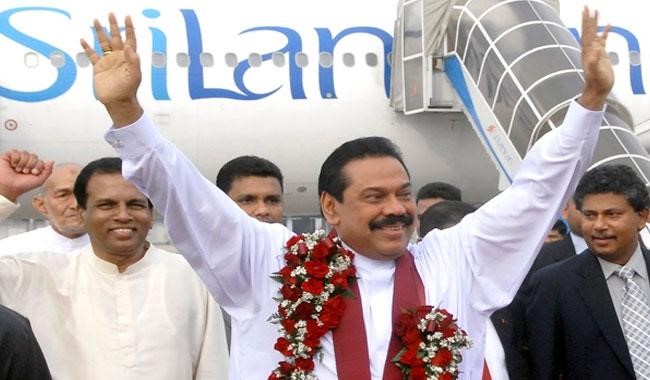 The event was chaired by Lt. Gen. (R) Asif Yasin Malik. He said Pakistan had a lot to learn about peace-building from Sri Lanka, and there was a lot of parallel between the situations in the two countries vis-à-vis terrorism.
In her introductory remarks, former ambassador to Sri Lanka Seema Baloch stated that the Sri Lankan government took decisive action against terrorism. Following its success, Sri Lanka began to open its routes and increasingly integrate with the international community. His Excellency is a leader of the masses," she stated while introducing Ex-president Mahinda Rajapaksa.
In his comments, Rajapaksa said there was no distinction between terrorists, mirroring the good vs. bad Taliban debate in Pakistan. He said that terrorism is against the spirit of humanity and no country can prosper if people are compelled to live their lives under fear. In the case of Sri Lanka, armed forces provided unrelenting support, backed by actual and concrete actions on part of the government. It was a difficult task, one that could not be possible without public buy-in.
Successful anti-terrorism operations depend as much on internal factors as they do on external factors. Public education and support is necessary to thwart any sympathy or help for the enemy. There is no room for hypocrisy or double-dealing," he stressed.
In his concluding remarks, Rajapaksa stressed that we must learn from one another, be productive and provide practical solutions. He further stressed on the need for more such dialogues and platforms to better understand the menace of terrorism and employ measures to combat it and achieve peace in the region.