Garbage and rotting country with overaged Politicians
Posted on July 18th, 2017
Dr Sarath Obeysekera
Quote
FEE FOR GARBAGE COLLECTION –It is high time ……..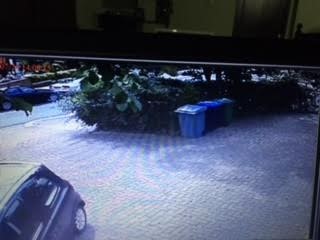 Photograph above shows three garbage bins kept in the car porch in front of a house in London .If the occupants place wet food left overs in blue or green bin other than in the gray bin,collectors will not touch it .People pay more than 25000 Rs per month for collection of Garbage and using the Green Bin meant for collection of green garbage such as leaves and tree cuttings, is also charged with an additional amount .Unless  we adapt such a system in Sri Lanka like in the west where people pay for garbage collection in addition to the meagre council tax we pay ,we will never be able to solve  the garbage problem.Any household who puts papers and other recyclable items in the bin other than the blue bin will be charged by the local council and you are liable to pay heavy penalties By imposing such rules ,I am sure neither Joint Opposition not Supreme court can overturn such ruling imposed by the government .
Unquote
We Sri Lankan are hood winked by the politicians who have do not feel the pulse of the intellectuals and the poor masses .Carriage of the ruling class is pulled in multiple directions and it is stand still .On one side government wants to build garbage incinerators and make compost and then another factions wants it to be transported to Arruwakkalu lime pits without being sorted out .CEB and Treasury are dully dallying on how much they should pay for the power generated by incineration. Every action  listed above smell corruption
What the whole country should do is spend all that money and give three plastic bins with electronic chips to identify the owners ( as our people will steel anything ) and have a national awareness to segregate garbage .Local councils are defunct and nobody wants to create the awareness that garbage sorting at source is a must .
Once sorted out (like in developed countries) people can make compost behind the kitchen and burn papers and allow collection of plastics and metal for re cycling I know a company why make plug boxes out of waste plastics.
We should read  following statistics
How long does it take to decompose?
Paper towel 2-4 weeks
Banana peel 3-4 weeks
Paper bag   I month
Newspaper 1.5 months
Apple core 2 months
Card board 2 months
Cotton glove 3 months
Orange peel 6 months
Plywood 1-3 years
Wools sock 1-5 years
Milk cartons 5 years
Cigarette buts 10-12 years
Leather shoes 25 to 40 years
Tinned steel can 50 years
Foamed plastic cups 50 years
Rubber boot sole 5-80 years
Plastic containers 50 to 80 years
Aluminium can 200-500 years
Plastic bottles 450 years
Disposable diaphers  550 years
Monofilament fishing line  600 years
Plastic bags 200-1000 years
Politians –every 5 years !
For last 30 years I have never thrown out any garbage bag to the street for collection .I make compose or burn the balance .
News papers are also part of rotting garbage culture  who concentrate on Garbage –News but do not contribute to solving  the national issues
Dr Sarath Obeysekera