IGP manhandling Police HQ staff
Posted on August 17th, 2017
S. Akurugoda

A video was circulating on social media showing Police Chief Pujith Jayasundara manhandling two minor staffers of the Police Headquarters, who claimed to have disobeyed departmental rules of performing the morning meditation.
The actual incident portrayed on the footage had reportedly taken place on April 11 this year, as mentioned by the gossip site LEN.
The video which seemed to have been captured from the Police Headquarters' CCTV cameras shows Mr. Jayasundara manhandling a person in civvies by his shirt collar and threateningly gestures to slap another man in plain clothing who seems to be a lift operator.
In the second frame it shows the IGP pointing his finger at someone who's remaining beyond the camera's point of view and blaming in a dramatic style.
Although the audio of the footage was not available it was evident how rowdy is our top rank official who is  in charge of  maintaining the law and order of the country.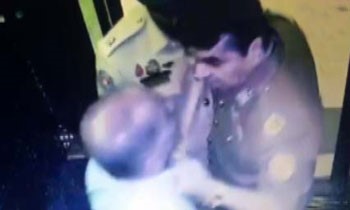 As per a news item appeared in a  news paper (http://www.dailymirror.lk/article/Video-circulating-on-social-media-shows-IGP-manhandling-Police-HQ-staff-134700.html) , on the same incident, Police Spokesman SP Ruwan Gunasekara appears to have confirmed the incident saying that  the IGP as the head of the department reprimanded some staffers who had failed to adhere to the morning meditation sessions introduced by IGP since assuming office in April last year.  It looks like the IGP manhandled the lift operator for disobeying to practice meditation and moving during the period of meditation.
According to the news paper item,  the idea of the said ten minute meditation was to  cultivate good thoughts and sound mindset of all policemen. However the incident is a clear proof of lack of 'sound mind set' of the very same person who introduced the programme.
Few months ago, we noticed  the unruly behaviour of another top rank official serving under the 'Yahapalana' regime,  at the Hambanthota Port premises.  The Navy Commander threatened media men with filthy language,   exhibiting his  'lack of mindset' too.
What would be the situation if an ordinary citizen , especially a critic of the current 'Yahapalna' regime,  is found manhandling the way the IGP behaved towards the lift operator?
Rule of law implies that every citizen is subject to the law, including those who are enforcing same. Now that there is clear evidences, the offender should be brought before justice without any hesitation.