Fertilizer shortage: Govt. should compensate farmers – Wimal
Posted on December 29th, 2017
Dr Sarath Obeysekera 
The government should provide compensation to the farmers, who were affected due to the prevailing shortage of fertilizer, leader of National Freedom Front (NFF), Wimal Weerawansa said today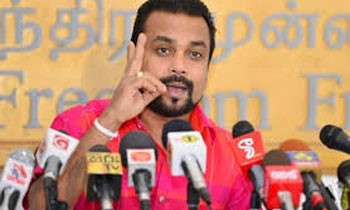 I keep wondering why cabinet ministers .deputy ministers, State Ministers, provincial Ministers .Ministry Secretaries ,  Directors ,Area agricuktural officers did not notice the imminent  shortage in advance ?
Government gives room to opposition to make noise knowingly about the imminent shortage.
They did not notice the rice shortage and HE calls Pakistani president to send rice and fertilizer.
I am quite confident that Spot Buying od commodities ( like petroleum products)  is the latest way of getting kick backs ?
I feel sorry for the poor masses for being hood winked by corrupt politicians
Dr Sarath Obeysekera