Buddha civaraya
Posted on June 19th, 2018
Pannadasa Punchihewa 
The demonstration by the Maha Sangha over the Rev .Gnanasara issue yesterday, as befitting the Sangha was very orderly, and restrained although according to some reports more than thousands participated. Demonstrations had also taken place in other places like Moneragala,Padukka,Tissamaharama and Badulla showing the wide spread discontent of the Buddhist public .This is one of the rare occasions when the Members of the Maha Sangha came out in such numbers on a matter of great importance.
In the Buddhist countries it is a well-known fact that the Buddha civaraya is held in the highest esteem .I am told that in 1942 when the Japanese attacked Ceylon, a low flying plane over Kelaniya hit a temple premises and a British soldier who was running  to save his life fell on the ground. A Buddhist priest seeing him, removed his upper robe and threw it over the British soldier. The Jap plane came down further down, noticed  the yellow robe and  returned to the base without attacking.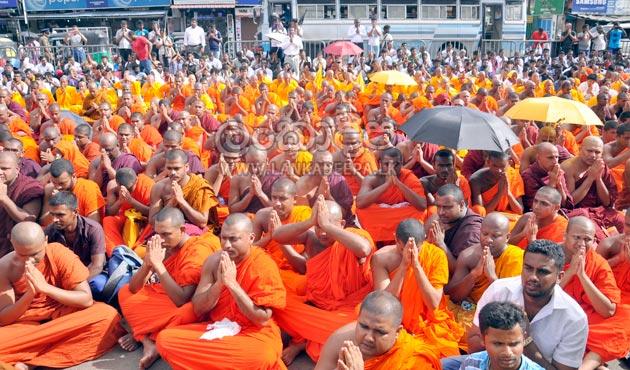 Buddha civaraya   is the world's oldest uniform .It had not changed over the last 2,600 years in the Theravada tradition .At the end of Vas season even the cloth that is taken around the villages in the early hours of the morning  is held in high esteem even though  that  would be turned to a full pledged civarya only after several hours.
So it is nothing but correct that the Buddha civaraya be treated with the due respect it deserves.
However it is surprising that particularly the English media seems to have played down the significance of the yesterday's event comparing to the publicity received by trade union activities of other organizations. Was there an unseen hand working to partially black out the publicity?
A leading monk while addressing the gathering said If the sad situation continue they might refuse to participate in state functions  .There have been instances when such action brought redress  to others earlier!