The Sri Lankan who solved a maths problem for Jeff Bezos & gave the world Amazon
Posted on September 22nd, 2018
Source: The Print
Yasantha Rajakarunanayake was the toast of the internet this week after the Amazon founder Jeff Bezos called the Sri Lankan smarter than him. 
New Delhi: Yasantha Rajakarunanayake is surprised Amazon CEO Jeff Bezos, the world's richest man, remembers him three decades after they lost touch.
The Sri Lankan scientist, now based in the US, was Bezos' classmate at Princeton University in the 1980s.
Speaking at The Economic Club of Washington, a non-profit that holds discussions on important issues of the day, Bezos described Yasantha as the smartest guy at Princeton".
It was Yasantha's mastery of math, Bezos added in the 13 September talk, that convinced him to abandon his dream of becoming a theoretical physicist.
Soon afterwards, the part of his speech about Yasantha went viral, and set the internet on the trail of the islander who, inadvertently, helped change the way the world shops.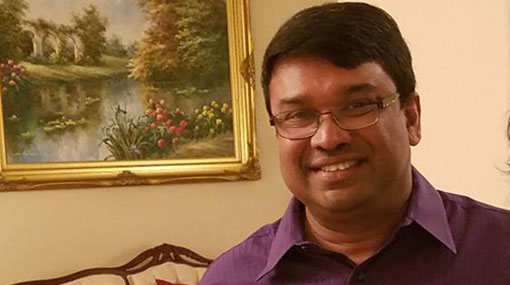 Talking to ThePrint, the scientist said the surge of emails that followed Bezos' speech first gave him the impression that he had been hacked.
I think Jeff had done the interview on 13 September, and by 15th, I was getting spam in my LinkedIn inbox," said Yasantha.
Several people were asking me,'Are you Jeff Bezos' Yoshanta'. I thought someone had hacked my Linkedin, and was quite worried. They had misspelled my name as well."
By 18 September, Yasantha, 55, had seen the video, and acknowledged it in a tweet.To hear him mention me by name, and include anecdotes about me on national (US) television as his Sri Lankan friend…," he told ThePrint, It was a pleasant surprise."
It is not every day that the world's richest guy calls you the smartest person he ever met in Princeton. I am thankful," he added.
WATCH! The world richest man and Founder & CEO of Amazon, @JeffBezos Explains how a Srilankan guy, Yoshantha, helped him to solve most difficult math problem when he was in Princeton university. and why Srilankan names are three lines long 😄 #lk pic.twitter.com/fNrIxrDWCK

— Podi Malli (@PodiMalli) September 17, 2018
The video
According to Yasantha, he and Bezos were at Princeton together between 1982 and 1985, and shared some academic interests".
In the video, Bezos animatedly described an anecdote from their days at the university, when he and a roommate failed to solve a math problem despite wracking their heads over it for hours. He was then an aspiring theoretical physicist.
When they couldn't, Bezos, both he and his roommate screamed in unison Yasantha", because they knew the Sri Lankan would help them out. When they went to his room, according to Bezos, Yasantha stared at the problem for a while and then gave them the answer.
Taken aback by the promptness, Bezos asked him, Did you just do that in your head?"
No, that would be impossible," Yasantha said, adding that he only knew the answer because he had solved a very similar problem three years ago".
I was able to map this problem on to that problem, and the answer was immediately obvious…" he added.
That was an important moment for me," the Amazon founder said, because that was the very moment I realised I was never going to be a great theoretical physicist."
Yasantha said he didn't remember the incident as clearly as Bezos did, but added that it happened around 1984.
I think it was in 1984, that he asked me for the solution to the math problem he mentioned in his video," he told ThePrint. It was a pivotal moment for him to decide to give up his initial dream of becoming a theoretical physicist. I don't recall the incidents as vividly as he does, but it is quite true."
The two haven't kept in touch since 1985, but clearly share a mutual admiration.
Jeff was an excellent student, and a very persistent, tenacious one," said Yasantha, That is unique to him."
Yasantha described how students once dared each other to complete a computer science assignment in a single line of coding.
Finally, I gave up and did this in 10 or so lines of code," he added, But I remember Jeff working through all night, in pursuit of the most compact solution, and turned in a two-line solution that was probably the shortest anyone could do…"
It goes to prove that Jeff is tenacious, and will not give up like most of us would when presented with a challenge," he said.
He sets his goals and sticks to them. I think that's a quality that has made him who he is," Yasantha added.
Down different roads
In the years since Princeton, Yasantha, who hails from a middle-class Sri Lankan family, has done a PhD at Caltech and received 54 patents in the US, while the applications for 40 others remain pending. Currently, he is based in California and serves as a senior director for MediaTek, a Taiwanese semiconductor firm.
The journey of Bezos, meanwhile, hardly needs to be retold. Barely a decade after Princeton, Bezos, 54, set up Amazon. He is today the world's richest man with a net worth of $150 billion, and heads the largest e-commerce firm, which recently became only the second US company to hit a trillion-dollar market capitalisation.
By Bezos' own admission, Yasantha is smarter than him, so does he feel bad he is not richer than the Amazon CEO too? No," said the scientist."
Yasantha added that it was perhaps a credit to his middle-class upbringing that he did not prioritise wealth.
I think I grew up in the subcontinent culture, in the middle class, which put a high value on education and knowledge," he said.
In the end, no one will remember the rich in 100-200 years unless they do philanthropy as well," he added.