Parliament dissolved to form a People's Government – Part I
Posted on November 10th, 2018
By : A.A.M.NIZAM – MATARA .
The illegal activities carried out by former Speaker Karu Jayasuriya since the day of Sri Lanka's October revolution of ousting foreign servile Ranil Wickramasinghe of the Butterfly clan  (LGTBT+)rom the post of Prime Minister on 26th October and appointing Sri Lanka's populist politician Mr. Mahinda Rajapaksa as the new Prime Minister and prorogued Parliament from 5th November to 16th November(the date of reconvening was subsequently changed to 14th November)    the President has been forced to dissolve Parliament and call for fresh elections on January 5th and call for nominations from 19th November to 26th November.
From 26th November night itself the former speaker who was acting in the Parliament as an arrogant tyrant was behaving as a bull in a China shop and like a person suffering from dementia.  He challenged the President over the appointment of the new government despite the President was constitutionally empowered to do so, used the Parliament illegally thinking that sacrosanct premises is a legacy from his parents and called for media conferences on and off to challenge the President, to parrot UNP statements, state that he accepts only Ranil as the lawful Prime Minister until the President proves otherwise (this is not a legal requirement as the constitution provides authority for the President any member of Parliament whom he thinks as the one commanding the popularity cam be appointed as the Prime Minister and the Head of the Cabinet of Ministers).  The most scornful thing done by this demented former speaker was inviting western ambassadors for a conference in his Parliament office and telling them that he rejects appointment of a new Premier by the President and reportedly asking them and make their countries to express officially their concern and objection to this matter.
It was under these circumstances the President was forced to dissolve the Parliament based on expertise opinion provided by many legal luminaries.  This position was clearly explained by the Attorney at Law Minister of Buddha Saasana and Religious Affairs Mr. Udaya Gammanpila addressing a media conference at his party office yesterday (9th November) said that the President should dissolve Parliament using the powers vested with him under 33 (2) C of the 19th Amendment to the Constitution. He said that dissolution of Parliament is the only solution for the crisis created by Speaker Karu Jayasuriya. Condemning the illegal and anti social activities of demented former speaker Mr. Gammanpila said that the Article 70(1) shows how a President should act in a general situation cannot dissolve Parliament without a two third majority. But the Article 32(2)C shows how the President should act when there is crisis and in such situation, the President has powers to dissolve Parliament.
Addressing another media conference today (10th) Mt. Gammanpila explained that in the Bribery Act there is provision saying that if anyone misuses his position or utilizes his position to support another person that person would become liable for a prison term of maximum 10 years and Karu Jayasuriya has committed both these offences and hence he should get ready to discard his traditional white dress and wear a prison jumper.
Many patriotic and erudite Sri Lankans resident overseas unlike some ungrateful Sri Lankans who have acquired overseas positions due to the free education they received here, have also rushed to hail the President for rescuing the country from the neo liberal foreign slavish butterfly clan who were hell bent on foreignization of our national assets and natural resources
Given below are brief extracts from lengthy articles they have presented to Lankaweb.com website.
Dr. P.A.Samaraweera from Australia says that the President had done the best thing for the country by dissolving Parliament and the arrogant Ranil, who scraped through in 2015 by getting a slight majority wrecked the country for 3 an a half year with his western touch up and with his circle of colleagues from the upper class of Colombo he has no sense of national mind or love for the country. Dr. Samaraweera says Rani made decisions as an autocrat completely ignoring the fact that the President was elected by the country whereas he was elected by an electorate and appointed as PM by the President. Dr. Samaraweera further states that Ranil had been going after Foreign Envoys and pleading them to come to his rescue.
Tamara Kunanayakam a former Ambassador/Permanent Representative of Sri Lanka to the UNHRC has very correctly pointed out 'Sri Lankawasis fast losing its economic sovereignty under Ranil and People and the nation have become dispensable commodities; their labour, wealth, natural resources, economic activities are on auction with foreign bidders determining their values. She has stated that civil society leaders including the clergy as well as the great majority of Sri Lankans have welcomed the recent appointment of the new Prime Minister and Sri Lankans have already commenced to enjoy the several relief measures proposed by the new Prime Minister Mahinda Rajapakse and SriLanka now looks forward to a new era of happiness, peace and tranquillity.
Mr, Lakshman L. Keerthisinghe, an Attorney at Law resident in Canada welcoming the dawn of a new era has said that n action oppressed with the heavy burden of taxation in various forms, large scale virtual sale of national assets on the basis of 99 year leases without any long-term substantial benefits to the nation, wasteful expenditure and an administration beset with mismanagement, was awaiting relief eagerly.  He has commended the recent statement made by Prime Minister Mahinda Rajapaksa quoting out an ancient saying of Kauti;uya that Taxes should be levied on the people as a bee extracts nectar without crushing the flower. He points out that Prorogation of Parliament is at the sole discretion of the President for which power has been granted to the President by Article 70 of the Constitution and flays western meddling in this regard
Dr. Nalaka Godahewa is a former Chairman of the Securities Exchange Commission of Sri Lanka. addressing a conference attended by professionals this morning (10th) said that the President empowered by Article 70 Clause 5 to dissolve parliament and call for fresh elections if there is a crisis. He emphasized that if there is anyone who opposes the President's action, they can go to Supreme Court about it.
Meanwhile political analysts point out that based on the results of the February 10th LG elections the Mahinda-Maithri has 6.4 million votes amounting to 58% (excluding votes received by Pohottuwa sponsored independent groups) and the UNP only 32%.  They have also presented the following map and tables to affirm their claims.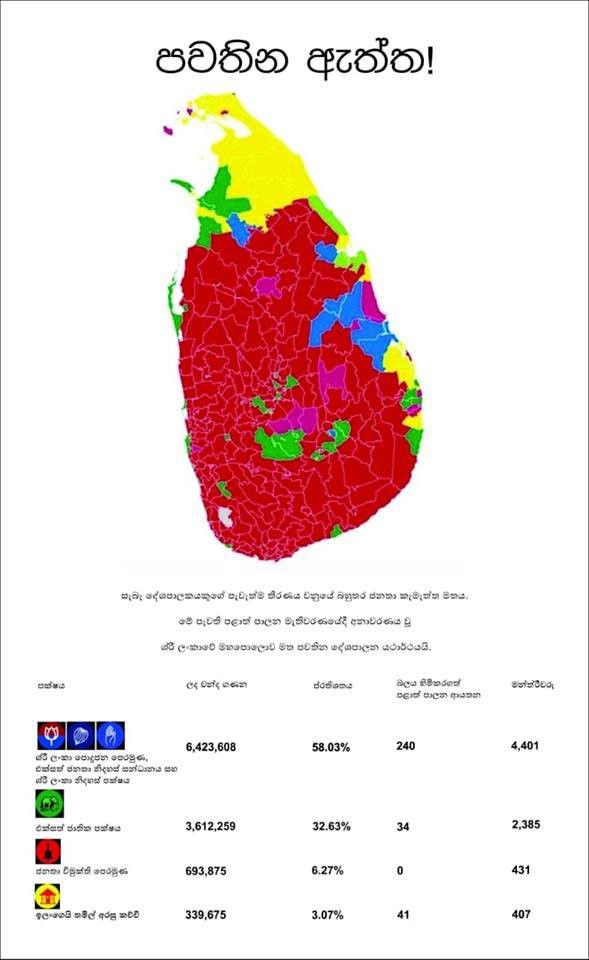 As the UJNP is suffering from a perennial election phobia and even went to courts during the previous government to get elections stalled and after 2015 postponed LG elections for 3 years and have postponed elections for 6 provincial councils due to their fear of facing people in elections there is every possibility that they would sabotage January 5th elections with the help of JVP hooligans which should be firmly countered by the all peace and democracy loving patriotic people.
(To be continued)