An unforgettable matriarch of the family – Muriel Weeraratna
Posted on December 15th, 2019
Tudor Wijeratne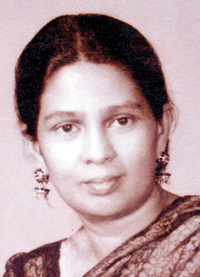 Muriel Weeraratna, my aunty, died on October 21 this year.
As the eldest nephew among the living I would like to share these thoughts of a gracious lady.
Aunty Muriel was the daughter of Don Elaris Weerasiri, only son of Don Theodoris Weerasiri, a leading jewellery and gem merchant at Chatham Street, Fort at the beginning of the last century. Don Elaris played for the Royal College 1st XI Cricket team when the S. Thomas' College, Mount Lavinia cricket team was captained by D. S. Senanayake who later went on to become the first Prime Minister of Ceylon, and later for the Sinhalese Sports Club (SSC) alongside D. S. 'Twentieth Century Impressions of Ceylon' by Arnold Wright (1908) carries a detailed account of Don Theodoris Weerasiri and his business, with a photograph of the young Don Elaris Weerasiri.
He married Nancy Thenuwara, whose parents donated the present land where the Sri Lanka Maha Pirivena is situated at Vipulasena Mawatha, Maradana, also known as the Ode Pansala". This temple gained wide prominence, when the second head of the Temple Ven. Baddegama Wimalawansa Thero, became a Buddhist and National Leader in the 1950s.
In a family of 12 children, my mother Violet was the eldest. Aunty Muriel was the sixth in the family, which consisted apart from her, of six girls and five boys.
Aunty Muriel studied at Clifton Girls' School and Musaeus College, Colombo.
On a proposal made in 1947, she married Dharmasena Weeraratna, a businessman from Galle (P.J. Weeraratna & Sons), at Stafford House, Maradana belonging to her grandmother Philomena Thenuwara, with the Police Band in attendance. I was present at the wedding. After the marriage she went to reside at Wackwella Road, Galle, to run the business carried on for four generations by her husband and his brother Asoka. In 1948 they came to Maradana and opened a shop called P.J.Weeraratna and Sons at No. 592 Second Division Maradana. In the late 1950s and early 1960s, P.J. Weeraratna and Sons were the leading wrist watch importers in Sri Lanka. They had about 60 employees.
This refurbished shop was opened on September 9, 1948 by Prime Minister D.S. Senanayake, and several other distinguished guests, namely, Sir John Kotalawela, C.W.W. Kannangara and Victor Ratnayaka, MP for Deniyaya. At that time she was residing at Avondale Road, Maradana, where the two sons Senaka and Tissa were born and later admitted to Royal College.
When I was about 16, during the weekends Aunty Muriel used to give me money to take her sons to see Tarzan and western films.
In 1952, her brother-in-law Asoka Weeraratna founded the German Dharmaduta Society with Dudley Senanayake as the Patron. Asoka later went on to establish the Berlin Vihara having bought the property 'Das Buddhistische Haus' in Berlin – Frohnau, from the relatives of Dr. Paul Dahlke, a leading German Buddhist. The Buddhist Mission to Germany is still functioning with monks from Sri Lanka in residence, coordinated by her son Tissa, who is resident in Germany.
Aunty Muriel's husband Dharmasena and his brother, Asoka, gave up business in the mid – 1960s in order to engage in nationalist and Buddhist revival work. Asoka Weeraratna established the Mitirigala Nissarana Vanaya Meditation Centre in 1967, and entered the Order of the Sangha as Ven. Mitirigala Dhammanissanti Thera in 1972.
It was while living in Australia that Senaka was informed at the beginning of 2000 that his father felt breathless at times, 'hathi danawa'. Senaka then decided to return to Sri Lanka to care for his parents in their old age. His father died on May 18, 2001. He stayed back to look after his mother giving up a relatively comfortable life in Australia. He was present by the side of his father and mother at the time when they passed away.
In 1994, Aunty Muriel was taken to Germany along with my sister Rani by her son Tissa for an eye operation and she stayed for nearly three months, travelling in Europe during her convalescence. As her two children were then abroad Aunty Muriel looked after her brother Robert and sister Florence till their deaths. Aunty Muriel also looked after with great devotion an adopted son and adopted brother to Senaka and Tissa, named Pathmasiri.
Aunty Muriel was well versed in painting, writing English poetry and making artificial flowers and gardening – growing cannas. All photos on the walls in her house had her sayings written at the bottom. There was poetry written on the inner walls in prominent places inside the house. She and her husband were Sai Baba devotees and visited India on three occasions and brought back Vibuthi (holy ash) and gifts from him. They used to have regular bajans at their house in Bambalapitiya with other Sai devotees. In Colombo, from 1949 she stayed at Avondale Road, Maradana and came to Bethesda Place, Bambalapitiya in 1958.
She was a vegetarian and an animal lover. She had four ferocious dogs and nine cats, all living inside the house. People in the neighbourhood and others used to throw unwanted animals into their compound knowing very well that they would be well looked after.
She also used to write newspaper articles on topics related to Buddhism, animal rights, keeping the city clean, etc. She and her husband were the most loving couple in our family. Though it was an arranged marriage, they were well suited.
Aunty Muriel was very popular among the family members. She was in contact with all her relations living in various parts of the world up to the third generation. Almost every week, she would give an update of the kith and kin and country affairs with humour.
She did this until about two months before her death. She used to continue her calls giving an update interpreted by her son Senaka. She was a loving aunt to all of us. Though she was a Sai devotee she was also a practising Buddhist in her daily affairs, kind to everyone including animals.
On January 22, her younger sister Dr. Theodora Munasinghe passed away and she visited the funeral house to pay her final respects, even though she was in frail health. I met her two days later and she told me Putha, I am next". I told her not to be afraid that she will be able to reach her century . Unfortunately, forty days short of her 99th birthday which fell on November 30 this year, she passed away.
May she attain the Supreme Bliss of Nirvana.
Tudor Wijeratne
---