Solar and wind power can resolve electricity crisis, early and cheaper, if allowed
Posted on February 22nd, 2020
Tudor Wijenayake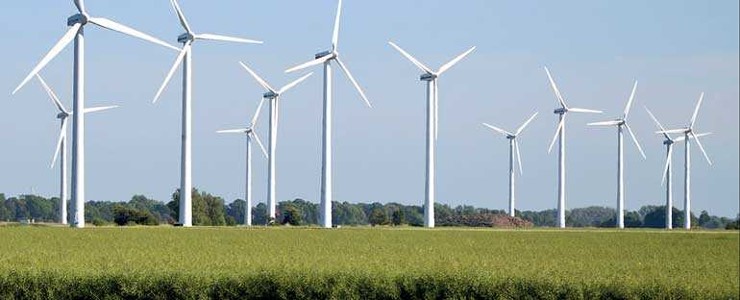 Concerns of pollution worldwide have led to an interest in renewable energy, mostly supplied from wind and solar power, delivering increasing quantities of electricity. The developments started on a small scale prior to 2010 have reached substantial proportions and are expected to meet the entire world's power demand by 2050
The country is facing the worst power situation in the history, with electricity generation being unable to meet the demand, with generation costs among the most expensive in the world. With the current scenario, the country cannot be expected to come out of the mess for another five years.
A couple of weeks ago, the Cabinet of Ministers accepted installation of two 300 MW coal power plants and another 300 MW natural gas powered plant. Also few days ago the Cabinet approved emergency power purchase of 100 MW for six months and another 128 MW for a year.
Meanwhile, concerns of pollution worldwide have led to an interest in renewable energy, mostly supplied from wind and solar power, delivering increasing quantities of electricity. The developments started on a small scale prior to 2010 have reached substantial proportions and are expected to meet the entire world's power demand by 2050.
According to International Energy Agency's (IEA) Renewables 2017 report, sharp cost reductions and improved policy support are paving the way for continued growth in the renewable sector. According to IEA's forecast, renewable energy capacity will account for over 40% usage by 2022 led by China, Germany, US and India.
China
China, the world's biggest polluter, promised at the '2015 Paris Climate Accord' to peak its pollution levels by 2030. However it achieved the target 12 years early, by moving into renewables.
The Chinese Government targets increase non-fossil fuels from current 11% to 20% of total energy by 2030. China is the world's largest manufacturer and the user of solar panel technology, producing over 60% of the world's solar panels. But some manufacturing plants are really owned by US companies.
Germany
By end 2018, German renewables overtook coal as the country's main source of energy, with 40% of electricity coming from green sources. In 2018 wind power, both onshore and offshore, produced 24.6% of total power. In addition solar panels produced 9%, biomass 8.5% and hydropower 3.8% of market share. Additionally Germany is steadily shutting down coal plants and its final nuclear power plant is scheduled for decommissioning in 2022.
United States
During the first eight months of 2019, renewable energy sources (biomass, geothermal, hydropower, solar and wind) accounted for 18.5% of electrical generation. Wind power surpassed hydro-power as the largest source of renewable electricity in 2019. Meanwhile, electricity from nuclear declined by 0.6% while coal plummeted by 13.9%. However, much of the latter was replaced by natural gas which grew by 6.5%.
India
India, a major producer and user of coal, was shocked when a Rajasthan solar company generated electricity at guaranteed wholesale price of INR2.44 per kWhr or, or 3 US cents (Rs.5.40) since 2017, changing the entire power climate. As part of its Paris Agreement commitment, India is to achieve 175 GW of renewable energy capacity by 2022. These include 100 GW of solar and 60 GW of wind power. As of December 2019 Indian wind power capacity was 37.5 GW, the fourth largest wind power capacity in the world.
Maldives
Meanwhile, our small neighbour Maldives has issued a tender inviting bidders to install 21 MW solar systems in six major islands, with bids closing on 12 March 2020. The project established with financial and technical support from World Bank's 'Accelerating Renewable Energy Integration and Sustainable Energy' project.
Wind power
Denmark had windmills for generations and electricity generating wind turbines emerged in the 1890s. The 1973 oil crisis triggered major investments in Denmark and the United States on research into power generation through alternate sources.
In 2015 wind power constituted 15.6% of all installed power capacity in the European Union. China is rapidly expanding its wind installations since early 2000 and passed the US in 2010 to become the world leader.
Wind passing over Strait of Mannar
A strong stream of wind passes through the Strait of Mannar. The Indian Government's usage of resource resulted in the State of Tamil Nadu installing six wind power projects, becoming the wind power leader in India producing 7,450 MW. Of these Muppandal Wind Farm in the Kanyakumari District, Tamil Nadu located at the southern tip of India is the largest wind farm in India, 1,500 MW capacity, one of the world's largest wind farms. The wind farm spread over villages shows the ability of wind farms for peaceful co-existence with villagers.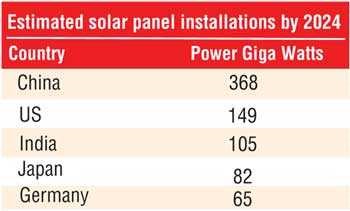 The southern tip of Tamil Nadu in latitude reaches nearly 25 km south of Anuradhapura. The wind moving from south to north and vice versa is forced between central mountains of Sri Lanka and the Indian mountain range separating Tamil Nadu and Kerala generating high speed winds through Strait of Mannar.
Sri Lanka located at the opposite edge of Strait of Mannar too is bestowed with similar winds along the parallel strip as Kalpitiya, Mannar and Jaffna, but so far failed to utilise the assert. In addition, Hambantota in the south and mountainous regions as Ambewela too are blessed with heavy winds needing utilisation. Currently long planned CEB's 100 MW plant in Mannar is dragging on.
Solar power
Solar panel is a recent development first evolved in 1988. By 2012 solar efficiencies exceeded 20%, and the researchers claim maximum efficiency of photovoltaics would be slightly over of 40%. Over the last five years up to 2018, world's solar energy capacity increased by approximately 60%.
Price drop of auctioned renewables
According to International Renewable Energy Agency's 'Renewable Energy Auctions,' the price of wind energy in auctions from 2010 to 2018 dropped from 80 to 55 $/mWh. However, solar energy prices dropped from $240 to 60 over the same period. But from 2016 the drop has been minor, showing the maturity reached by the two sectors. Currently, wind and solar have reached prices close to each other.
800 MW solar plant in Qatar
In January 2020 French oil major Total and Japanese conglomerate Marubeni won the rights to build Qatar's 800 MW solar project costing US$467 million from 16 tenderers. Qatari national power firm Kahramaa signed the 25-year power purchase agreement at $ 0.016/kWh (Rs.2.88), the lowest-ever winning bid for large scale renewable energy. First 350 MW section will be operational next year with the full project scheduled for completion in 2022.
In November 2019, Dubai's 900 MW phase of the Mohammed bin Rashid Al Maktoum Solar Park tender was won by ACWA Power with a record low bid of US$0.017/kWh.
Shuaa Energy 1,200 MW solar plant in UAE was awarded in July 2015 at the then world's lowest tariff for PV for US$5.6 cents/kWh to a consortium of ACWA Power and TSK Electronica Electricidad S.A.
Above shows that the equivalent of Rs.2.88 in January 2020 for solar power in the Middle East was not a fluke but a result of continuous improvement of solar technology.
Sri Lanka's involvement with renewable energy
During the 2010 early period, country tasted renewable energy in a minor scale. In 2010 Sri Lanka Sustainable Energy Authority (SLSEA) gave approval for wind power projects resulting 15 wind power plants by 2014 producing 127 MW, constructed by six companies, 10 exceeding 10 MW. Of them Hayleys installed two projects totalling 30 MW. But no further wind power plants were allowed, claiming corruption.
In November 2019, CEB called request for proposals for the establishment of 1 to 10 MW wind power plants totalling 60 MW on BOT basis bids closing on 20 February, overlooking that existing privately owned wind power plants were mostly over 10 MW.
Rooftop solar
SLSEA introduced rooftop small solar power units in 2010 which became a success leading to Surya Bala Sangramaya or the battle for solar energy in 2016. The programme targeted 200 MW of power to national grid by 2020 and 1,000 MW by 2025.
Currently 20,000 solar systems supply 215 MW to national grid. The system was revised in August 2019 as rooftop solar producers up to 50 kWh being paid Rs.19.75 for 20 years, while systems above 50 kWh be paid Rs.18.75.
Small solar power producers
Earlier, SLSEA accepted solar power produced by small private producers up to 5 MW, accepting power at Rs.23.10 a unit. Since January 2016, CEB blocked all NCRE projects. Small Solar Producers Association protested that 617 prospective producers with 1,555 MW capacity already registered with SLSEA and having paid over Rs.100 million were let down by CEB. The Minister wished to reduce the payment to Rs.16 a unit, claiming that solar panel costs have come down in the world market.
Solar power tender
In June 2017 under Sooryabala Sangramaya Phase II, CEB called bids for 60 solar power plants of 1 MW capacity, to be connected to 20 grid stations. Out of 63 bids received, 36 were accepted under rates of Rs.12.73 to Rs.18.37 per unit, averaging Rs.17.22. Of the accepted projects, currently 16 MW of power has been connected, indicating poor progress after 2½ years.
CEB deliberately delayed renewable energy
Over the past 10 years although the country touched renewable energy, CEB deliberately obstructed the development. Wind power projects developed since 2010 was stopped in 2014. Meanwhile, politicians failed to give policy support to renewables. If an acceptable system was established, private sector would have installed over 1,000 MW of wind power projects by now, completely eliminating the power crisis. Now, CEB wishes to call tenders claiming least cost principle is applied.
1 MW solar plants
When 617 prospective producers registered to produce up to 5 MW totalling 1,555 MW, CEB called tenders under 1 MW totalling 60 MW. Under the tender the developer needed to own five acres land for the project (afterwards reduced to three acres and leasing allowed); secure all environmental clearances, governmental approvals, statutory licenses and connect power to the CEB grid station. The grid stations proposed were Anuradhapura, Habarana, Kilinochchi, Maho, Pannala, Polonnaruwa, Valachchenai, Vavuniya, Horana, Panadura, Embilipitiya, Beliatta, Galle, Matara, Mathugama, Ampara, Mahiyanganaya, Monaragala, Pallekele and Vavunathivu.
Above conditions meant the investor needed five acres near the grid station, generally located in a suburb of the town with high land costs; also small production of 1 MW making overhead costs higher. Even under these conditions 36 investors submitted tenders and CEB accepted submissions averaging Rs.17.22. The accepted projects are coming into production now, but the process took two-and-a-half years.
CEB also limited the generation: For 1 MW solar only 36 were accepted. For wind power tenders were called for 1 to 10 MW for a total of 60 MW. CEB's procurement process suggests they are deliberately manipulating the system to limit the renewable power production and keep renewable prices above the coal based generation rates which they claim as around Rs.17 a unit.
Moving forward
Qatar solar tender shows the very low prices for large solar projects in the dry Middle East. Sri Lanka never will be able attract Qatar price of US$0.016 or Rs.2.88 /kWh, but we may be able to reach Rs.7.00 for large power plants if properly marketed.
Sri Lanka's renewable power generation could be of three types. 1. Roof-top solar to continue for another 3 years. 2. Mid-range power generation from 5 to 30 MW for solar and to 50 MW for Wind, by local entrepreneurs. 3. Large scale power plants exceeding 150 MW open to tender.
Time factor
The first part of Qatar solar power project of 350 MW is targeted for two years. Meanwhile, CEB promoted 1 MW power plants took over 2½ years showing the deliberate restrictions placed by CEB. If the country were to achieve targets unfair restrictions on developers need correction.
International power suppliers
The country's power sector has an extremely poor reputation on tender awards. Past Governments ignored number of MOUs signed for power plants with friendly countries. Kerawalapitiya power plant on BOO basis has not been finalised even after four years. Meanwhile two FSRUs are still pending. If Sri Lanka to offer solar and wind power generation on auction to international contractors, their bid prices would depend on many factors. Here the analysis in IRENA's Renewable Energy Auctions would be very much relevant to achieve prices near Qatar.
Lands for power project
Wind and solar projects need large land areas. Wind turbines only require a foot print of 3% land area and co-existence with villagers is possible. But solar requires nearly three acres per MW, meaning 30 MW plant needing 100 acres and a 150 MW plant 500 acres. Solar plants are best located in Hambantota, Moraragala, Mannar, Vauniya and Kilinochchi districts where large extents of generally flat, arid, shrub lands devoid of streams and population are available on State-owned lands.
Lands could be selected by investors themselves saving time and approved by CEB. Possible areas could be selected via Google map and finalised after field visits, making field visits minimum and saving time.
Mid-range power generation
Four years ago 617 prospective producers registered to produce up to 5 MW totalling 1,555 MW. If each company registered 10 times over would require 61 companies, still too high a number. Thus large number of investors would have registered well over 10 times. Thus lands over 100 acres could be allocated to a single investor or be distributed over number of small investors and the generated power minimum 30 MW be collected by CEB established power lines.
The selected State lands need be released to prospective investors on a nominal lease, on condition that lands be utilised for the purpose within a specified period. Also cumbersome approvals from various institutions could be waived off for solar and wind projects.
Power purchase price
Tenders called for 1 MW solar averaged Rs.17.22, which included owned property and delivering power to CEB grid. If State lands are released and power is purchased by CEB at site, power from a 5 MW plant could be delivered at Rs.15 per unit. If he produces 30 MW, purchase price could come down to Rs.12 progressively.
In a similar manner wind power producers could produce up to 50 MW and prices be based on tenders to be opened in few days. Main feature being there would be no more tendering, opportunities would be offered to prospective investors selecting sites on a first-come, first-served basis.
Large power plants
Lands excess of 500 acres would be needed for large power plants of 150 MW. The country could offer three power plants each of 150 MW for solar and wind on tender for prospective tenderers world-wide, making total output of 900 MW, equivalent to 600 MW coal or natural gas. The cost of power produced under above would be around Rs. 7 per unit, less than half of natural gas and very much less than coal, now around Rs. 18.
Construction period
Tenders called in June 2017 for one MW solar plants took over 2½ years. If investors are offered up to 30 MW on state lands with reduced red tape, such project could be completed under 18 months. International tender for 150 MW plants could be completed within 30 months from tender award. But again tender conditions need be made simpler.
Meeting the power challenge
Today, the country is facing a power challenge and the cabinet accepted coal and natural gas plants. But getting environmental acceptance for coal would be near impossible. Meanwhile natural gas import, storage along with accommodating Mannar gas has not even been discussed. Thus will require over five years with power costing minimum Rs.18 and Rs.15 per unit. Meanwhile, the country will have to resort to high cost emergency power purchases.
Whereas, solar and wind power from mid-range producers cost between Rs.15 to 12 and from large producers supplying at around Rs.7 a unit, without government funding. If power purchases from mid-range producers who were waiting for over four years are accepted as a policy immediately, their power would arrive from 12 months onwards, totalling 1,000 MW ending oil based power requirement. Large producers would follow.
Achieving above could only be possible if CEB engineers corporate with renewables, State owned lands be released and approvals issued without undue hassle to investors. To ensure same the President needs to appoint an Overlooking Committee" considering the urgency, to ensure smooth procedures.