HIGH-RISE CORRUPTION
Posted on February 29th, 2020
By Piyumi Fonseka Courtesy The Daily Mirror
Mushrooming of apartments, buttressed by corruption, creating infrastructure nightmare for Colombo
Colombo's skyline is rapidly changing with apartment constructions that cost millions of dollars. But, are they complying with planning and construction regulations? An investigation by Eye has revealed violations in planning and construction of apartments in the Colombo District, which have become far too commonplace.

Outdated legislations and policy guidelines, we discovered, are the main reason for this alarming trend. The situation has also led to corruption creeping into the system, increasing negative social impacts and safety risks to the community.
Violations of rules and regulations
Eye is in possession of an audit report inspecting a total of 37 apartment complexes in the Kotte-Sri Jayawardanepura area, compiled by the Urban Development Authority (UDA) in 2017.
According to the report,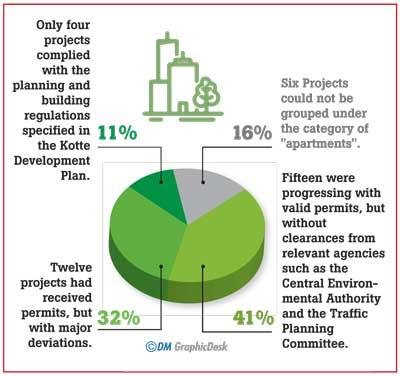 The audit report exposed a number of projects which have violated building by-laws. When Eye inquired, it was found that neither the UDA nor the Kotte Municipal Council has done any follow up to pressurize certain developers to pay the penalty and resort to regularization.
With no central authority to review construction, the result is the creation of the densest urban sprawls with structures facing one another only a few feet apart mainly in Dehiwala – Mount Lavinia and Kotte-Sri Jayawardenapura areas. Let's take a look at a few major cases that took place recently.
Rajagiriya
A group of residents living off Buthgamuwa Road, Welikada, Rajagiriya, are raising voices of dissent, against an Indian luxury apartment project. The residents claim that the construction site of which they said the approval and clearance process had several hitches, has posed severe threats to their safety and welfare. They demand to know whether this is the 'price' they have to pay in exchange for development.
Following a RTI filed by residents, it was discovered that a private road was converted to a public road in order to give access to the luxury condominium under construction. They also complained that they were greatly disturbed by deafening construction work which continued into late night. A host of other issues were revealed about the construction site, including the illegal filling of a marsh and building an unauthorised bridge as the main access road to the project.
Retired Col. Vikum Siriwardana, one of the affected residents said, We demand that development is carried out according to the law and in a manner that doesn't hinder residents. We urge the government to put an end to these illegal practices and to carry out development initiatives in a planned manner."
Mount Lavinia
Residents in many coastal roads in Mount Lavinia including Lilian Avenue, Mount Avenue, Simon Abeywickrama Avenue and Hotel Road speaking to Eye said that they were experiencing problems due to apartments spouting next to their residences. Their problems included lack of water supply, natural sunlight, ventillation, noise pollution, issues in garbage collection, lack of maintenance of drainage systems, prevalence of dengue menace and traffic congestion. They also question how the UDA gave the nod to such constructions which are destroying lives of neighbouring communities.
Thilak de Alwis, a resident of Simon Abeywickreme Avenue said; These roads, especially Abeywickreme Avenue, Hotel Road and the adjacent roads, are by-lanes which are less than 15 feet. The traffic congestion we have with the three schools, namely St. Thomas's, Girls' High School and Buddhist Ladies College has worsened now. In an emergency, an ambulance can't reach the destination."
If a fire breaks, the fire brigade cannot reach. If there is a building which is 35 to 40 perches land, the mobility for a fire engine is not possible. In that case, we are in danger," Thilak said.
There was an amendment to the fire regulations in Sri Lanka last year with more advanced fire precautionary methods. However, experts in fire safety are of the opinion that even with the new regulations, it is difficult and almost impractical to make structural changes to existing buildings.
Another resident in Mount Lavinia Amal Wijayamuni said they have complained many times to UDA, the Police and many other government authorities responsible for regulation of high-rise buildings, but nothing has happened. Development is not just building. Each city has to have a plan. It's not about 24 perch areas where you build a high rise. Please don't make Sri Lanka like Dhaka in Bangladesh. Plan it and do it properly," that was his request.
It is easy to detect obvious non-compliances such as the encroachment of road reserve by builders and inconsistent planning of fire protection passages between properties. Many buildings in Mount Lavinia, Dehiwala and Wellawatte do not even have proper driveway entry profiles.
Major loopholes
The Planning and Building regulations contain several building specifications with regard to minimum extent of land, maximum number of floors, minimum road width, minimum width of plots and plot coverage ratio, etc. Issuance of preliminary clearance, approval of plans for constructions are done by the UDA while the constructions below the said specifications are handled by the Municipality.
When studying all the cases and complaints of the residents from various parts of the Western province who are affected by the mushrooming apartment constructions, it was highlighted that in many instances;
Local authorities such as Municipal Councils (MC), Urban Development Authority (UDA) not abiding by the laws and regulations
Central Environmental Authority (CEA) is not doing its job
A legal officer from UDA is taking the side of the developers and blamed the residents, adding that they should not commit any sins by opposing high-rise constructions. (Paw weda karanna epa)
Former Chairman of the UDA Mr. Jagath Munasinghe has allegedly worked as the consultant architect of an apartment developer
It was alleged by the general public that the public officials were being bribed by the developers
Meanwhile, Eye interviewed a small scale property developer from Maradana who shared his experience of dealing with local government officials in obtaining approvals for his previous construction projects.
As the owner, I met all the criteria which were laid down by the municipality. When we applied for the Certificate of Conformity (COC), they said we had violated the street line requirement. We had a loan to be paid. We invested all what we had. But, we couldn't rent it on time because the COC was not given to us. It was a terrific time we had. Finally we paid these officers who were involved in giving the green light. We paid them Rs. 150,000, which was their request. When we paid the money, there was no objection. Everything was alright and we got the COC. This is only one experience I had. I have enough experiences. Anything illegal, what they say, will become legal and legitimate once you pay them out. That is the story of this country," he said.
Taking the issues to court
The residents of Layard's Road, Thimbirigasyaya, Attapattu Mawatha and Longden Place, Colombo who have also faced severe problems due to apartment constructions in their neighbourhoods have sought legal actions against the developers.
With the support of the Transparency International, a case was filed at Court of Appeal Writ No 43/2019 on March, 2019. The residents seek to direct the relevant authorities to implement the laws pertaining to construction, take action against the illegal constructions, investigate corruption and address gaps in regulations. The case also advocates for both policy and institutional reforms as it has some major concerns as follows.​
Writ of Prohibition- Directing UDA, MCs/UCs/PSs issuing permits which are violating the laws and regulations of the country ​
Writ of Mandamus- Directing UDA to strictly follow UDA Law no 41 of 1978 and amendments, strictly follow the Zoning Plan ​
Writ of Certiorari – Calling and quashing development permits issues under extraordinary Gazette 2054/45 dated 18/01/2018 which permits additional parking floors, etc.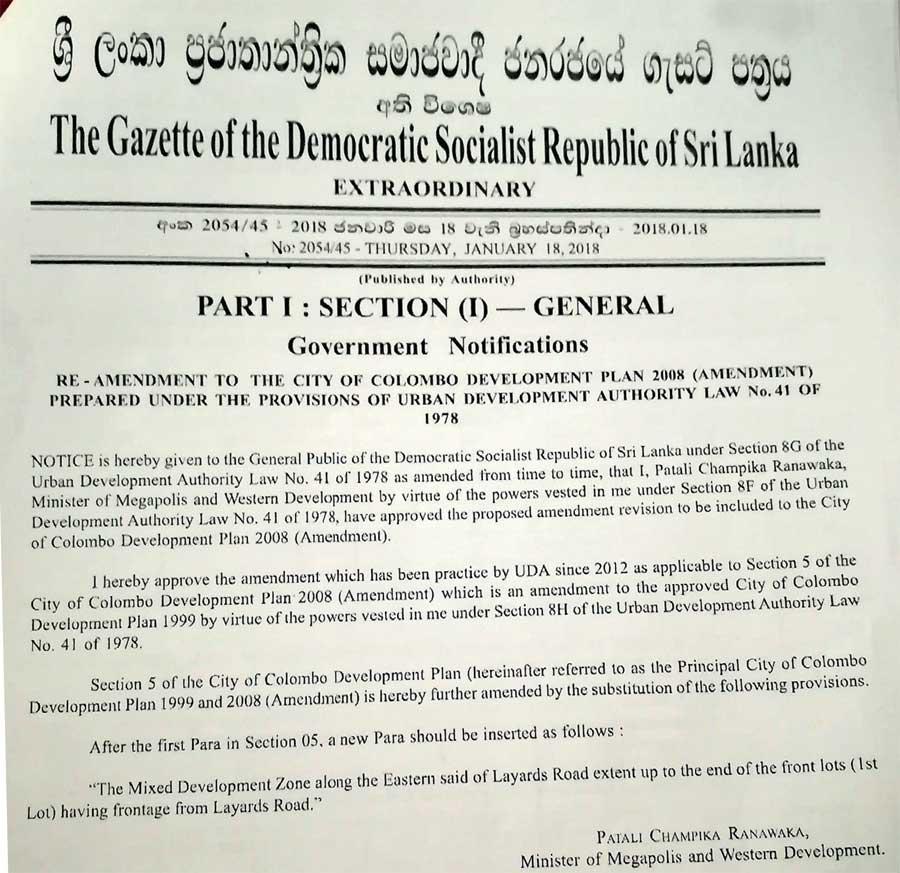 The Petitioners state that in the most arbitrary manner, former Minister of Megapolis and Western Development, Patali Champika Ranawaka, had published the above Extraordinary Gazette, amending the 2008 Amendment of the Colombo City Development Plan, which purports to permit additional parking floors to be discounted not only when calculating the Floor Area Ratio but also from the calculation of the permissible number of floors, dangerously allowing monstrous and gigantic high rise constructions to come up.
---
The need of a Building Code
Unfortunately, residents often have limited knowledge about the hidden structural defects, usage limitations and regulatory compliance requirements that should be fulfilled during the construction phase and also during the lifespan of the building. This knowledge is important to ensure consumer health and safety, to obtain a fair return on investment and to facilitate building functionality, sustainability and comfort, said Janaka Seneviratne, a Chartered Professional Engineer and an International Professional Engineer of Institution of Engineers, Sri Lanka and Australia.
He believes that Sri Lanka has the worst possible regulatory and compliance mechanisms. Builders 'run the show' according to their whims and fancies while regulatory authorities rely on builders' recommendations as many professionals employed at approval authorities are not fully-trained or technically skilled enough to handle a holistic and practical development approval process. The authorized officers lack a proper understanding of building compliance aspects, Mr. Seneviratne explained.
It is unfortunate that many consulting engineers have become just document collectors and coordinators without any technical input or control over the development process," he said.
He also shed light on the government's duty in the matter. We don't have a good public sector certifying system due to the unavailability of a Consolidated Building Regulation Act and a National Building Code. We only act after a disaster."
The expert claimed that Sri Lankan ministers have no clue about the need to develop a proper Building Regulatory System which is why there is a need of a clear leadership from the Executive level of the government.
Decisions on development activities in Sri Lanka are made at Pradeshiya Sabhas, Urban, Municipal and Provincial councils and Ministries. In the above set-up, there are overlaps of authority, conflicts of instructions, contradictory regulations and compliance loopholes supported by corruption and bribery.
However, in case of an emergency, such as a fire or collapse, which authority will accept responsibility? The question remains.
If you know any issues that deserve to be investigated and reported on Eye, which would otherwise go unreported, write to our team dmeyelk@gmail.com or Deputy Editor – Investigations, Dailymirror, Wijeya Newspapers, No. 8, Hunupitiya Cross Road, Colombo 02, Sri Lanka.