START UP COMPANIES AND START UP NATIONS FOR INNOVTIONS AND DEVELOPMENT
Posted on May 19th, 2020
Sarath Wijesinghe President's Counsel and former Ambassador to UAE and Israel
Start-up Company
If you have an apple and I have an apple then you and I have an apple each and then you and I will still have each one apple but we exchange apples and we exchange ideas we have two apples and ideas. (George Bernard Show) This is his quotation on exchange of knowledge and experience which is a prerequisite on innovations and start-up companies.
Start Up companies and SMEs are thriving on innovations and exchange of ideas and impart to be shared with visionaries to carry forward for the good of others and impart of knowledge and experience. Singapore, Malaysia, Israel, and Dubai are blessed with visions and visionaries when Sri Lanka is awaiting for a visionary with a vision on post Corona era. Start-up company or project is initiated by an entrepreneur so that it could be efficient developed and will undertake finest business models to suit him and the nation he is based on. Entrepreneur is an essential component in countries economic growth and small medium companies/enterprises as engines of economic growth. Entrepreneur is an innovator initially a novel business product or industry providing employment and /or generating income to the economy. Entrepreneur is a person with great innovative ideas that identifies the need for the creation of business to fill the void. Entrepreneur can be people with all ages though it is young in the lead today. Innovator is one who is doing things differently and in a most novel and modern way that none has done before based on his creativity. He embraces the idea and create tools and products. Initiatives and ideas derive ideas with valuable resources and ideas convert to useful products by transferring himself to an entrepreneur. Catalysing the innovator and entrepreneur environment, education and the compulsion by the society is a valuable factor depends on the environment facilities and push by the state.  Why do innovators and entrepreneurs mostly emerge in certain countries and surroundings? Is posed by those interested on the subject taking Israel as an example. 
Bill Gate
Bill Gate is the richest man on the earth started as a small time entrepreneur is today with estimated income over 97 billion us dollars when a small time entrepreneur in a remote Sri Lanka or Israel with the potential to be a leader and a productive product to his country is influenced by the progress with humble beginnings of leading business leaders. Today world is with limited borders or restrictions for proactive entrepreneurs who are busy with leapfrogging innovations towards start-ups SMEs and multinational companies aiming to be Bill Gates. They are designing launching and running a new business which as a small business person who create a business taking high risks with confidence and future plans. Good news and sign in Sri Lanka is the current trend of emerging new and young entrepreneurs with new ideas and innovations and the current downturn on economy based on Corona may be a blessing in disguise for the bright and new future in the new world order of post Corona era. There are young and emerging entrepreneurs in the country with a penetration of 110% mobile network and computer literacy by many without lack of leadership and opportunities by leaders of commerce such as many chambers of commerce, departments spending millions on promotion of SME's start up company's trade and commerce in general in a traditional man inside the traditional box. IT education, training in technical and training centres paper to be following the same curriculum and attention to research an innovations appear to be nonexistence. Strangely still Sri Lankan departments depend on FAX messages when it has dis – appeared world over when Corona Debacle has brought the  use of what's app email and modern IT trends to the surface. Data business has superseded income of gold and narcotics exploiting the public with their monopoly and silence/inaction of the Consumer groups and the regulator Consumer Affairs Authority discouraging the entrepreneurs and innovators using data for their researches. It is the duty of the State to assist, monitor, and promote Start-up and SMEs in a scientific and commercial methods by setting up a central body with dedicated and educated leaders with exposure to the world noting that we are not at all short of Sri Lankans inside Lanka and would've willing to take part and assist in any program/s noting what I lacking is the vision and the will of the persons concern with a note that it is necessary and urgent to place this neglected area under control. For entrepreneurs and researchers Data is a necessary tool as much as the average citizen ripped off by fat cat Data Monopoly. State should take this very seriously in addition providing more incentives and facilities to the prospective start up initiators and potential SMEs.
Why not us?
Almost half of the world's top technologic companies have bought start-ups or opened research and development centres in tiny Israel with no resources for reasons confined to themselves. West needs innovations Israel has got it which is not rocket science for them who are living in an atmospheres of innovations every corner with facilities to share knowledge and experiences of others. Israelis are capable of providing the world necessary ammunitions to suit their needs to be utilized jointly by buying the small start-up company Why not US? Now there will be an emerging necessity to initiate SMEs in Sri Lanka- and many other countries- due to the forthcoming possible economic downturn and modern trend of IT educated young generation looking for challenges out of sheer necessity as Israel had to face a new life new country with challenges when life started 70 years before in the Barron land with no water and they worked harder to convert agriculture 95% technology with hard work innovations Start Ups and SMEs and innovations. What is lacking in us is exchange of ideas innovations with visions and creativity out of box aiming at one considers impossible. Israel's have been pushed and chased away for nearly 2000 years until they settle down in the most hostile baron land with no water which they transferred to a world power with hard work, innovations out of shear necessity. Today Corona is chasing the world and us to be different and difficult with rapid transformation and applications of technology in all sphere of life and undoubtedly the fear will engulf us with the compulsion to change.
Start Ups in Sri Lanka
Not many start-ups  are available in Sri Lanka as in Israel or other small vibrant and developed as in Singapore, Hong Kong , UK, USA ect but the good sign is the small number of start-ups in Sri Lanka is manned by comparably young. We will name few start-ups – to complement and encourage themselves and new comers- such as Pick me, and Taksa.lk, lkaman.lk, Kapruka.com with the hope many to follow using the new world  trend learning from the leap frog world developments catalysed by Start Ups and SMEs taking control of the future in many areas on development and productivity. Sorry state is many earns less than one million with small number of foreign clients.  In Israel the start-ups are backed by the state and the system helps them to sell the business and products to the world with unprecedented profits based on the innovations entrepreneurship and productivity in a proactive society with every other citizen is an innovator out of compulsion in a society with highest concentration of graduates not demanding assistance from the state for employment as in Sri Lanka. Though Sri Lanka has few start-ups Israel has the highest Start-ups -currently 6000- in the world in number vibrant and active proportional to the population of the country.
Start Up nation-Israel
Israel is named start up nation due to activism on the subject and the abundance of start-ups as forward runners over 6000 SMEs with SMEs as engines of economic growth in an exemplary way raising the tiny nation to a nuclear world power only with the help of human resources in the absence of any natural resource water or any other assistance from outsiders fighting with all the neighbours right round. Having said that Israel is in the forefront in utilising the start-up companies and SMEs it is laying foundations for a leapfrog attempt to be major party in the field in par with the major players.
Innovations Development and Way Forward for success
Today innovations are a part parcel of development acting directly and a catalyst in reaching the targets of developments in all sectors generally with the assistance of the UN and the friendly members of the Globe with advanced knowledge and experiences in main areas of development. For example though Israel is a small nation she helps USA, India, China and many with their newly acquired knowledge on innovations and challenging models of developments. Developments will give positive changes in economy social structure infrastructure with developments on Education science and other components in life with the minimum time frame and with affordability. Quality and Quantity should be visible with the economic growth with human index in sustainable developments aimed by the UN assisting through the agencies. Continuity of water, energy, food, medicine Education with food security and public security are within the purview of development. Despite assistance from UN World Bank or friends the underline feather  for success on development is how and to what extent the counter faces challenges and the rate of innovations and plans of developments by Innovators Entrepreneurs, Start UP's, SME's State and the Private sector in an combined effect .
Writer could be reached on sarath7@hotmail.co.uk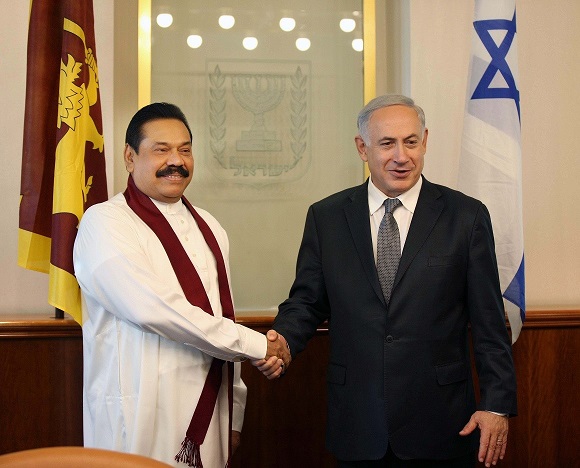 President Mahinda Rajapaksa (then) currently Prime Minister in Sri Lanka and Israel Prime Minister Benjamin Nethanyahue (Prime Minister to date) held bilateral talks in Jerusalem on 8/1/2014 during his visit to Middle east which included Palestine (visit initiated by then Ambassador Sarath Wijesinghe President's Counsel)