Disclosure of foreign secretary raises eyebrows
Posted on August 31st, 2020
S. AKURUGODA
According to the disclosure of Foreign Secretary Admiral Jayanath Colombage to the media, the government is to appoint one time Minister Milinda Moragoda, as Sri Lanka's High Commissioner of Cabinet rank to India and, once such status is afforded, Mr. Moragoda will be able to interact with the leaders of both the countries directly without the procedure of going through the respective foreign ministries.  
Meanwhile, considering the recorded background and chequered history of the person involved, social media have started to raise questions on the government's intermediaries connected to Moragoda and his Pathfinder outfit.
Moragoda, founder of Pathfinder Foundation, served in Ranil Wickremesinghe's Cabinet from 2002 to 2004. We are fully aware of his close connections with the LTTE hierarchy including Anton Balasingham, Norwegian Solheim etc and the key role played by him to make infamous Ranil-Prabhakaran CFA a success. (www.tamilnet.com/art.html?catid=13&artid=7222) It would be advisable for the government to revisit to that era, for a moment, and see what would have been the disastrous situation of the country today if Moragoda was successful in his endeavor.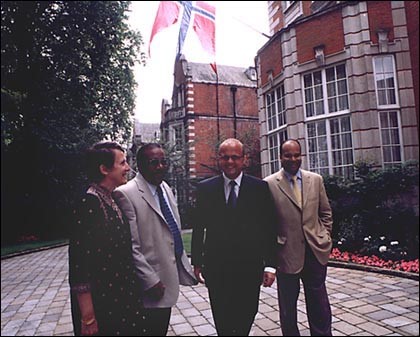 Mr. and Mrs. Anton Balasingham with State Secretary of Norway, Vidar Helgesen and Sri Lanka's Minister, Milinda Moragoda (right) (Photo: Jorn Tomter)
Although we are aware of the background and what he did in the past since 2002, his links to the USA, and allegations of corruption etc after going through media reports, the easiest way to convince information, acceptable to many, is to refer to Wikipedia.
US Government interest and the services rendered by Moragoda are stated as follows.
US Embassy cables released by WikiLeaks show Moragoda to be a long time information source of the US Embassy in Colombo. The cables also state the US Government's interest in Moragoda as their key partner in Sri Lanka."
Writing to Washington in 2003, then US Ambassador to Sri Lanka Ashley Wills says of Moragoda:
[Regarding] the U.S., the intelligent, articulate Moragoda is a perfect fit. born in Washington, D.C, he is a dual national Amcit (please protect) married to an American, with plenty of Washington connections, many from his days as a visiting fellow at the Heritage Foundation and at Harvard. A "big picture" person, Moragoda is also highly aware that the U.S. is the most powerful country in the world, and he feels that it is better that Sri Lanka recognize that fact and work within it.
Under the introduction and 'allegations of corruption' sections, Wikipedia states;
In 2007 the Parliamentary Committee on Public Enterprises (COPE) accused then opposition parliamentarian Moragoda of large scale corruption during his time as a UNP minister. In a bid to dodge prosecution Moragoda crossed over to the ruling UPFA government and was appointed Minister of Justice and Law Reform.
Currently dual citizenship is a bar to enter the Parliament as an MP or to be a President of the country. It looks like our politicos who are critics of appointing a Central Bank Governor with Singapore citizenship, during the previous government, haven't learned a lesson from the past. Thus appointing a person with dual citizenship with past records of above nature as a High Commissioner of Cabinet rank" is highly questionable.