THE POHOTTUWA GOVERNMENT OF SRI LANKA Part 2 C9a
Posted on December 23rd, 2020
KAMALIKA PIERIS
One solution to the problem of a future Indian Ocean war is for Sri Lanka to return to the policy of Non Alignment. The Non-Aligned Movement (NAM) started at Bandung Conference of 1955, during the time of Prime Minister SWRD Bandaranaike. It became a formal organization in 1961.
Under the Chairpersonship of Prime Minister Sirimavo Bandaranaike, Sri Lanka helped this movement reach its zenith in the mid 1970s. Sri Lanka held a very successful Non-Aligned Summit in Colombo in 1976. After that, Sri Lanka occupied a respected position in international relations. Sri Lanka was regularly consulted at the United Nations. Sri Lanka's opinion was sought at the UN when issues came up. This is the highest recognition Sri Lanka has ever achieved in an international arena. Taking into account our small size this was an extraordinary achievement, said analysts, proudly. Sri Lanka enjoyed status way above its size.
When J.R.Jayewardene became President, in 1977 he took Sri Lanka away from Non Alignment towards alignment with USA. During his time, Sri Lanka started to vote all over the place at the UN, including support for UK's Falklands War. The UN stopped consulting Sri Lanka, but NAM did not forget Sri Lanka.
Former Diplomat Sarala Fernando recalled the warm reception she received in the countries she went to. Sarala recalled , in the 1980's as a young diplomat in Kenya, so many times I would meet friendship and warm smiles from people of different levels in society, as Mrs. Bandaranaike was remembered as the world's first woman prime minister, and Chair of the Non Aligned movement. A considerable achievement in those days.
I remember Vice President Binh, when I presented credentials in Vietnam in the late 1990's, having warm words of friendship for Mrs. Sirimavo Bandaranaike and Sri Lanka's support during the difficult war time years, continued Sarala.
During my tenure of office in Geneva (2004-2007), I remember the solidarity of the Asian Group, and how delegation upon delegation stood with Sri Lanka, at the Human Rights Council, recalling Sri Lanka's support extended to them in times of their need, concluded Sarala.
NAM is still in existence, though in low profile. NAM supported Venezuela at the UN Human Rights Council. It is now a forum of 120 states, not formally aligned with any major power bloc. NAM is second only to the United Nations in size. It represents two thirds of the world population and could be a formidable force in the international arena, said analysts.
Non Alignment does not mean remaining neutral where freedom of a nation is threatened. It means joining non military alliances, to combat the threat, said Tamara Kunanayagam. 'Non alignment' is not a passive movement. It has certain principles. It stands for non-aggression, non intervention, sovereignty, territorial integrity, cooperation, and multilateralism, added Kunanayagam.
On the other hand, NAM is no longer the relatively unified block it was and some of its giants, like India, have been compelled to take sides, admitted analysts. It has, in my view, faded in power and image and will have to be resuscitated for any future Indian Ocean war. Resuscitation will not be easy. Non-alignment must be been supported by the whole of South Asia, for its to be effective and South Asia's biggest, fattest member, India, is totally aligned with USA.
However, the Pohottu government wishes to return to a policy of Non-alignment and to its earlier status as a pioneer of the Non-Aligned Movement. We should recover our earlier position in the NAM, said Palitha Kohona. Some senior NAM diplomats still have sympathetic feelings towards Sri Lanka, he said.
The best solution for getting out of this dilemma would be to return to Non-Alignment, said the intelligentsia. National Joint Committee of Sinhala Organizations said, 'We believe that Sri Lanka should follow a foreign policy of Non-alignment.'
However it is difficult to see how Sri Lanka can practice Non-alignment. The issue of Non-alignment clashes with Sri Lanka's new policy of 'India First'. Pohottu has stated that Sri Lanka will not be a strategic security concern for India. Sri Lanka will not do anything harmful to India's strategic security interests, said Pohottu.
Sri Lanka is the only neighboring country, which does not have a land border with India, making it more independent that most other SAARC countries, observed analysts. Sri Lanka is strategically located for India. India's National Security advisor Shiv Shankar Menon noted that Sri Lanka is a permanent aircraft carrier in the Indian Ocean and this can be a threat to India.
Knowledge of contemporary India is lacking in Sri Lanka, observed K Godage in 2010. Pathfinder Foundation signed a memorandum with the Indian think tank, Vivekananda international foundation in 2014 and set up a Center for Indo Lanka Initiatives in 2016. University of Colombo has a Centre for contemporary Indian Studies (CCIS), for research on contemporary India, and for those working in the field of contemporary Indian studies. It has a journal, a library, guest lecture series and visiting scholars.
Military wise, Sri Lanka currently has links with India. India–Sri Lanka–Maldives trilateral maritime security dialogue was held in Colombo in 2020. This was a revival of the National Security Advisor (NSA) level dialogue among the three countries, which had began in 2011. The first talks were held in Male in 2011, Sri Lanka hosted the second and the third was held in New Delhi in 2014. This was attended by Mauritius and the Seychelles as 'guest countries'.
The India–Maldives DOSTI joint Coast Guard exercise has been going on since 1991 and is aimed at strengthening capabilities in the area of search and rescue operations, combating piracy and armed robbery, damage control, and casualty evacuation at sea. Sri Lanka joined in 2012.
India is planning to fight China, militarily in the Indian Ocean. The Andaman and Nicobar Islands which are India's first line of defense on the eastern flank will now be headed by a commander who will report to C-in-C of the Eastern Naval Command. India needs to further build on its nuclear-armed submarine capabilities housed in Andaman and Nicobar Islands, said experts.
India's first Maritime Theatre Command (MTC) will be at the Karwar naval base in Karnataka. Its commander-in-chief will have full operational control over the western and eastern naval fleets, maritime strike fighter jets and transport aircraft, two amphibious infantry brigades and coastal patrol vessels. This will be part of India's biggest-ever military restructuring plan to build integrated land-air-sea war-fighting machinery in India. It will look after the country's 7,516-km coastline and 1,382 islands as well as the entire Indian Ocean Region (IOR) and beyond. It will have two sub-theatres for west and east, said India proudly.
But India lacks the money to expand its armed forces. The budget allocation for navy, for instance, is far too small. Therefore, India has joined Australia, Japan, and the United States to form the Quadrilateral Defence Alliance. India has also signed agreements with France, South Korea and Singapore.
In the past India rebuffed attempts by US-allied nations to play a bigger strategic role in South Asia. This changed because of China. India refused to invite Australia to the Malabar exercises in 2018 and 2019. After some hesitation, India invited Australia to join in the 2020 Malabar exercises.
India has been given the task of establishing military links with the nearby islands, on behalf of USA. In 2020, Mauritius with its predominantly ethnic Indian ethnic population, signed an agreement with India to build a military facility in the Maldives. India is building a new jetty and an airport costing USD 90- million, at the two Agalega Islands off the northeastern coast of Madagascar. These are about 1,000 kilometers north of Mauritius. There was a small protest movement against this, but it was squashed.
India also approached the Seychelles in 2020, with a proposal to build a military facility on Assumption Island, which will include an airstrip, naval jetty and a garrison of 500. There was a strong protest against it and the proposal was abandoned. China however, has a presence in Seychelles. China has built a new Parliament building and a Supreme Court in the Seychelles. China has also donated two light aircraft and two naval vessels.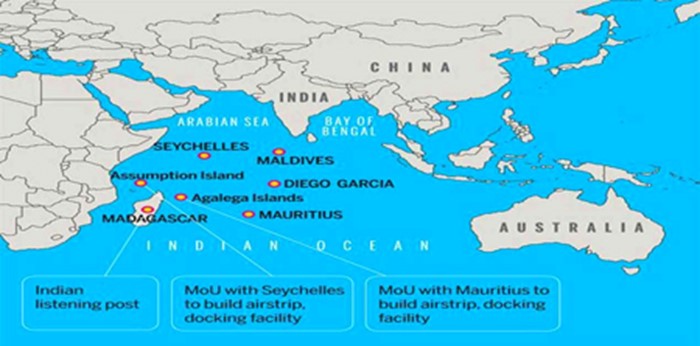 India is unable to play a dominant role in Indian Ocean politics because it lacks money. In 2020, India has been ranked 131 in the United Nations Development Programme's (UNDP) Human Development Index. It has slipped two places from the previous report. In 2019, India's ranking was 129.India is behind its neighbors Sri Lanka and China, who are ranked at 72 and 85.
New Delhi does not have the economic heft that Beijing has. Beijing has considerably increased its presence in what India considers to be its own backyard – particularly the Maldives, Sri Lanka, Nepal, and Bangladesh. China- which did not even have an embassy in Male till 2011- is now Maldives' largest lender with a loan of $3.1 billion.
China is also leading in military strength. In the last 5 years, the total tonnage of new warships and auxiliary launched by China exceeds the total tonnage of Indian Navy since independence. Between the period 2000-2018, China built more frigates, submarines, corvettes and destroyers than India, Japan and South Korea combined. In 2020, China already has the world's largest Navy with 350 warships and submarines, and plans to reach a force-level of 420 by the end of this decade.
India is not interested in winning friends and influencing people. India takes a belligerent stand with its neighbors. India has engaged in a huge propaganda plan against Pakistan, which is described below. India could not possibly have carried this out alone. India lacks both the knowhow and the money. This venture shows USA involvement, both in money, contacts and method.
EU DisinfoLab, based in Brussels, reported in 2020 that it has uncovered a media network, intended to tarnish the image of Pakistan abroad. "It is the largest network we have exposed," the EU DisinfoLab said. The network was designed primarily to "discredit Pakistan internationally" and influence decision-making at the UN Human Rights Council and European Parliament.
Asian News International (ANI) established in 1971, led this activity. ANI was India's largest wire service with more than 100 bureaus in India, South Asia and across the globe". Indian news media, especially broadcast media, relied heavily on content provided by ANI. ANI's news reports were also published in many mainstream Indian news outlets and publishers.
EU DisinfoLab discovered that ANI had also helped to distribute information on fake media outlets. Its content was reproduced on more than 500 fake media websites across 95 countries. "There were layers of fake media that would quote and republish one another.
EU DisinfoLab said it had never encountered such co-ordination between different stakeholders to spread disinformation. The uncovered network was one of the most persistent and complex operations he has seen, said an expert on disinformation. You need more than a few computers to plan and sustain such an action," he said. The efficiency of the operation showed, sophistication and drive.
The investigators uncovered 265 pro-Indian sites operating across 65 countries, and traced them back to a Delhi-based Indian holding company, the Srivastava Group (SG). The Srivastava operation had begun in late 2005, a few months after the present UNHRC was established. The Srivastava operation is spread over at least 116 countries and has targeted members of the European Parliament and the United Nations.
The disinformation network had a two-pronged strategy, one at Geneva the other at Brussels. .In Geneva, Srivastava Group had links with at least 10 UN-accredited NGOs, as well as several other organizations which were used to promote Indian interests and criticize Pakistan internationally. They were in charge of lobbying and protesting, and taking the floor at the UNHRC on behalf of accredited organizations. There were several hundred pro-Indian interventions by the non-accredited NGOs, which were repeatedly given the floor at the UNHRC on behalf of the accredited organizations, maligning Pakistan.
On other occasions, NGOs and organizations which seemingly had nothing to do with Pakistan or India according to their stated objectives would get the opportunity to speak at the UNHRC and target Pakistan. NGOs were permitted to raise whichever issue they wish when they are granted space to speak on the floor. "There are no rules stating that an NGO must speak to specific issues explained an official.
In Brussels, the focus was on the Members of the European Parliament. They were taken on international trips and solicited to write "exclusive" op-eds for fake outlets like EU Chronicle, which would then be amplified using ANI. This operation impersonated regular media outlets. It used the letterhead of the European Parliament, registered websites under avatars with fake phone numbers, provided fake addresses to the United Nations, and created publishing companies to print books of the think-tanks they owned.
Demonstrations in Europe conducted by organizations linked to the Srivastava Group were covered by ANI, as well as by fake media websites linked to SG. DisinfoLab found at least 13 instances of ANI re-publishing mostly anti-Pakistan and sometimes anti-China op-eds originally published on EU Chronicle, one of the fake news sites linked to SG.Source https://www.bbc.com/news/world-asia-india-55232432 (continued)