This communication was sent to the House and Senate members by the Sri Lankan American Action Coalition on May 27, 2021.
Posted on June 1st, 2021
Sri Lankan American Action Coalition (USA)
FOR THE ATTENTION OF THE MEMBERS OF THE SENATE FOREIGN RELATIONS COMMITTEE
Sen. Menendez, Robert
Sen. Cardin, Benjamin
Sen. Shaheen, Jeanne
Sen. Coons, Christopher
Sen. Murphy, Christopher S.
Sen. Kaine, Tim
Sen. Markey, Edward J.
Sen. Merkley, Jeff
Sen. Booker, Cory
Sen. Schatz, Brian
Sen. Van Hollen, Chris
Sen. Risch, Jim
Sen. Rubio, Marco
Sen. Johnson, Ron
Sen. Romney, Mitt
Sen. Portman, Rob
Sen. Paul, Rand
Sen. Young, Todd
Sen. Barrasso, John A
Sen. Cruz, Ted
Sen. Rounds, Mike
Sen. Hagerty, Bill

FOR THE ATTENTION OF THE MEMBERS OF THE HOUSE FOREIGN AFFAIRS COMMITTEE

Rep. Meeks, Gregory W.
Rep. Malinowski, Tom
Rep. Sherman, Brad
Rep. Sires, Albio
Rep. Connolly, Gerald E.
Rep. Deutch, Theodore
Rep. Bass, Karen
Rep. Keating, William R.
Rep. Cicilline, David N
Rep. Bera, Ami
Rep. Castro, Joaqui
Rep. Titus, Dina
Rep. Lieu, Ted
Rep. Wild, Susan
Rep. Phillips, Dean
Rep. Omar, Ilhan
Rep. Allred, Colin Z.
Rep. Levin, Andy
Rep. Spanberger, Abigail Davis
Rep. Houlahan, Chrissy
Rep. Kim, Andy
Rep. Jacobs, Sara
Rep. Manning, Kathy
Rep. Costa, Jim
Rep. Vargas, Juan
Rep. Gonzalez, Vicente
Rep. Schneider, Bradley Scott
Rep. McCaul, Michael T.
Rep. Smith, Christopher H.
Rep. Chabot, Steven
Rep. Wilson, Joe
Rep. Perry, Scott
Rep. Issa, Darrell E.
Rep. Kinzinger, Adam
Rep. Zeldin, Lee M.
Rep. Wagner, Ann
Rep. Mast, Brian J.
Rep. Fitzpatrick, Brian K.
Rep. Buck, Ken
Rep. Burchett, Tim
Rep. Green, Mark E.
Rep. Barr, Andy
Rep. Steube, W. Gregory
Rep. Meuser, Daniel
Rep. Tenney, Claudia
Rep. Pfluger, August
Rep. Malliotakis, Nicole
Rep. Meijer, Peter
Rep. Jackson, Ronny
Rep. Kim, Young
Rep. Salazar, María Elvira

THE TRUTH ABOUT SRI LANKA – BEFORE YOU BELIEVE STORIES OF GENOCIDE", MARGINALIZATION" , DISAPPEARANCES" AND FORM MISIDEMOCRACY AND THE CHOICE MADE BY THE TAMIL PEOPLE LIVING IN SRI LANKA, CONSIDER THEIR DESIRES TOO AND NOT ONLY THOSE WHO COME THROUGH YOUR DOORS TO FEED MISINFORMATION.
THIS IS FOR THE PURPOSE OF EDUCATING LEGISLATORS IN THE USA ABOUT SRI LANKA. PLEASE READ THE ATTACHMENT. (The content below was sent as an attachment to the members of both The Congress and Senate in foreign affairs.)
HOW CAN YOU BE GUIDED BY PROXIES OF A TERRORIST ORGANIZATION AGAINST A DEMOCRATIC GOVERNMENT THAT HAS A RESPONSIBILITY TO ALL CITIZENS WHEN SUICIDE BOMBERS AND FORCED CONSCRIPTION OF CHILDREN AND TERROR TOOK PLACE FOR 30 YEARS? DID THE WESTERN POWERS EXPECT THE COUNTRY'S GOVERNMENT TO TURN THE OTHER WAY? THEY PROTECTED ALL PEOPLE BUT FACE HUMAN RIGHTS ALLEGATIONS" WITHOUT ACCURATE PROOF.
PLEASE EDUCATE YOURSELF WITH THE TRUTH BEFORE SPONSORING RESOLUTIONS AGAINST THE ONLY COUNTRY THAT DEFEATED TERRORISM AND IS ENJOYING PEACE.
PANDERING TO THE PRO LTTE DIASPORA DOMICILED OUTSIDE SRI LANKA AMOUNTS TO MISERY FOR THE TAMIL PEOPLE LIVING IN SRI LANKA AND TO THE 17 MILLION SINHALA MAJORITY THAT ALSO INCLUDES MUSLIMS WHO WERE ETHNICALLY CLEANSED AND MURDERED BY THE LTTE. WITHIN THE COUNTRY THE REALITY IS THAT THE MAJORITY REFERRED TO, THE SINHALA PEOPLE ARE A MINORITY IN THE WORLD WITH NO OTHER COUNTRY THAT SPEAKS THEIR LANGUAGE. THE MINORITIES REFERRED TO – TAMILS AND MUSLIMS HAVE ALMOST 6 TIMES THE POPULATION OF SRI LANKA IN OTHER COUNTRIES AROUND THE REGION.
IF THE US PRESSES THEIR AGENDA, REMEMBER THAT THE AGENDA TO PANDER TO THE PRO TERROR PROXIES IS A PUSH TO OPRESS A WORLD MINORITY OF SINHALA PEOPLE. TAMIL PEOPLE HAVE 60 MILLION IN TAMIL NADU ACROSS THE SEA AND THE INDIAN CONSTITUTION DOES NOT PERMIT SEPARATION BUT THEY HAD TERROR TRAINING CAMPS ON SOUTH INDIAN SITES. NOW INDIA OPPOSES ANY FURTHER TERROR ACTIVITIES AFTER THEY LOST THEIR LEADER TO SUICIDE BOMBING BY THE TAMIL TIGERS AND A WOMAN BOMBER. A MAJORITY OF THE TAMIL PEOPLE LIVING IN SRI LANKA DO NOT SUBSCRIBE TO THE AGENDA OF THOSE WHO COME THROUGH YOUR REVOLVING DOORS WITH CAMPAIGN CONTRIBUTIONS AND LIES.
WE THE PEOPLE OF SRI LANKA OPPOSE ANY PUSH AND STRONG DEMANDS BY ANY RESOLUTIONS TO TAKE AWAY THE FREEDOM AND PEACE OF OUR PEOPLE. DO NOT OPRESS A WORLD MINORITY BASED ON MISINFORMATION. GO TO SRI LANKA AND SEE THE GROUND SITUATION. IT CAN BE ARRANGED FOR ANY POLICY MAKERS WHO SO DESIRE.
YOU ARE CAVING INTO PRESSURE FROM THE GROUP THAT IS LOOKING TO EXPLOIT THE UNITED STATES. OPERATING ILLEGALLY TO UNDERMINE A SOVEREIGN GOVERNMENT WITH THE TRANSNATIONAL GOVERNMENT OF TAMIL ELAM (TGTE) UNDER THE RADAR, OPERATING IN THE UNITED STATES? HOW CAN YOU IGNORE SUCH ACTIONS? HOW CAN YOU IGNORE THE GALLEON SCANDAL INVOLVING MONEY LAUNDERING FOR THE LTTE? HOW COULD YOU DISMISS SOME OF THE GLARING VIOLATIONS OF HUMAN RIGHTS OF INNOCENT CIVILIANS THAT INCLUDED A VAST NUMBER OF TAMIL PEOPLE FORCED INTO THEIR WAR MACHINE FOR 30 YEARS . WITH SUICIDE BOMBINGS THAT TOOK THOUSANDS OF LIVES IN THE STREETS, SCHOOLS AND PLACES OF WORSHIP, TRAINS, BUSES AND THE LIST GROWS BUT THE WESTERN NATIONS IGNORE?
HOW CAN YOU IGNORE THE FBI CLASSIFICATION OF LTTE AS THE MOST BRUTAL TERROR GROUP EVER KNOWN? HOW CAN YOU ENTERTAIN AND BE DICTATED TO BY PROXIES OF SUCH A TERRORIST ORGANIZATION THAT IS PROSCRIBED IN THE UNITED STATES AND 31 COUNTRIES? HOW CAN YOU CONDONE TERRORISM, IMMIGRATION, ASYLUM AND HUMAN SMUGGLING THAT HAS BECOME A BUSINESS FOR THOSE WHO COME THROUGH YOUR DOOR WITH LONG AND FALSE STORIES OF ABUSE AND MARGINALIZATION UNFOUNDED AND UNPROVEN. REFER TO THE DATA IN THE REPORT MYTH OF DISCRIMINATION" BELOW. REFER TO THE VIDEO CLIPS OF THE LTTE BRUTALITY. LISTEN TO LORD NASEBY SPEAK IN THE UK HOUSE OF LORDS AS PROVIDED BELOW. WHY DOES THE UNITED STATES IGNORE SO MANY FOR SO FEW WHO HAVE AN AGENDA THAT IS THEIR SELF SEEKING RACKET OF HUMAN SMUGGLING AND ILLEGAL ACTIVITIES.
HERE'S THE DATA AND THE TRUTH. PLEASE DO NOT LEGISLATE BY REMOTE CONTROL. WE WARN YOU THAT YOUR ACTIONS DO NOT HELP THE POOR AND INNOCENT TAMIL PEOPLE. YOU WILL SOON HEAR FROM THEM TOO. THEIR VOICE WILL BE HEARD AND IT IS NOT WHAT YOU HEAR FROM THE DIASPORA THAT FINANCES POLITICAL CAMPAIGNS CLAIMING TO BE THE SAVIORS OF THE TAMIL PEOPLE. THE TAMIL PEOPLE IN SRI LANKA HAVE NOT BEEN HEARD. THEY NEED A VISIT FROM SOME OF YOU TO PLEASE CONTACT THE Jaffna Civil Society that will enlighten you. These are Tamil people who have a story to tell that the United States needs to hear. Contact the Jaffna Civil Society President Arun Arulampalam on email at:
Arun Siddharth Arulanandam -President of the Jaffna Civil Society of Tamil People living in Sri Lanka.
Email: jaffnacivilsociety@gmail.com
Mobile: + 94 77 484 2464
CLAIMS OF GENOCIDE CANNOT BE ACCEPTED WHEN THE VERY DIASPORA PROXIES WHO COME TO YOU ARE VISITING THE COUNTRY OF SRI LANKA, AND RETURNING WITH NO ATTACKS OR RISKS DUE TO RACE. THEY OBTAINED DUAL CITIZENSHIP AND ARE LARGE SCALE PROPERTY DEVELOPERS AND BUSINESSMEN ENJOYING THE BEST OF BOTH WORLDS. IF GENOCIDE APPLIES TO SRI LANKA, HERE'S THE DEFINITION AS PER THE UNITED NATIONS. I URGE READERS TO QUESTION WHETHER THIS APPLIES TO SRI LANKA BY A GROUND VISIT OR BY CONTACT WITH THOSE LIVING THEIR LIVES THERE.
Definition of Genocide as per the UN
The deliberate and systematic destruction of a racial, political, or cultural group. In Sri Lanka we are looking at ALLEGATIONS of accusations of deliberate and systematic destruction of a racial group. On the other hand, the terrorists (Liberation Tigers of Tamil Elam – LTTE) are inaccurately named as non-state players and have escaped any accountability for destroying over 60,000 civilian lives in suicide bombings and an additional 29,000 uniformed security personnel who were acting to save civilians of all ethnicities. Their sacrifice for peace in 2009 was not dished out based on ethnicity. All people are relieved to see the end of an era when indiscriminate suicide bombings and mass scale killings have been almost a daily occurrence.
As per the UN Definition Article II as it applies to the accusations of acts committed to destroy in whole or in part an ethnic group as accused, examining the acts one by one as below, it is clear that Genocide as applied to Sri Lanka by the UNHRC contradicts the UN definition to the core. The UNHRC picture is that it applies to the entire the Tamil community.
Definition according to Article II
In the present Convention, genocide means any of the following acts committed with intent to destroy, in whole or in part, a national, ethnic, racial, or religious group, as such:
Killing members of the group; The LTTE participated in mass killing of their own Tamil citizens for not participating in the extremist, terrorist activities that they executed starting with killing the Mayor of Jaffna and anyone who was a dissident. We know personal stories from sibling of one such Tamil youth member who expressed objection to their criminal activities and he was murdered. There are many such cases. The JAFFNA CIVIL SOCIETY MEMBERS ARE FAMILIES THAT HAVE MORE STORIES OF ABDUCTION AND KILLING OF THEIR TAMIL FAMILY MEMBERS AND FRIENDS.
Causing serious bodily or mental harm to members of the group; If there was such serious bodily harm, how can 60% of the Tamil community in Sri Lanka live in the South of the country mingling and even intermarrying with the Sinhala people among whom they live amicably. Some even express that they are more comfortable outside of the Elam" area where the caste system is predominant and intolerable. The civilians living in Sri Lanka do not want a return to the LTTE dominated separatist agenda that the US believes in as a solution. It is to the Tamil people a return to violence as they will state fearlessly today in 2021.
Deliberately inflicting on the group conditions of life calculated to bring about its physical destruction in whole or in part; This is absent in the country because there is equal opportunity in education, employment, business, and property ownership. There is no infliction or physical destruction.
Imposing measures intended to prevent births within the group; There are no state controls set for the Tamil community in by the government or ethnic majority as controls on the population growth among the Tamil minority.
Forcibly transferring children of the group to another group. Forcibly transferring children was brutal action by the LTTE when they conscripted children as young as age 10 forcibly taken from the clutches of their parents and school rooms or even abductions. When the LTTE recruiters met with resistance from parents or teachers, they killed the adults for protecting kids. Kids were removed dragged crying for their parents and assaulted for asking to go home. This fits into one of the conditions in the UN definition of forcible transfer for terrorism a violation of children's human rights. Some of these occurrences are evidenced in the supporting videos included in this document.
THE TRUTH ABOUT SRI LANKA – CHALLENGING FALSIFIED PROPAGANDA
EXPLOITING WESTERN COUNTRIES WITH LUCRATIVE ASYLUM OPPORTUNITIES USING UNVERIFIED LIES, EXPLOITING SRI LANKA FOR FREE EDUCATION, FREE HEALTHCARE, EMPLOYMENT AND FREEDOM TO OWN PROPERTY WHILE COMMITTING HUMAN RIGHTS VIOLATIONS AGAINST CHILDREN AND POOR HELPLESS TAMIL PEOPLE WITH THREATS AND MASS KILLING FOR DISSENT. ELIMINATING MODERATE TAMILS IN VISIBLE INTELLECTUAL ROLES AND THE LESS POWERFUL WHO REFUSED TO BE PARTICIPANTS TO TERRORISM OR BECOME PROXIES OF TERROR TODAY.
The war of 1983-2009 ended with peace for all people. Twelve years later in 2021 the proxies of terror continue to bury the truth with fabricated lies offering no proof. The USA is among 32 countries that banned the LTTE but their proxies continue to be part of the campaign against Sri Lanka while western nations including the USA are caving into proxies of terror.
The FBI declared the LTTE one of the most brutal terror groups. The crimes committed against children is unquestioned by any Western nation or the United Nations that have become prey to pro LTTE proxy diaspora. Their complacency is tantamount to accepting and being pro terroism and anti democracy. The USA needs to seek the truth if it is a leader to promote democracy against all forms of proven terrorism against civilian life with suicide bombings that destroyed innocent people going about daily life.
Sri Lanka's suffering under domestic terror lasted almost 30 years and the real civilian victims never received justice or even a passing consideration at the UNHRC in the resolution given leadership by the USA and now UK. It is time for the US Administration to wake up to the truth by a desire to seek the truth and not the propaganda forced on them. If there is a desire to do so, there is no shortage of opportunities to seek the truth about Sri Lanka.
The current situation in 2021 is that those who cry Genocide" and continue to be proxies of the terror supporting LTTE remnants operating in the US and other western nations that have banned the LTTE, continue to carry out illegal fundraising for a terrorist cause. They however, obtained foreign citizenship, and made use of the dual citizenship privileges given by Sri Lanka and continue to return to the Land of Genocide" that their lies provided and foreign governments fell for without verification. Concurrently, claims of Geocide and their trips to Sri Lanka continue without opening a dictionary to figure out the true meaing of Genocide that would not permit their existence if it was the land of Genocide.
Today, the biggest new found wealth and financing of realestate are owned by those who deceived Sri Lanka, and their host nations. It will only be a matter of time when their power will deprive democracy to Sri Lanka due to the short sighted, unverified biases of western countries that followed their trail of lies.
Data that disproves claims of race based discrimination that became the reason for the internal insurrection that became full blown terrorism.
They Myth of Discrimination Against Tamils in Sri Lanka ACSLU-.pdf
Supporting LTTE war funding and suicide bombings with criminal activities on par with the top terror groups recognized by the United States that fails to compare the similarities to LTTE – Mackenzie Institute Canada.
Terrorism Profile – Liberation Tigers of Tamil Eelam (LTTE) – The Mackenzie Institute
*************
Search Results for Terrorism in Canada" – The Mackenzie Institute
*************
LTTE attrocities – Bing (This link is an important gateway to more information.
Extensive evidence in pictures and names of assasinated leaders and use of child soldiers. This is graphic and has evidence of the human rights violations of civilians and killings.
Ltte tamil terrorist atrocities presentation by Jaliya – issuu – Click on this link for DETAILS OF ASSASINATION OF TWO LEADERS – Indian Prime minister, Sri Lankan President, The Tamil Minister of Foreign Affairs in Sri Lanka and other Tamil leaders by those who were self appointed protectors of the Tamil people.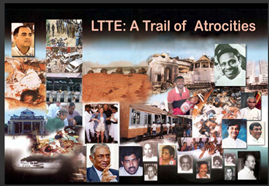 Open the link above for important information.
List of attacks attributed to the LTTE – Wikipedia
Record of LTTE Tamil Tiger atrocities through the years (sangam.org)
Link to the LTTE atrocities and the report of the OHCHR investigation on Sri Lanka | Sri Lanka Brief
Several Videos of Child Soldiers of the LTTE in Sri Lanka
Video on Child soldiers and animals by the LTTE – Bing
Link to LTTE atrocities surface in 'new' grim documentary released on sidelines of ongoing UNHRC – NewsHub
The Australian wife of the LTTE second in command who trained child soldiers and inducted them to war with cyanide capsules on their neck currently lives a luxury life, unscathed by any legal charges for aiding in use of child soldiers forcibly recruited.

Lord Naseby Addressing the House of Lords – UK – Denouncing deceit of LTTE and challenging misinformation.
https://www.facebook.com/100014618559262/posts/1115470205616921/?d=n
*********************************
Webinar on Fake Genocide Claims and Illegal Business of Human Smuggling to western countries for a fee. Only wealthy countries are chosen for this operation for a fee. If they were truly saving Tamil people, why not move to countries closer to Sri Lanka. This must be recognized by the countries that have been fooled.

Fake genocide claims
Derana News item summarized:
https://www.facebook.com/permalink.php?story_fbid=1382643052111527&id=100010975358950
Link to the full webinar:
**************************

Living in Fear – Stories of Child Soldiers
Child Soldiers and the Tamil Tigers in Sri Lanka | HRW  – Link to firsthand interviews with child soldiers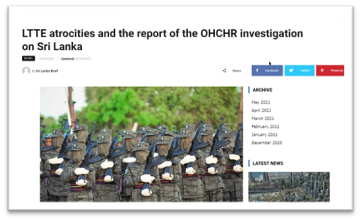 Rehabilitation of LTTE Child Soldiers by the Government of Sri Lanka
********************
MOST IMPORTANT TO VIEW AND BE PROVIDED TO THOSE WHO ARE UNAWARE OF THE ATROCITIES AGAINST CHILDREN AND CIVILIANS
Truth Behind Dare – Documentary on LTTE Child soldiers. (Warning: Disturbing Scenes)
A POWERFUL DOCUMENTARY – A STORY TOLD BY THE CHILD SOLDIERS.
Truth Behind Dare Full Documentary English – Bing video

AT THE END OF VIEWING THIS PROOF, WE HOPE YOU ARE CONVINCED THAT THE TRUTH LIES IN THE PEOPLE OF SRI LANKA WHO LIVED THROUGH THE 30 YEARS AND CONTINUE TO RELIVE THE HORROR. THE POOR TAMIL PEOPLE WHO UNDERWENT REAL HUMAN RIGHTS VIOLATIONS IN THE HANDS OF THE LTTE AND SUFFERED MURDER OF THEIR FAMILY MEMBERS INCLUDING CHILDREN HAVE NOT BEEN HEARD. THE SECURITY FORCES PROTECTED ITS PEOPLE JUST AS THE US MEN AND WOMEN IN UNIFORM WOULD DO. THERE IS NO DIFFERENCE IN THEIR COMMITMENT TO SERVICE.
WE HOPE SANITY WILL PREVAIL AFTER VIEWING FIRST HAND EVIDENCE IN THIS DOCUMENT.
THE TRUTH MUST TRIUMPH.