Indigenous medicines' prevention mission against COVID
Posted on August 24th, 2021
Courtesy The Daily Mirror
At the onset of the pandemic everybody focused on the vaccine to avoid being infected. But recently the President himself said arrangements should be made to deliver indigenous medicine to the doorstep
Medication differs from patient to patient as we focus on the patient and not necessarily the disease
We are also educating the public on precautions they should take when treating a COVID patient at home

Sri Lanka boasts of a rich cultural heritage that includes indigenous medicine (Hela Wedakama) as one of its important elements. The centuries-old wisdom on healthcare and healing practices were documented on various texts including Ola leaf manuscripts and have been passed down generations. It was very much later that Ayurveda Medicine of Indian origin was introduced to Sri Lanka. Today, four systems of traditional medicine including Ayurveda, Siddha, Unani and Deshiya Chikitsa have been adopted in Sri Lanka. In the wake of the COVID-19 pandemic many people resorted to everyday remedies they used to keep viral infections, such as the seasonal flu, at bay. At present the Department of Ayurveda is spearheading a mission to strengthen people's immunity as a preventive measure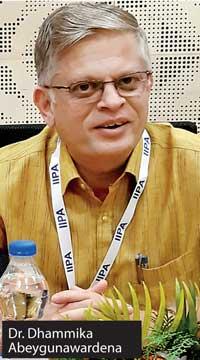 against the pandemic. In a candid interview with the Daily Mirror, Department of Ayurveda Commissioner Dr. Dhammika Abeygunawardena spoke in detail about managing COVID patients at Ayurveda hospitals and certain practices people need to follow to keep the virus at bay. Excerpts:

Q How many COVID positive patients have been admitted to Ayurveda hospitals ?

We admit patients with mild symptoms and our hospitals operate as Intermediate Care Centers. If they have complications such as shortness of breath and are in need of oxygen we refer them to ICU care. As of August 20 we have discharged 3935 patients out of 4969 who were admitted with COVID symptoms. Out of them 230 have been transferred to hospitals with more facilities as they developed severe symptoms. So far two deaths have been reported, but these patients were diagnosed with non-communicable diseases.


Q How are patients being managed and how can the rest of the public prevent themselves from being infected?

At the onset of the pandemic everybody focused on the vaccine to avoid being infected. But recently the President himself said arrangements should be made to deliver indigenous medicine to the doorstep. What we have are preventive drugs. A person is more vulnerable to a bacterial or viral infection if his/her immune system is weak. In order to have a strong immune system people need to do two things ; have a balanced diet and follow healthy living patterns. If both these options fail then they have to opt for drugs. So we have introduced a hotline and a Facebook page to keep people informed about healthy living patterns and what they need to do in order to keep fit during the pandemic.


Behavioral changes too are important. This is what was highlighted in COVID protocols such as wearing masks, social distancing etc. We educate the public on maintaining proper sleeping patterns, intake of fluids such as Koththamalli to keep their immunities stronger. We give preventive drugs to our patients and these drugs are prepared by a consultative group of doctors. Medication differs from patient to patient as we focus on the patient and not necessarily the disease. Our objective is to reduce complications as much as possible and limit the number of patients being referred to ICU care while minimising the number of deaths. We are also educating the public on precautions they should take when treating a COVID patient at home.

Q Are there approved medication to be used against COVID?

There are 14 different immunoboosters made by the Department of Ayurveda as well as by private entities which have been approved for use. None of these are available free-of-charge and they could be purchased at local medicine shops and leading supermarkets. The Ayurveda system treats the patient. Therefore some of these concoctions, powders and medicinal formulae are inspired by age-old recipes. Some are over 200 years old. So we do not have to re-register a formula that was introduced 200 years ago. But for example if a powder is made into a syrup then we need to re-register the drug since the presentation is different. If the formula has been changed, we need to refer these drugs for research. More details about these drugs are available on www.ayurveda.gov.lk

Q Even though traditional and Western medicine have been used to treat COVID in countries such as China, there seems to be a disconnect between the two systems in Sri Lanka. Your comments.

This is about people's attitudes. Sometimes they try to claim ownership of the system. But we need to look at it with an open mind. Having said that I also need to mention the support extended by Western medicine practitioners especially with regards to referring patients with severe symptoms to ICU care. Most admissions are patients who have non-communicable diseases such as chronic diabetes, hypertension, lung diseases and so on. They have a tendency to develop severe symptoms. On the other hand most people are asymptomatic. One of the reasons to develop NCDs is due to unhealthy lifestyles and unhealthy food. If we developed a healthy food pattern from our childhood we could have avoided NCDs. Today it is a fashion to carry at least a paracetamol tablet with us. But back in the day our ancestors chewed beetle and depended on local herbs and derivatives.

Q Some people are reluctant to get vaccinated. Can they opt for indigenous medicine instead?

Policy makers and world bodies such as the World Health Organisation have promoted the vaccine as a preventive measure against COVID. Some people are willing to get vaccinated and some are not. But what I can say is that while getting vaccinated one should also adhere to COVID protocols such as washing hands, maintaining social distancing, wearing masks and so on while taking indigenous medicine that have been also approved as preventive drugs. In the end what we are trying to do is minimizing the risk of infection. One must also keep in mind that in the event of a death, the dead body will be cremated then and there and immediate family members will not be able to perform final rites. Therefore the best approach is to have a sense of responsibility. Governments and administrations alone can't curb spread of the virus. If you need to purchase goods the entire family doesn't have to go to the supermarket. Sadly despite so many deaths some people still don't understand the gravity of the situation.

Q There are various types of local herbs and medicinal plants that are promoted on social media. Certain messages that are being received on platforms such as WhatsApp endorse these items as recommended treatments against COVID. Are these messages from credible sources?

No. I advise the public to not be misled by such messages. If a message doesn't have the Department of Ayurveda or Provincial Ayurveda Department logos, do not follow those instructions. If at all you have any doubts you need to seek advice from a qualified doctor. We have also deployed over 1000 community medicine officers covering all Pradeshiya Sabha divisions who will respond to calls they receive via the hotline. They provide medical advice from person-to-person, but I must say that sometimes they maybe busy and the public should have some patience till their queries are answered.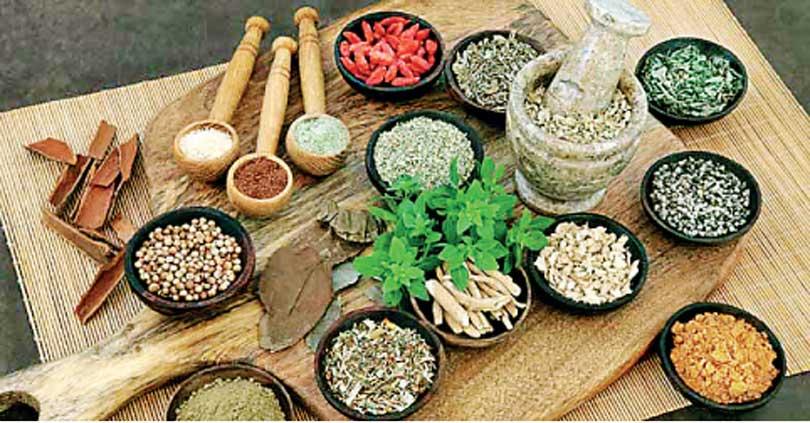 ---
Recommended home herbal remedies
The Department of Ayurveda has developed several types of immunity boosters that could be prepared at home in order to strengthen your immune system.

These include :

Kola kanda (herbal porridge) – Recommended greens include Maduruthala (Holy Basil), Pol Pala, Yakinarang, Karapincha (curry leaves), Ela Batu and Heen Bovitiya
Thambun hodi (Sri Lankan Rasam) – A curry made of spices including coriander, cumin seeds, garlic, tamarind, Goraka, pepper, curry leaves, ginger, shredded pieces of Moringa bark, cinnamon and dil seeds. Thambun hodi is known to treat indigestion, a recommended dish for people with diabetes and cholesterol and helps to boost immunity.
Diyabatha (a cold soup consumed as a breakfast item) – Soak some cooked rice overnight in water and add chopped pieces of red onions, garlic, ginger, green chilies, coconut milk, lime and salt in recommended proportions. Diyabath is known to be a coolant and is a recommended dish to treat gastritis.

Other recommended practices to keep viral infections at bay include :

Herbal steaming – Steaming has been recommended as one of the remedies for respiratory illnesses such as COVID. For this purpose, several herbs could be added to improve the effectiveness of treatment. These include lime, Yakinarang, Maduruthala, Clove, Nika, Pawatta, Ginger, Venivel Geta, Cardamom, Sandalwood,Jatamansha, Jata makuta and Suwanda kottam leaves.

Herbal concoction – In the event of a sore throat you are advised to make a simple mixture of sour orange (Ambul dodam), Ginger juice and one teaspoon of bee honey. Apply on your tongue at regular intervals and swallow.
Drink lukewarm water, but do not mix cold water with hot water.

Light a lamp with neem oil which will act as a natural disinfectant