Sialkot police organise walk in solidarity with lynched Sri Lankan's family
Posted on December 11th, 2021
Courtesy The Express Tribune
DPO vows to deliver justice to the bereaved family members of Priyantha Kumara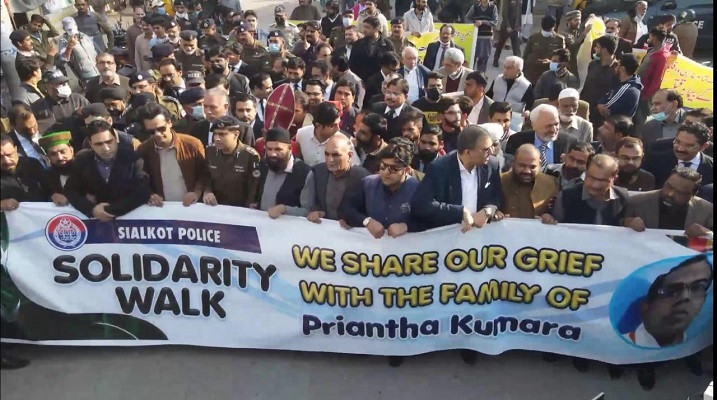 Participants of the walk organized by Sialkot police in solidarity with the family of Sri Lankan citizen Priyantha Kumara. PHOTO: EXPRESS
---
SIALKOT:
Sialkot police on Saturday organised a walk to show solidarity with the family of the Sri Lankan national Priyantha Kumara, who lynched by a mob in the city earlier this month.
The walk was led by Sialkot District Police Officer (DPO) Omar Saeed Malik. Top political leadership, administration, business community, lawyers, and representatives of all religions of the district were among those in attendance on the occasion.
The participants marched from DPO office to Sialkot Chamber of Commerce building, carrying banners in support of the late factory manager.
Talking to media persons, the DPO said, "We are sorry for this incident. Sialkot police shares the grief of Priyantha Kumara's family".
Also read: Punjab govt decides to conduct trial of Sialkot accused in prison
Malik noted that most of the main culprits had been held and that they would be brought to justice. He vowed justice for the family of the deceased.
Conveying that Sialkot is a peaceful city, other participants said, "We are deeply saddened by the death of the Sri Lankan national in Sialkot".
Special Assistant to Prime Minister Usman Dar, Minister for Special Education Punjab Chaudhry Muhammad Akhlaq, Additional Deputy Commissioner Sialkot, on behalf of Deputy Commissioner Sialkot, President Sialkot Bar Council Khalid Mehmood Qureshi, vice president and senior vice president of Sialkot Chamber of Commerce, members of the interfaith harmony and district peace committees, and hundreds of people from other walks of life attended the activity.
The nation was left shell-shocked on December 3 when the Sri Lankan national was brutally lynched before being set ablaze by the mob in Sialkot over allegations of blasphemy.