Dasis Manchanayake – Royal College's new superstar
Posted on March 23rd, 2023
Senaka Weeraratna
Dasis Manchanayake scored both a stunning century and half-century and then stunned the entire country by leading his team to a splendid victory over their rivals, which will remain etched in the memory of all those who were privileged to watch this unforgettable 144th Royal Thomian encounter.
However, there is another story equally interesting lurking in Dasis background. The story of his closely-knit family.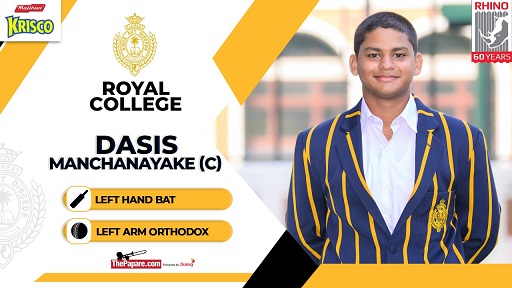 His father Tissa, a gentle unassuming man was educated at the Veyangoda Central School. So too were his four brothers in a family of eight children. Veyangoda Central College" also known as Bandaranayake Central College, Veyangoda, is a National school in Sri Lanka.
Dasis loving mother Ms. Nilmini Manchanayake has written an endearing article published in this year's beautiful Royal Thomian souvenir (Royal College) under the caption ' The experiences of Cricket Captain's Mother'.
Dasis Kaveeja Manchanayake was born on October 08, 2003.
His mother Nilmini says Seeing this chubby and pretty boy for the first time was one of the happiest moments of my life. Later, when I was passing by Royal College and seeing the little boys dressed in blue shorts there, I was always telling my husband that we should try and get our son admitted to Royal College. It was one of my dreams then and I became so happy when I could fulfill my first dream for my son".
She further says that when his father, an ardent cricket lover was watching international cricket matches on Television, Dasis used to join his father and many a time had tried to imitate world-class cricketers. His father Tissa had used to encourage the little boy to play cricket even before he started schooling.
At the age of eight Dasis was selected for training at the Royal College Cricket Academy. There he progressed by leaps and bounds. Dasis was first selected to play in the 2020th Big Match at the age of fifteen and a half years and he validated the trust and confidence of the Selectors by displaying his remarkable hidden talent with a match-saving 53 runs not out which was the highest score for his side.
His father Tissa was the man behind the scene of Dasis remarkable success in cricket. After years of sustained support to his son Dasis via a veritable balancing exercise of both work and play, Tissa had to finally give up his job in a leading Bank i.e., retiring prematurely, to enable him to devote full time to help his son to make progress in cricket.
The Manchanayake Family
The family comprises unassuming humble folk. They belong to the category of folk that generally uses public transport for travel, speak in the vernacular languages, read mainly indigenous i.e., Sinhala, language newspapers, interact humbly with others, and more importantly, are rooted in patriotism and undivided loyalty to their country.
Here are some interesting details supplied by one of Dasis close relatives i.e., an uncle.
Tissa Manchanayake had four brothers and three sisters altogether eight (8) in the family. His father (grandfather of Dasis) the late Subasinghe Manchanayake was a teacher who ended his career as the Principal of Magalegoda Maha Vidyalaya in Veyangoda.
Tissa is a Mechanical Engineer. A graduate of the Faculty of Engineering, University of Moratuwa, Katubedda Campus. He has worked on Mahaweli development projects, the Airport and finally ended as the Area Manager (Transport) Peoples Bank in Mirigama (Watumulla).
Dasis mother is a housewife. Dasis sister is a student at the University of Moratuwa ( Katubedda)
There were no silver spoons in their mouths. Despite a lack of privilege at birth and upbringing they have broken through the glass ceiling and invisible barriers and made entry into the big picture. Dasis will take them higher as Sachin Tendulkar did in India. He is the 'Pin Putha'. A gift from the heavens. Dasis sensational achievements at the Royal Thomian constitute the stuff of dreams.
There were others in the team who gave a helping hand, especially fresher Ramiru Perera who together with Dasis broke the Royal Thomian 5th wicket partnership record with aplomb. A graceful 229-run partnership. Ramiru scored 128 runs in the first innings and an unbeaten 46 runs in the second innings falling four runs short of emulating Dasis who scored a century (137) and half-century (57), the first Captain to do so. Ramiru is a smart 15-year-old lad with a world to conquer in the future.
Dasis bats like Arjuna Ranatunga. An attacking left-handed batsman who can put to flight any savage bowling attack on his day. Remember Sanath Jayasuriya, Pathum Nissanka, and a host of others with origins outside the metropolis in the last 30 years or so who have taken Sri Lanka to unbelievable heights in World Cricket.
Dasis is in that mould. He has spoken with the bat and the ball and captured our hearts. The World salutes true heroes, not artificial ones. Sri Lanka needs heroes desperately – for every generation. Role Models inspire others within and outside the playing field. Cricket needs not only the Braun but also the Brains i.e., 'Cricket thinkers', even beyond the boundary line. This is the new vision that must guide the SLC.
Credit
Now the last question.
Who should be allocated credit for this massive turnaround in the fortunes of ordinary folk now trying their luck in cricket?
The answer is not blowing in the wind.
Free Education introduced by the Minister of Education C.W.W. Kannangara in the pre-independence era and the 1956 Bandaranaike Revolution of the Common Man were the turning points.
' The Panas Haye Daruwo' (children of 1956) using the sobriquet coined by the writer Nalin de Silva, is now turning tables in almost every aspect of life in Sri Lanka.
Cricket is uniting people in a way unimaginable decades ago, irrespective of their social backgrounds. Cricket has brought even the most politically irreconcilable parties together.
We should be happy about these changes.
Senaka Weeraratna