Cuba, Sri Lanka pledge to support each other in global forums
Posted on September 15th, 2023
Courtesy AdaDerana
President Ranil Wickremesinghe and his Cuban counterpart Miguel Diaz-Canel Bermudez engaged in a bilateral meeting in Havana this morning (15 Sep.), and the two leaders have reinforced the bonds of friendship and dialogue between the two nations.
Sri Lankan President's arrival in Cuba was marked by a warm welcome, as he received a Guard of Honour at the Palace of Revolution. President Díaz-Canel Bermudez expressed Cuba's appreciation for the visit, emphasizing its significance during these challenging times globally.
He praised Sri Lanka's commitment to friendship with Cuba and to the vital role played by the G77 and China in representing the global South.
In their discussions, President Wickremesinghe recalled the history of bilateral cooperation between Sri Lanka and Cuba, particularly in multilateral forums. Both nations have supported each other on issues like lifting sanctions against Cuba and human rights matters. They identified areas of future cooperation, including public health, agriculture and sports.
President Díaz-Canel accepted President Wickremesinghe's invitation to visit Sri Lanka in 2024, underscoring Cuba's continued support for Sri Lanka. He also highlighted Cuba's role in addressing North-South gaps in Science, Technology and Innovation, expressing willingness to share expertise, particularly in vaccine development.
The two leaders emphasized the importance of bolstering the relationship between their countries, focusing on collaboration in medicine, healthcare, sports training and coconut cultivation. President Wickremesinghe expressed Sri Lanka's commitment to supporting Cuba in international forums, while President Díaz-Canel assured support for Sri Lanka regarding human rights resolutions.
This meeting represents a significant step forward in strengthening diplomatic ties between Sri Lanka and Cuba, with far-reaching implications for both nations and the broader global community. President Wickremesinghe was accompanied by key officials, including Secretary Foreign Affairs Ms. Aruni Wijewardane, the Ambassador of Sri Lanka to Cuba Mr. Lakshitha Ratnayake, the Director General of the United Nations and Multilateral Affairs Division of the Ministry of Foreign Affairs, Ms. Rekha Gunasekera and Private Secretary to the President Ms. Sandra Perera.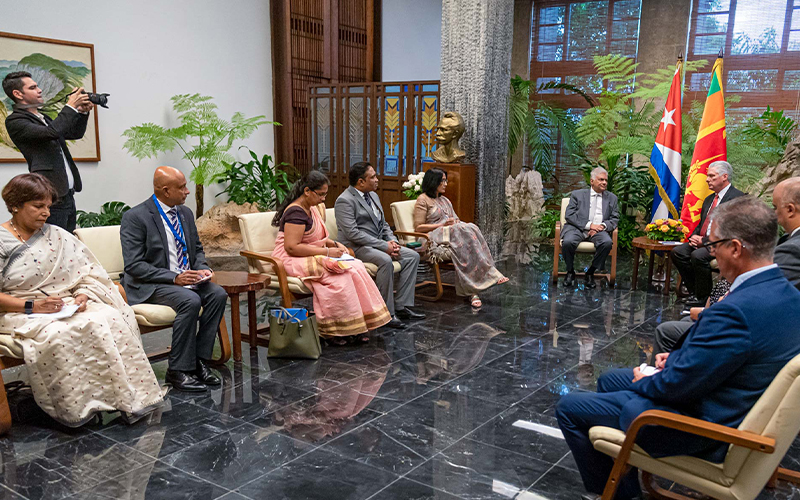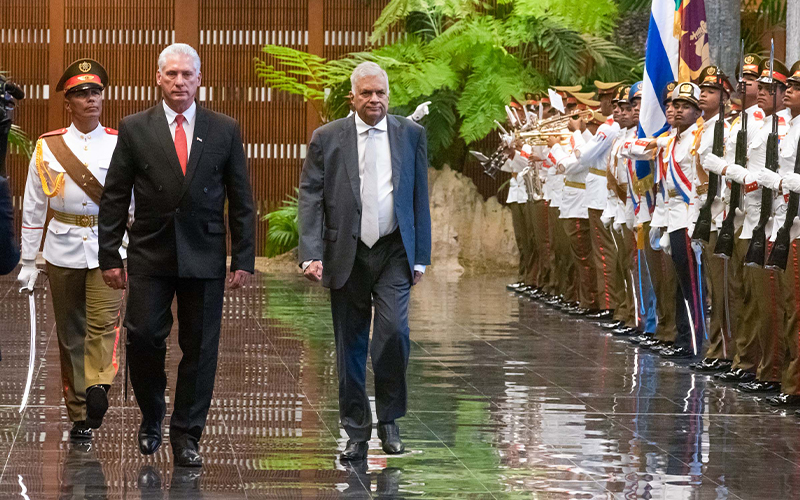 Share