Sergei Lavrov- the most intelligent and experienced diplomat in the world today
Posted on October 1st, 2013
After graduating from the' Moscow State Institute of International Relations' (MGIMO) in 1972, Sergey Lavrov started his career at the Soviet Embassy in Sri Lanka (pictured). He learned' Sinhalese, the official language of Sri Lanka,' and' Dhivehi, the official language of the' Maldives, at university.
In the photo is the Russian Embassy in Sri Lanka and to the Republic of Maldives.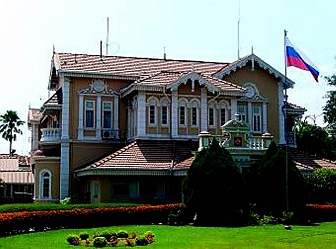 Russian Foreign Minister Sergei Lavrov's name has leapt to the fore recently for his role in steering a way forward for the international community in the Syria crisis. In this photo gallery, we offer some glimpses of a man famed for his meticulous, dogged approach to diplomacy and enjoyment of life.
Lavrov served as Permanent Representative of the Russian Federation at the United Nations from 1994 to' 2004. While in this position' he was the President of the' United Nations Security Council' in December 1995, June 1997, July 1998, October 1999,' December 2000, April 2002, and June 2003