The Sajin Vass scandal: Will they say Nonis slapped himself?
Posted on October 5th, 2014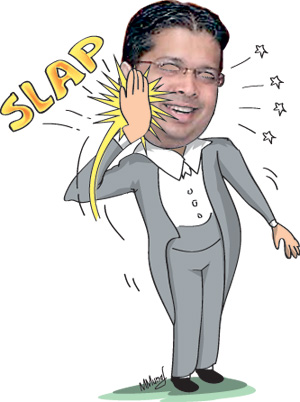 Information that Monitoring MP Sajin de Vass Gunawardena was holding a news conference at 7.53 a.m. on Thursday. The briefing was to take place in one hour and 30 minutes. As last-minute advisories went, this one took the cake.
But the media were raring to go. By now, it was widely known that Gunawardena had assaulted Chris Nonis, Sri Lanka's High Commissioner to Britain, after an argument in New York. News that the chief protagonist would now address journalists was hailed with unbridled enthusiasm.
Another advisory came by 8.30 a.m. instructing editors and news editors to give the Ministry names of media personnel attending the media conference. A third came at 9.01 a.m., confirming the news conference.
By 9.42 a.m., a fourth advisory was sent out and it read: We wish to inform you that the Press Conference scheduled for today, Thursday 2nd October 2014 at 0930 a.m. at the Ministry of External Affairs has been cancelled, due to unforeseen circumstances. We regret the inconvenience caused."
The media were flummoxed. The relevant officer at the Ministry's Public Communications Division had worked tirelessly since morning to ensure that the message of the news conference was duly conveyed to all concerned. He telephoned, texted and emailed. He confirmed, corrected and reconfirmed. Journalists were on the way.
It did not matter that they had no idea what this briefing was about. They only knew that the issue of that slap" would be raised. And that the public would finally have an answer.
By now, the story was all over the internet and had grown in proportion. The President had requested an embargo on it breaking in the Sunday newspapers last week, hoping he could sort matters out. It was being repeatedly shared on social media by Monday. And it had graduated from initial reports of a slap, to a boxing of the ears, to a broken tooth, to a full blown assault on a prostrate Nonis, to a frenzied attack in which Gunawardena had broken his toe while kicking the High Commissioner.
So not only were the media disappointed when the news conference was called off, they were piqued enough to report it. A text message cancelling the briefing had said, courteously, Dear Friends, the Press Conference has been cancelled as flight advanced. New date will be informed shortly. Regret the inconvenience caused."
Curiously, Mr. Gunawardena accompanied President Mahinda Rajapaksa to Rome in an afternoon flight that left Katunayake past noon. So if the excuse of flight advanced" was to hold water, he either (needlessly) time-travelled forward and backward-or nobody in that infernal Ministry still knows whether he or she is coming or going.
And Lankans who can laugh through any calamity have this to say about the pending inquiry that has been ordered by the President into the matter. MP Gunawardene denies having assaulted HC Nonis. So, the verdict is; HC Nonis slapped himself. He slapped himself so hard that he fell down and a baby elephant brought for the party trampled him underfoot. The Secretary to the Ministry of External Affairs will be issuing a circular next week to All Heads of Sri Lankan Overseas Missions reminding them that under the Establishment Code it is a violation for any Head of Mission to slap himself without the prior approval of the Secretary to the Ministry.
And as one wit butted in to say; Dr Nonis being the good Catholic he is, when slapped on one side of his face, did indeed offer the other cheek.