70th Session of UNGA begins, President takes his son Daham to the United Nations General Assembly (UNGA) meeting
Posted on September 25th, 2015
Yahapalana News
The 70th Session of the United Nations General Assembly (UNGA) commenced today (Sep. 25) at the UN Headquarters in New York with President Sirisena and his son Daham attending the meeting on behalf of Sri Lanka sitting at the country's podium with the other government officials.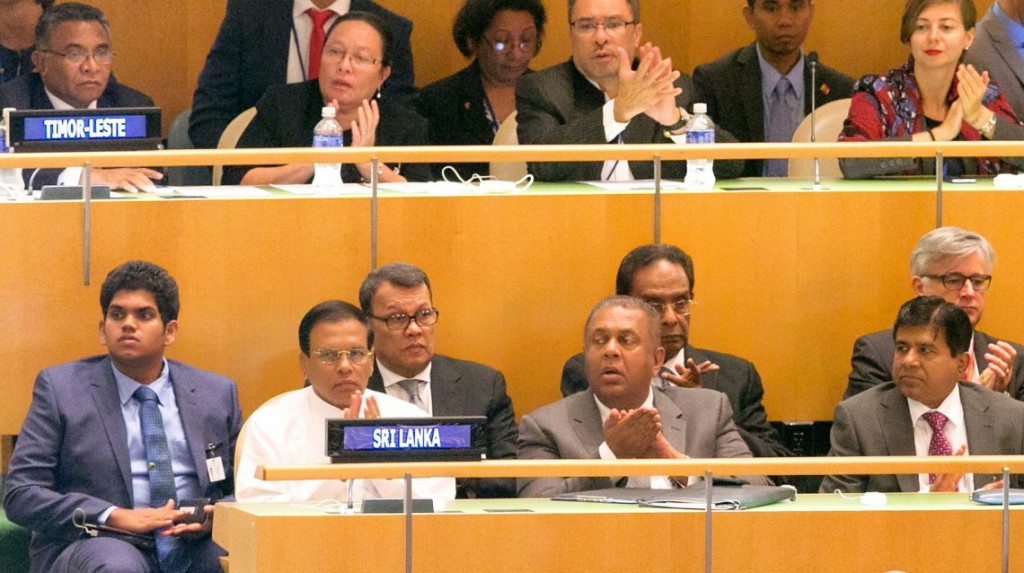 The summit on Sustainable Development was begun with the key note address by the Pope Francis.In his speech., Pope Francis urged the United States not to turn its back on undocumented immigrants, to reject the victimization of religious and ethnic minorities, to overcome income inequality and to save the planet from climate change, citing Scripture and the nation's founding ideals in a historic address to Congress Thursday. the pope decried the destruction of the environment through a "selfish and boundless thirst for power and material prosperity."
The environment itself has rights, and mankind has no authority to abuse them, said Francis, who hopes to spur concrete commitments at the upcoming climate-change negotiations in Paris.
He demanded immediate access for the world's poor to adequate food, water and housing, saying they have the right to lodging, labor and land.
Francis' speech, delivered in his native Spanish, received repeated rounds of applause from an audience that included German Chancellor Angela Merkel, Bill and Melinda Gates, and Nobel peace laureate Malala Yousefzai, the young Pakistani activist shot and gravely wounded by the Taliban.