Sinhala Majority discriminated : Paid adverts 'Tamil Only'
Posted on September 30th, 2015
Shenali D Waduge
We have been told enough times that the minorities are discriminated by the majority. The paid media is quick to sensationalize and the international organizations find this an opportunity to advance their agendas for which foreign governments are ready to disburse funds. However, let's stick to the principles of things. Where in the world do you find adverts openly canvassing through paid advertisements where land and property are sold/leased/rented to only a particular race/religion? In most countries this is an illegal act just as adverts are not allowed to include the age when calling for vacancies. However, a new trend has emerged where minorities are now openly paying to advertise property as being for Tamils Only/Muslims Only. How politically correct is this and why is none of the international agencies protesting?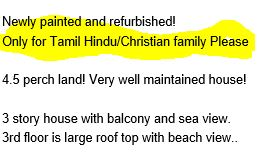 http://www.lankapropertyweb.com/sale/property_details-77227.html
(The advert has now removed the part about Only Tamils)
This is only a sample of the many instances where the majority is being subject to discrimination which never gets highlighted because it is politically savvy to stick to minority getting discriminated.
Anyone wanting to test this further need only to go to the hundreds of apartments/flats from Bambalapitiya to Dehiwela on either side of the Galle Road and ask whether any apartments are for rent. The immediate response without any feeling of guilt is that these are available to only Tamils or Muslims. If a proper census is taken of Colombo and suburbs it would be shocking to count the increase in Tamils and Muslims to Colombo & outskirts as well as the increasing Maldivians now arriving to marry and live and slowly acquire land in Sri Lanka. Fast forward to future years to realize the outcome though no politician nowadays is bothered other than to enjoy perks of office leaving aside what happens to the country.
While the media & publicity is generated at all that the minorities are not given there is never any mention of what the minorities are given and what they do enjoy. The majority has continued to ask what they enjoy which constitutionally and legally are denied to the minority and this question never gets answered because there is no answer. The majority & minority are all equal before the law and there is no law that states that the majority race has any right over the minority though the current trend is to create new laws that are marginalizing and demarcating people by giving special place to minorities only, when in practice the minorities are enjoying a more preferred place already.
Ignored to are the differences among minorities themselves. How many are remotely aware that in the North the Tamils do not donate blood because the high caste Tamils do not wish to have their blood given to the low castes? Are people aware that the Sri Lanka Military did a magnanimous gesture by donating blood to the blood bank for Tamils because Tamils do not donate blood. People seem to forget these gestures and are today ridiculing the very soldiers that went out of their way to even build homes for them following the end of the conflict. It goes to highlight the mentality of people behind the paid media masquerade.
Bogus discrimination of minorities
The last persons to be asked whether discriminations exist or not are the politicians and any agencies that are paid to earn a living. Politicians hardly ever mingle with the people to know what the practical problems people suffer from and their advisors are very happy to keep politicians ignorant for it makes their life less complicated! As for local and international bodies that earn a living because of the existence of global issues they do not wish to entirely solve problems because that would leave them unemployed. It's a vicious circle.
Nevertheless, anyone wanting to know if the minorities are discriminated or not, need only to ask some very basic questions and can easily seek answers for themselves.
Can you think of any sizeable population where industry and property are dominated by the minority communities as in Sri Lanka?
Colombo the commercial hub of Sri Lanka is populated by Tamils and Muslims leaving Sinhalese in the minority
The largest supermarket chain – Cargills is owned by the Page Family who are Jaffna Tamil Christians
The largest brewery – Carsons (brands Lion, Three Coins Beer) is owned by the Selvanathan family who are Tamils
The largest media network – MTV, Sirasa are owned by the Maharaja family who are Tamil
The largest hardware manufacturer – Slon, Kevilton are also owned by the Maharaja family who are Tamil
The largest construction conglomerate – St Anthony's (Anton, Tokyo Cement) are owned by another Tamil family the Gnanam's.
Tamils and Tamil speaking Muslims dominate gem/jewellery industry as well
Tamils and Tamil speaking Muslims dominate the wholesale trade too.
Tamils and Tamil speaking Muslims dominate the property ownership in Colombo as well
Go around Colombo on a Friday noon time to gage the number of Muslim owned shops which would all be closed including the supermarkets owned by them.
When the LTTE prevailed the Hindus never celebrated or demanded to celebrate Vel… now virtually every month there is a kovil procession blocking the traffic systems across Colombo.
If the above property advert of ONLY TAMILS is applied it also means that these shops are frequented by minorities while at the same time none of these shops can thrive if the Sinhalese did not buy from these shops as well. It also means that thousands of Sinhalese are also employed and working under these minority owned companies.
If there was discrimination shouldn't you now ask how minorities have come to dominate important areas of business and property throughout the country?
Tamils are increasingly purchasing property in the South of Sri Lanka in particular Colombo and suburbs. But when Sinhalese wish to simply travel to religious sites in the North that had been in existence far before Tamils migrated from Tamil Nadu, the Sinhalese are now being stoned and shouted to leave and Tamil politicians are crying 'colonization of Sinhalese' which is a ridiculous notion that has yet to be countered.
Similarly, in the East too areas occupied by the other minority are claiming that it is their domain and an Arabic culture is being created totally ignored by Government officials without realizing future danger scenarios.
What needs to be reiterated is that while there are 76million Tamils in the world and 1.3billion Muslims worldwide there are only 14.8million Sinhalese. Thus, it is the Sinhalese race & ethnicity as well as the Sinhala language that is endangered and needs to be protected from discrimination & extinction.
Whatever attempts being made to say otherwise Sri Lanka was a Sinhale nation and it was built by the Hela people and that civilizational history cannot be usurped just because Abrahamic neo-colonial agendas deem it their quest to do so. This is why historically ever since the arrival of the colonials the place of the Sinhala Majority and Buddhism as state religion have been earmarked for destruction and annihilation and the new governments with Anglican links will no doubt attempt to create a new constitution omitting the distinct place given to the Sinhala Buddhists who built the nation by peddling the minority card & multicultural/multifaith theme which in the end invariably will lead to Christian West ruling over the entire world.
Both the Church and Islam as institutions are worth billions with a mandatory requirement for worshippers to donate their incomes to these institutions. Over and above the billions at their disposal these institutions are invariably linked to countries & governments that are able to diplomatically influence nations where these faiths are not in the majority to ensure a significant place is given to their faiths that enables them to covertly try to increase their flocks. The incursions that both Buddhism and Hinduism is subtly being subject to is often ignored because governments, media and foreign agencies are all controlled or owned by non-Buddhists/non-Hindus.
All that needs to be said is that there is a total distortion of facts and it is now time to evaluate whether it is really the minorities that are being discriminated or the majority because foreign agendas find it easy to piggy back on minority rights to get a foothold into countries they wish to use as a base for their geopolitical missions.
In such a scenario with the bogus distortions at play who will come forward to defend the Sinhalese and protect the Sinhalese ethnicity/race & Sinhalese language from annihilation?
Footnote – The advert has now removed the part about Only Tamils