IMF Weighs Sri Lanka Call for Loan as Rupee Falls to Record
Posted on December 4th, 2015
bloomberg.com
The International Monetary Fund is considering options" for Sri Lanka after foreign-exchange reserves fell to the lowest in two years and the rupee's drop to a record prompted the nation to seek a loan facility.
Sri Lankan Prime Minister Ranil Wickremesinghe this week said the government has informed the IMF of the need to have a standby agreement.  The rupee is poised for its steepest decline since 2012 after the central bank in September eased intervention in the currency to salvage dwindling reserves.
IMF's response would depend on an assessment of macroeconomic vulnerabilities, the nature and size of balance of payments needs, and government policies to address these vulnerabilities," Eteri Kvintradze, the IMF's representative in Colombo, said on Thursday in response to e-mailed questions. However, we have not formally entered into program negotiations nor do we have any new missions to Colombo scheduled outside of technical assistance and regular surveillance."
Sri Lanka, which last sought an IMF loan in 2009 following the end of three-decade old civil war, had $6.46 billion of reserves as of August. While that's enough to cover four months of imports, the government is concerned falling exports amid slowing growth in China, and a weak economic recovery in Europe may worsen the island-nation's finances, according to Kvintradze.
Domestic macroeconomic policies are also an issue," Kvintradze said. IMF staff has some concerns with the proposed 2016 budget, which does not envisage significant consolidation relative to the expected out turn for 2015."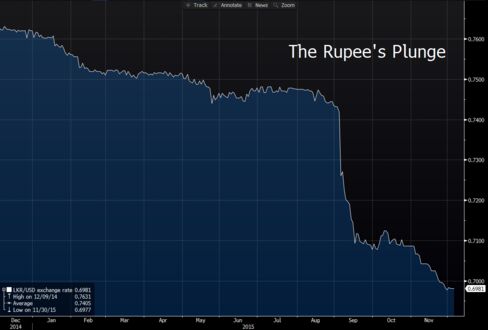 Sri Lanka's 2016 budget announced Nov. 20 forecast a fiscal deficit of 5.9 percent of gross domestic product, narrowing from 6 percent this year. It included measures to boost foreign investment in a bid to spur confidence and stem the decline in the currency and deteriorating balance of payments.
Sri Lanka is aiming to increase investment and revenues to help reach a 3.5 percent budget deficit in 2020, Wickremesinghe said Dec. 2.
Even if Sri Lanka meets its 2015 target, the government's fiscal position will remain weaker than most similarly rated sovereigns, Moody's Investors Service said last month. The company has a B1 rating for the nation, a so-called junk assessment that indicates high credit risk.
Sri Lanka's economy has been growing too fast, financed by unsustainable debt, and needs to adjust by plugging the funding gap more sustainably through bilateral funding," according to Natixis SA.
There are plenty of lenders out there who would be willing to invest in Sri Lanka, even as they will require more fiscal constraints," Natixis analyst Trinh Nguyen wrote in an e-mailed report yesterday.
Policy Shift
Sri Lanka's budget deficit began widening after President Maithripala Sirisena's shift away from China-led investments, and was exacerbated by spending on concessions to win parliamentary elections in August. His administration has since softened its stance on China, while boosting ties with Western nations and India.
The South Asian country earlier turned to the IMF under the leadership of Mahinda Rajapaksa to bolster its international reserves. It received the final tranche of a $2.6 billion IMF loan in 2012.