Bond Mahendran's 'circus' of 22 foreign junkets at State expense within just 12 months..! -list…
Posted on June 16th, 2016
Courtesy Lanka-e-News
(Lanka-e-News -13.June.2016, 10.15PM) Believe it or not ! this is not a record taken out from the book of Ripleys . Rather ,this is a record breaking feat , inglorious though of Sri Lanka 's Governor of Central Bank 'Bond  Mahendran' alias Arjun Mahendran who travelled abroad as many as 22 times at public expense just within a period of 12 months  – February 2015 to February 2016 ! based on details garnered  by  Lanka e news.
Though these foreign junkets are claimed by him as official , many of them have been for his private purposes . It is on business class air tickets he has made these junkets and stayed in super luxury hotels . All these expenses of Bond Mahendran have been met out of State funds. (It is on one of these junkets he bought a dress for Rs. 1.2 million out of state funds !)
On one occasion in order to portray that he was on an official tour he had taken an ordinary employee of the Central Bank on the  foreign tour . He too had been provided with a business class air ticket and super luxury hotel comforts – all at public expense !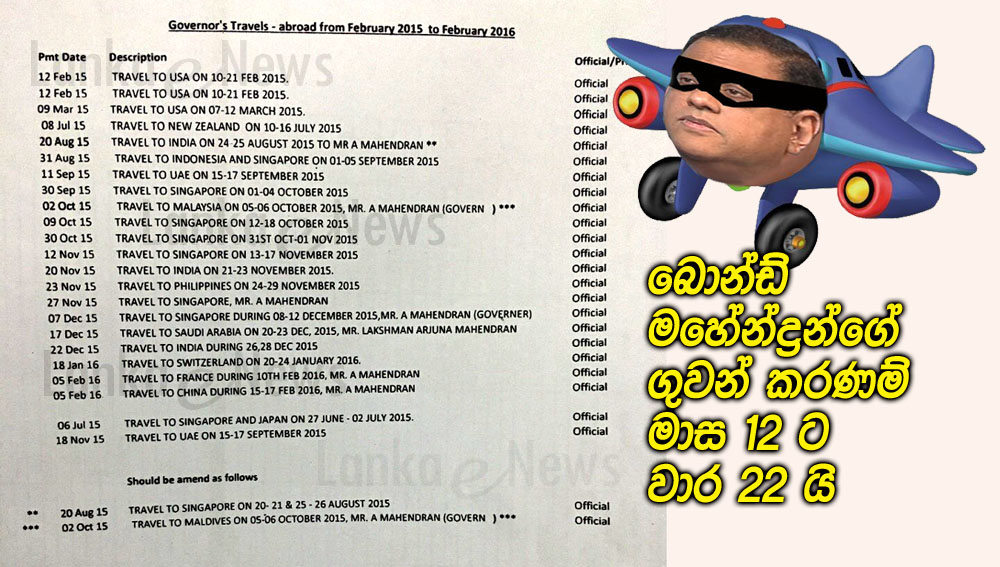 According to Central bank rules and regulations , though an ordinary employee cannot be provided with such facilities , Bond Mahendran who went on foreign junkets as often as he changed his lankots , had not paid heed to  these rules. In addition , on some occasions , in order to cover  his foreign tour he has taken a photographer to whom the air ticket and hotel facilities were provided at state expense. But it has come to light on those occasions , the organizers of those Institutions have spent for the coverage . In this era in which taking a photograph is as simple as chewing betel,  Bond Mahendran  on the contrary taking  an individual from SL spending state funds immensely to take just a photograph when speaking at the meeting  is the joke of the century .
Of course if 'Bond Mahendran' alias 'Pythiaguras' (mad mentor) is the Head of State , his taking along such individuals is understandable , but  Bond Mehendran is only a Government officer . Hence his profligacy wasting public funds recklessly at a time when SL 's national income is slender , and the country is  head over heels in debt and hard put to repay, is unpardonable under any circumstances .
Moreover after Bond Mahendran became the Central Bank governor he has not only lost his headquarters which has gone into hiding in his hindquarters , he has also lost his memory having forgotten his travel on land. Imitating original James Bond , this spurious 'Bond', for  his travel (including his family ) within the country has been using the Air Force helicopter , and it is Central bank that has defrayed the expenses. These expenses have exceeded those of even the president . Despite the fact Bond Mahendran has only two weeks left before his term ends , even then he has arranged for 8 helicopter journeys ,based on Air Force sources.
Of course Bond Mahendran the Central Bank Governor is not one who carries a bundle of files under his arms and travels by a three wheeler , but going by his behavior after he became the governor it is clear he does not know  where to draw his line.
The foreign junkets of Bond Mahendran for the period between February 2015 and February 2016
10-21 February 2015 – America
07-12 March 2015  –  America
27th June to 02 nd July- Singapore and Japan
10-16 July 2015 – New Zealand
20-21 August 2015 – Singapore
25-26 August 2015 -Singapore
01-05 September 2015 – Singapore and New Zealand
15-17 September 2015 – United Arab Emirates
01-04 October  2015 -Singapore
05-06 October 2015 –Maldive Islands
12-18 October – 2015 Singapore
31st October to 01 st November2015  –  Singapore
13-17 November 2015 – Singapore
21-23 November 2015  – India
24-29 November 2015   – Philippines
27  th November  2015  -Philippines and thereafter Singapore
08-12 December 2015 – Singapore
20-23 December 2015 – Saudi Arabia
26-28 December  2015 -India
20-24 January 2016– Switzerland
05-10 February 2016  -France
15-17 February 2016– China
Does such a State officer who revels and rejoices in wasting public funds be given another one year extension in service ?
The related documentary evidence can be viewed by clicking below  this photograph after magnification 
(Await the exposure by Lanka e news of  the Credit card waste of funds of notorious Bond Mahendran ! )