New Central Bank Governor Gets official appointment from Prez today
Posted on July 4th, 2016
Sri Lanka news
President Maithripala Sirisena announced on Saturday that he will appoint Economist Dr. Indrajit Coomaraswamy as the Governor of Central Bank. Dr. Indrajit Coomaraswamy will receive his appointment as the Governor of Central Bank from President Maithripala Sirisena today (4).
Dr. Coomaraswamy had met the President on Saturday (2) after his decision was announced on the next CBSL Governor.
This appointment had ended the controversial rift between the President and Premier on a suitable person taking over the heart of the finances in the country.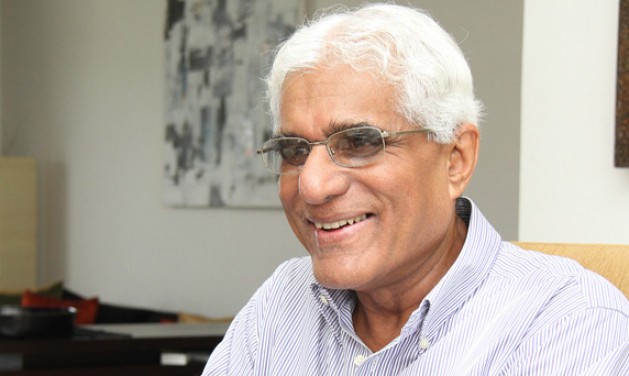 Dr. Indrajit Coomaraswamy
Indrajit Coomaraswamy – born April 3, 1950 – is a Sri Lankan economist, hails from one of the country's most respected Tamil families. He is  the son of the iconic diplomat, Raju Coomaraswamy, alias ' Roving Raju', and a brother of Radhika Coomaraswamy, a human rights activists who is also a member of Sri Lanka's Constitutional Council..
Educated at the Royal College, Colombo and at Harrow School in England, he gained his undergraduate degree at Cambridge University and obtained his Doctorate at the University of Sussex.
Joining the Central Bank of Sri Lanka in 1973 he served in the Economic Research, Statistics and Bank Supervision Divisions as a staff officer till 1989. From 1981 to 1989 he was seconded to the Ministry of Finance and Planning.
Thereafter Coomaraswamy worked for the Commonwealth Secretariat from 1990–2008, holding the posts of Director, Economic Affairs Division and Deputy-Director, Secretary-General's Office and was brought back to the Commonwealth Secretariat to head the Social Transformation Programme Division, as Interim Director.
Indrajit played first-class cricket in 1971 and 1972 for the Cambridge University team. He also played Rugby for Cambridge University, and later captained Sri Lanka in Rugby in the 1974 Asiad.
He also served as a special adviser to the Galleon group, founded by controversial businessman Raj Rajaratnam, a Sri Lankan American currently serving a 11 year prison term. Rajaratnam has been convicted in the USA on nine counts of securities fraud and five counts of conspiracy. Prosecutors have said he made up to $63.8 million in illicit profit from 2003 to 2009.
Incumbent Finance Minister Ravi Karunanayake was once accused of depositing funds sent by convicted hedge fund owner Raj Rajaratnam, in a private bank without informing the Central Bank. Karunanayake's name, however, has been cleared by the Colombo High Court which heard the case for nearly four years.
The Galleon Group.
The Galleon Group was one of the largest hedge fund management firms in the world, managing over $7 billion, before closing in October 2009.The firm was the center of a 2009 insider trading scandal. The firm was founded by Raj Rajaratnam, a former equity research analyst and eventual president of Needham & Company, in 1997.The New York headquartered firm was named for the galleon, a large sailing ship used from the 16th to 18th centuries in Europe.
Insider trading investigation of Galleon
In October 2009 Rajaratnam and five others were arrested and charged with multiple counts of fraud and insider trading. Rajaratnam pleaded not guilty and remained free on $100 million bail, the largest in United States history. He was indicted by a grand jury in December 2009[5] and found guilty in U.S. District Court on 14 charges in May 2011. He was sentenced by U.S. District Judge Richard Holwell to 11 years in prison on October 13, 2011.
Other former and current traders at Galleon were subsequently arrested and charged with contributing to the alleged conspiracy. Several former employees of the firm have cooperated in the investigation. As of January 2012 over fifty people have been convicted or pleaded guilty to date in the sprawling probe stemming from Galleon (not all of them Galleon employees).
Zvi Goffer, an ex-Galleon Group LLC trader, was found guilty of all 14 counts of conspiracy and securities fraud against him and sentenced by Judge Sullivan "to 10 years in prison for his role in a scheme to trade on inside information provided by lawyers". Goffer had asked for a lenient sentence and prosecutors had recommended more than 10 years.
Adam Smith, an ex-Galleon Group LLC trader, pleaded guilty and cooperated in the criminal trial of Raj Rajaratnam. He was sentenced in June 2012 to only a period of probation and no jail time by Judge Jed Rakoff, who took over the case from Judge Richard Holwell when the latter retired from the bench. (Wikipedia)