FM Mangala Samaraweera in L.A. says no separation but leaves door open to federalism
Posted on October 5th, 2016
Report & photos by Hassina Leelarathna Courtesy Sri Lanka Express
About 200 expats present at dinner meeting with the visiting minister
A federal state is not a separate state.  I assure you Sri Lanka will remain a united, undivided country," he said addressing a gathering of about 200 invitees at the upscale residence of Consul General Swarna Gunaratne.
The minister was responding to my question as to whether the government would continue to uphold a unitary constitution "and avoid a federal state."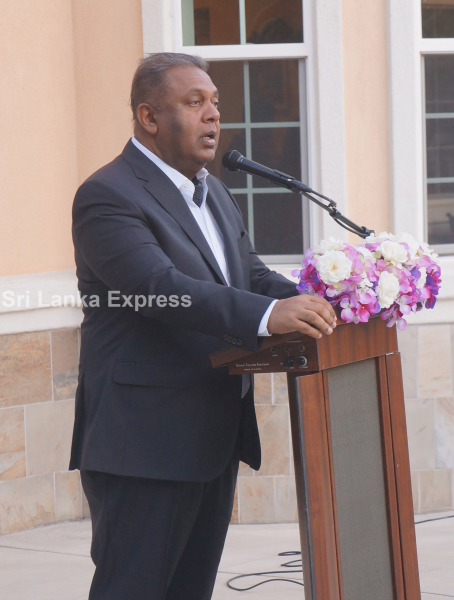 Foreign Minister Mangala Samaraweera
"Unitary constitution" and "federalism" are just terms being thrown around.  "Don't go by what's on social media," he said.
Minister Samaraweera was in Los Angeles after attending the 71st Session of the UN General Assembly in New York.
About 200 residents from Southern California were present at the September 25 event which was the first featuring a visiting government dignitary organized by Mrs. Gunaratne who took office earlier this year.  Notably absent were Buddhist monks from the local Sri Lankan temples.
Minister Samaraweera, dressed in open shirt while the invitation called for formal attire, said he was surprised at the large turnout, quipping that as he walked in to the meeting he thought for a moment he was in Matara (his hometown).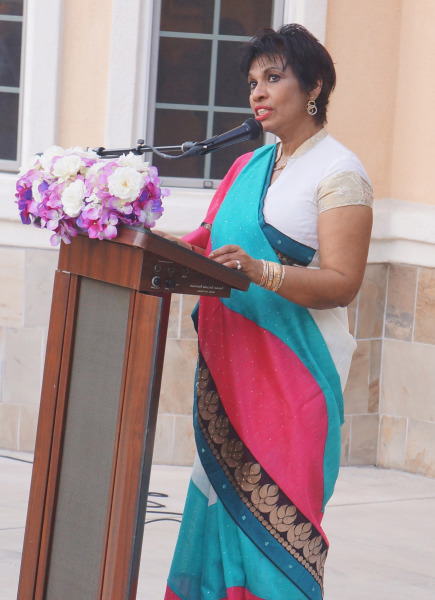 Consul General Mrs. Swarna Gunaratne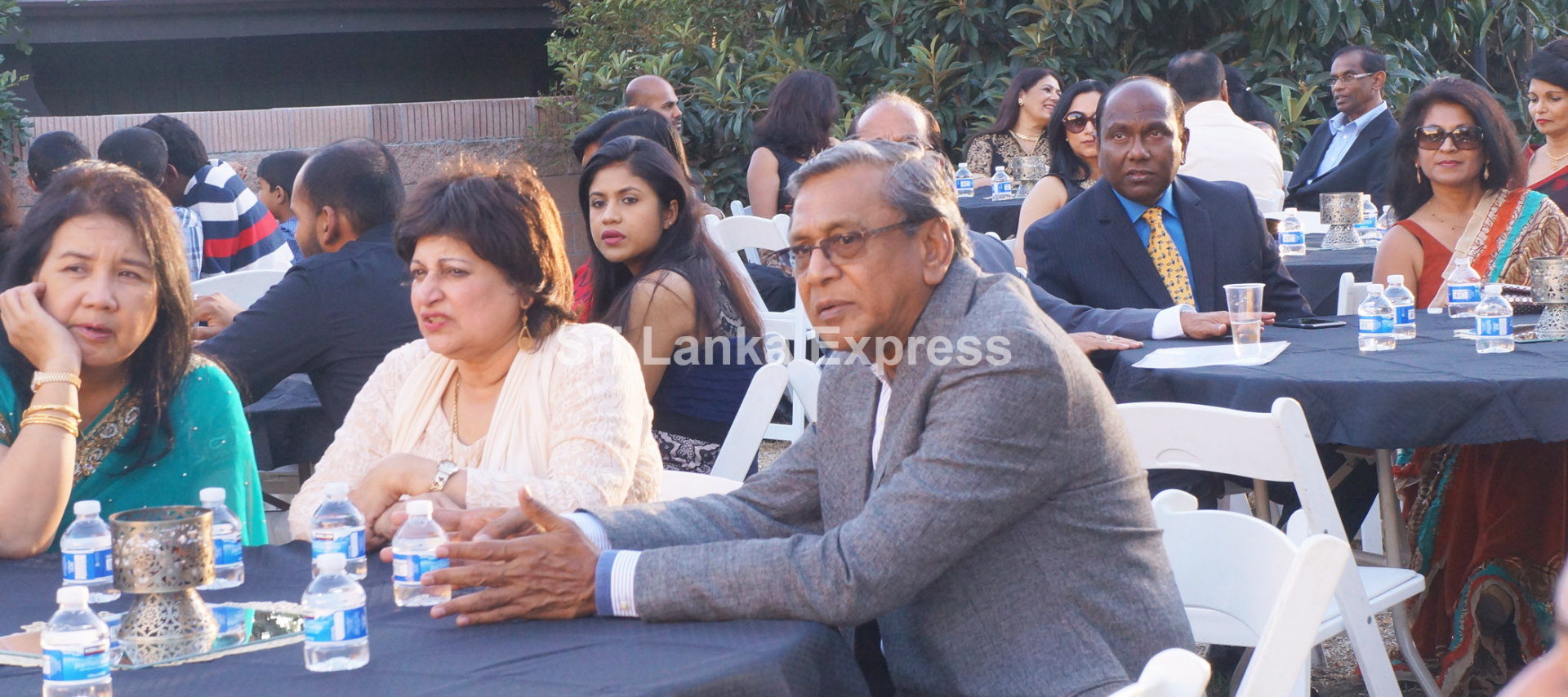 In contrast to other Sri Lankan leaders who from time to time have addressed the expatriate community here, Mr. Samaraweera, speaking for about 20 minutes, solely in English, did not have one good thing to say about Sri Lanka from independence to present.  None of the warm nostalgia for the homeland usually evoked by leaders from all sides of the political divide.
Quoting extensively from the late Lee Kuan Yew, founder and prime minister of Singapore,  he painted a grim picture of a country that couldn't evolve," a nation, contrary to the promise shown when it became independent, is still struggling to move forward."
When Ceylon gained independence in 1948, it was the classic model of gradual evolution to independence. Alas it did not work out….  It is sad that the country whose ancient name Serendip has given the English language the word "serendipity" is now the epitome of conflict, pain, sorrow and hopelessness," he quoted the late Singaporean leader as saying.
Now, after sliding for almost 70 years, Sri Lanka has finally caught a break according to the minister.  There's hope in the horizon with a new vision for democratization and development" being pursued by his government which came to power in 2015. All the countries are coming forward to help us," he declared. emphasizing that the island will be a strategic military hub in the Indian Ocean and a gateway to Asia.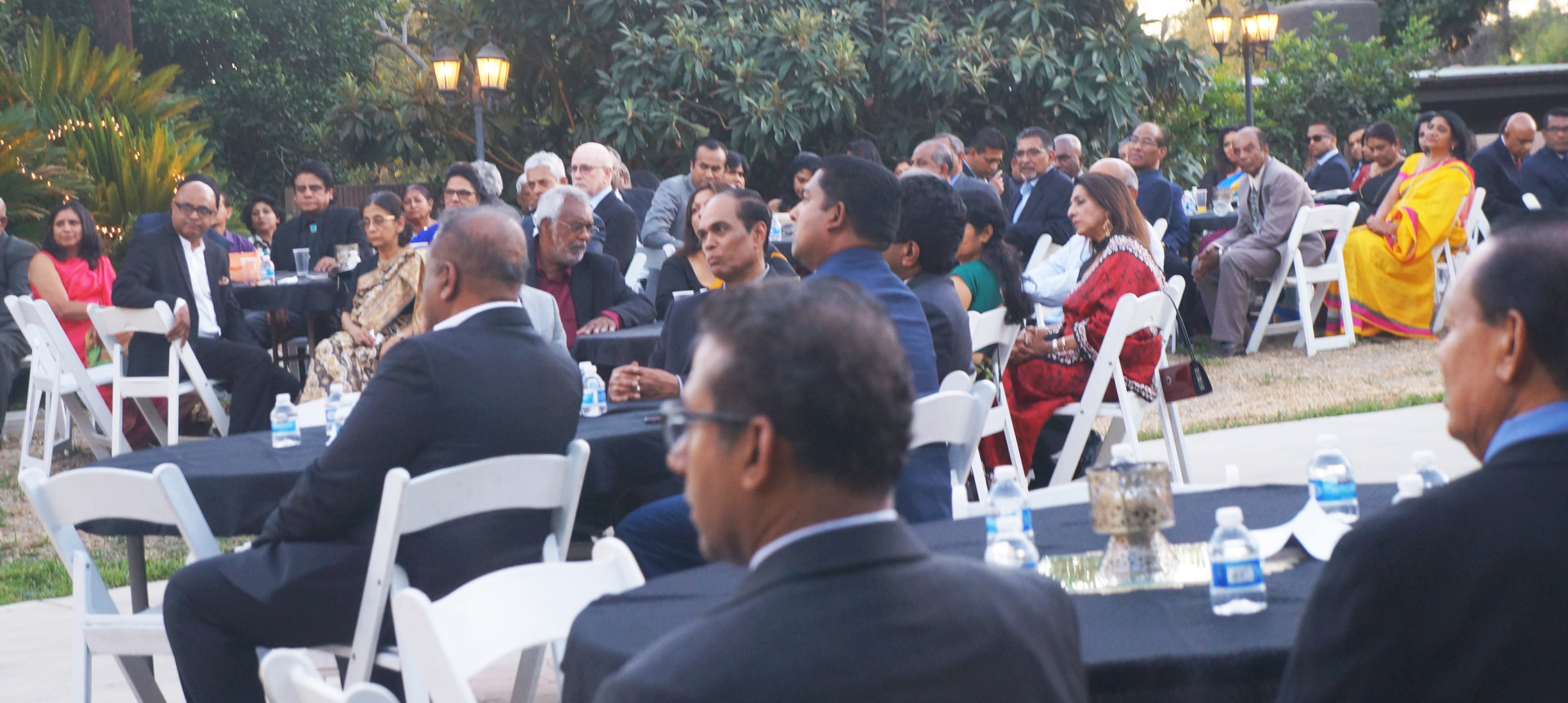 Touching on Sri Lanka's economic future, he said the government will take measures to make it easier for foreign investors to do business in the island as well as for foreign nationals to buy land.
In pursuit of promoting reconciliation, there was a new political trajectory" aimed at breaking down walls and building bridges" and putting away past baggage."
Reconciliation was key to coming to terms with the tragedies of the past" which was why, he said, the government felt it important to show the world" its commitment by cosponsoring the Geneva Resolution (Human Rights Council Resolution 30/1).
Minister Samaraweera's visit was billed as the curtain-raiser for the proposed 2018 "Year of the Overseas Sri Lankan" event, a year-long celebration to be held in Los Angeles and other cities to coincide with the nation's 70th Independence Day.   He mentioned plans to hold festivals  highlighting Sri Lanka's achievements and to promote the island as a wonderful destination" but only a smidgen of his speech touched on the 2018 celebration.
Regardless,  the minister was apparently expecting audience comments and questions to be apolitical.  "This is not the forum for politics," he scolded after I had my brief say.  In addition to the references to a unitary constitution and federalism, I said the  Sri Lankan government's talk about reconciliation was the sound of one hand clapping."
The diaspora is not one entity geographically or ideologically," I pointed out, adding   there's the diaspora that carried out a campaign for separatism by funding a terrorist group and that according to State Department reports this fundraising is still going on.  Referring to the government's efforts to reach out to diaspora groups like the Global Tamil Forum I asked if similar efforts had been made towards groups at the other end of the spectrum."
Mr. Samaraweera did give a long response but the question went unanswered.
Despite the minister's admonishment, Los Angeles resident Roma de Zoysa stood up to ask if after 30 years of war [with the LTTE] the new government was in the end going to give them what they have been asking."  To which, Mr. Samaraweera answered there will be no separation."
Mr. Faisal Buharie of the Sri Lanka Muslim Association brought up the question of the resettlement of Muslims evicted from their homes in 1990 by the LTTE.   The minister responded that there were 909 of them left and that they will be resettled shortly.
There were a few more questions, this time on topics such as education, the teaching of English, and if the government would bankroll the 2018 Independence Day celebrations in LA.  And then there was some unabashed praise for the visiting dignitary — good news" that might have helped to jolly things up towards the end, when the minister was ready to call it an evening, with the declaration that it was time for a drink."