Top cricketers involvement in crab killing evokes protests on Face Book
Posted on February 11th, 2017
Senaka Weeraratna
Top cricketers involvement in crab killing evokes protests on Face Book
Cricketers lacking in compassion towards animals make poor role models
Crabs for grabs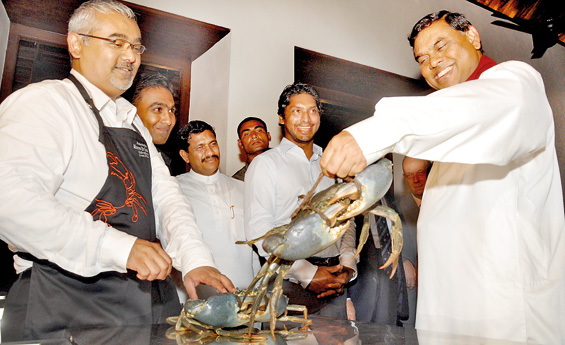 Sri Lanka's former cricket captains Mahela Jayawardena and Kumar Sangakkara have set up a crab shop at the new food court opened at the Old Dutch Hospital in the Fort. The crab shop was opened by Economic Development Minister Basil Rajapaksa who is seen admiring the giant crabs. Pic by Indika Handuwala
Sri Lanka's former cricket captains Mahela Jayawardena and Kumar Sangakkara have set up a crab shop at the new food court opened at the Old Dutch Hospital in the Fort.
The crab shop was opened by the (former) Economic Development Minister Basil Rajapaksa who is seen admiring the giant crabs. Pic by Indika Handuwala

http://sundaytimes.lk/111204/Sports/spt06.html
The story with a photo in the Sunday Times (Dec. 4, 2011) entitled ' Crabs for Grabs' showing two former cricket captains looking gleefully at a giant crab in a crab shop they had set up at a food court opened in the Colombo Fort, have taken an increasing number of people including ardent cricket fans aback. .
If you lack compassion towards animals, you lack compassion.
In the current era anyone insensitive to the pain and suffering of non – human sentient beings makes a poor role model however excellent he or she may be in another field(s).
We admire their cricket and share the nation's gratitude for the honour and glory brought to the country on the playing fields of the cricket world.
But we cannot condone their barbarism in immersing innocent live crabs in boiling hot water.
Put yourself in the shoes of the crab and ask yourself whether you would like such treatment being done to you.
Do not do to others what you would not like being done to you.
This is a basic tenet in any civilized society.
Snuffing out the life of a defenseless animal is not sporting conduct.
It is contrary to all tests of fairness. The animal has absolutely no chance.
Our national cricketers, both past and present, must strive to be good role models.
Compassion for living beings is part of Sri Lanka's Heritage, influenced by Buddhist tenets, for over 2, 300 years.
.Public protests in response are beginning to be expressed on Face Book when Gihan Dinushka together with Amila Wijeratne pasted the above photo on their Face Book pages on Feb. 10, 2017
The comments appended below have been gleaned from the Face Book page of Gihan Dinushka
https://www.facebook.com/gihandj?pnref=story
See also
https://www.facebook.com/wijeratne.amila
https://www.facebook.com/permalink.php?story_fbid=1805913332959323&id=100006220213882
A little advice to our top national cricketers
Senaka Weeraratna