THE STRAW THAT BROKE THE CAMEL'S BACK
Posted on October 13th, 2017
By Dr. Tilak S. Fernando
The historical conviction, followed by the rigid sentence of rigourous imprisonment for three years by the High Courts, on the former Presidential Secretary Lalith Weeratunge and Anusha Pelpita, under Section 386 of the Penal Code for 'dishonestly misappropriating' a sum of Rs. 600 million belonging to the TRC created a façade by a certain section of politicos. Both were convicted for procuring 'Sil clothes' illegally from the TRC and distributing just prior to the last Presidential elections in the Kurunegala District. It developed into more complicated issue when the former President, Mahinda Rajapaksa declared that, I had ordered & funded through the President's Special Development Fund," seeking protection under Article 35 of the Constitution. However, Anusha Pelpita seemed to have a different version when he had explained to his  friends thus:
Basil Rajapaksa ordered us to distribute Sil clothing. I explained to him that it was illegal, and then he used the filthiest language on me. I informed Lalith Weeratunge about it; upon consulting the former President, Lalith Weeratunge said, If Basil said so, to distribute the clothes. Nevertheless, we covered ourselves by endorsing a minute in the file to that effect but but in the end, the two of us had to go to prison!"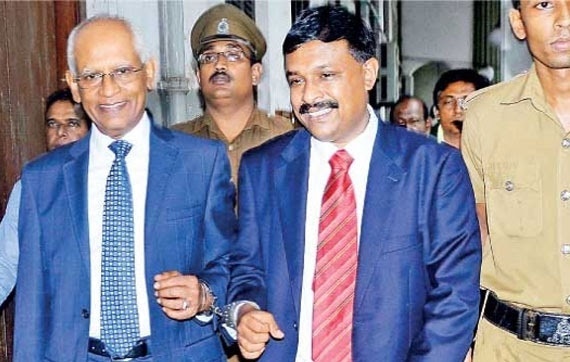 Permanent Secretary's duties
Administrative Secretaries are duty bound to guide their masters and specifically compelled to safeguard and avoid any malpractices. It is clear as crystal that the two officials had done so, but it is evident now that Basil Rajapaksa has been the perpetrator behind this illicit move. Naturally Mahinda Rajapaksa has to defend, his brother and one time minister, stating it was done under the 'President's Special Development Fund'.  
What would have been if Lalith Weeratunge were refuse to execute the provocative instruction, similar to Thusitha Halloluwa, the Chairman of the state-owned Colombo Commercial Fertilizer Ltd, who tendered his resignation to the Minister of Agriculture in September 2017? Halloluwa naturally felt he was unable to carry out his duties in a warped manner! This makes the difference between the two officials that shows one has a backbone while the other backboneless!
Misdemeanor
Leaving legal and political aspects aside and considering the moral and ethical facets, this problem completely turned into a tendentious joke when the Joint Opposition members managed to convince a section of the 'Buddhist clergy' (who are widely referred to as men in yellow robes!) into a mockery  to tarnish the pristine form of Buddhism by persuading these 'monks' to raise millions towards the Court's penalties of the convicted, by inducing them to go on Pindapatha. Monks parading on streets for begging (Pindapatha) for money is irrefutably contradictory to Buddhist Vinaya (rules). Any ordained Buddhist monk should be mindful of the fact that Lord Buddha ordered Bhikkus to go on 'begging' (Pindapatha) from house to house, only to seek food for Bhikkus' survival. This shameful manipulation, therefore, by warped politicians in encouraging a few naïve 'monks' has reflected as a scandalous action to tarnish Buddhism, a philosophy, which teaches the 'path of practice and spiritual development, leading to Insight into the true nature of reality'. Buddhists undertake to observe the second code of Buddha's ethics (precepts) by promising to abstain from stealing, (immaterial whether it is under an Executive order or otherwise), and by chanting the fourth precept, vowing to 'refrain from fabricated and deceitful speech'.
Handling of money was regarded as a taboo during Buddha's era, as such it becomes an aberrant imprudence to drag anyone in a yellow robe out onto the streets, especially during the Vassana Season (rainy season), and to persuade them to go on Pindapatha. Therefore, this heinous act perpetrated by two Buddhist parliamentarians, who are often seen on TV, visiting the Mahanayakas holding Mal Watti (tray of flowers) and Ata Pirikara and prostrating before the Mahanayakas, have stooped into mortifying levels as an outright ignominy to Buddhism.
Buddhism teaches that human life is full of suffering caused by desire, and the only way to end this suffering is through enlightenment. Despite such golden rules, and people listening to holy monks who pontificate Bana to illumine the laity by elucidating the fact that one the effective means of shortening one's sansaric journey would be to be generous and help fellow human beings, with good chethana (intentions), it is a travesty to see various 'monks' in diverse shades, from yellow to dark brown robes, stooping to mortifying levels of misleading the ignoramus devotees who blindly respect Buddha's yellow robe.
Kalandaka Jathaka illustrates how Bodhisattva, once born as a squirrel in a previous life, due to some past karmic effect, attempting to rescue its baby, that had fallen into flood water during stormy weather and ended up in the ocean, by dipping its tail in water and taking drop by drop in an attempt to empty the mighty ocean! God Sakkara, at that very moment having felt the tribulation, had appeared on the scene to rescue the baby squirrel, Jathaka Katha continues. Comparably, will the most powerful, who ordered to 'distribute Sil clothes' under the President's Special Development Fund, now appear as god Sakkara in this dire situation to bail out the victims by paying the heavy penalties?