Reconciliation & balkanization in Sri Lanka
Posted on March 11th, 2018
C. Wijeyawickrema
1.International king makers
There are universal truths. The sun rises from the east is an example. Reconciliation cannot cohabit with balkanization is also a universal truth. If reconciliation is undertaken to create a unitary or a united country, the balkanization plan by RanilW-Mrs. Chandrika-MaithripalaS trio using hardcore Marxists Jayampathy W and Lal Wijenayaka is its opposite, an anathema. Therefore, this reconciliation talk is an eyewash. It is now Christal clear that the western embassies brought this trio into power in 2015 to reach their long-term goal of breaking the Sinhala-Buddhist foundation in Sri Lanka. Christian Rosy Senanayaka and half-Buddhist Mrs. Chandrika preach this sermon on a regular basis, and the international king makers (IKMs) use such pawns to accomplish their aim. MaithripalaS and the late Ven. Maduluwave Sobhitha were unfortunate cat's paws trapped in this game. The unfair treatment given to MS by MahindaR gave IKMs an easy loophole to divide the Sinhala Buddhist vote which did not work in 2010 when IMKs tried it with SarathF, a loose cannon. IKMs benefitted from MR's half-hearted conversion as a believer of the European imported two myths of Inter-faith and multi-culturalism. Politicians do that to placate communalist Muslim, Christian or Tamil politicians.
this war is not winnable crowd
Apart from this fundamental conflict between reconciliation and balkanization, another basic error of this reconciliation game is it is handled by those black-whites and separatists who belong to the this war is not winnable" crowd. How can people have faith in a Saravanamuttu, Manori Muttettuvegama or a Nimalka Fernando to be honest and impartial in dealing with such sensitive issues like alleged war crimes or missing persons?  Dollar-backed offices led by Mrs. Chandrika or Mano Ganeshan are IKM pawns in the eyes of Sinhala Buddhists. All kinds of committees appointed by the trio above including the joke called the constitutional council does not have a single respectable Sinhala Buddhist as a member.
Badmouthing by Wigneswaran
The speeches by western white agents openly admitted that they gave dollars to regime change in SL. It was different in magnitude to the unopened bundles of dollar bills found in SarathF's relatively bank safes in 2010. The new separatists in new wine bottle like Wigneswaran makes nasty anti-reconciliation statements the trio has no guts to control. Wigneswaran's reconciliation includes Tamils not marrying Sinhalese, removal of Buddha statutes from Jaffna, an ex-Marxists, ex-Christian governor Reginald Cooray talks about Buddhist monks not coming to Jaffna (for conversion of low castes?)! How can there be conciliation with such state of affairs?
Sinhala Commission report to the dust bin of history
When there are two parties to a conflict, reconciliation cannot take place if the IKM agents are hammering one side, openly favoring the other side? What the above trio has done so far using people like MangalaS etc. is to ridicule or humiliate the Sinhala Buddhist heritage trying to force people to accept their views on sexual orientation, women's liberation etc. A systematic effort to disgrace Buddhist monks, Buddhist cultural practices and even the traditional broadcasting of Pirith in Buddhist temples because a few Christians who came to live near the temple cannot sleep in the morning make Sinhala Buddhist angry. The destruction of Buddhist archeological sites and the trio's unwillingness to stop it makes Buddhists feel that reconciliation means discrimination against them to placate Muslim and Tamil politician crooks.
Islam al taqiyya rule
Sharia theory of el taqiyya, which allows a Muslim to lie and practice deception is now in operation in Muslim majority locations in the island. Submission, cooperation and oppression, the three stages of how Sharia Muslims live in a host community as their population numbers grow from smaller guest status to a majority is a political-administrative reality in the eastern province. This has been exposed by the monk Ampitiye Sumanaratana at Mangalaramaya, Batticaloa. Tamil-speaking Muslim officers harass Sinhala villagers, denying them justice and fair play, not even the right to register and have a birth certificate. It is amazing how, this one monk is fighting against the entire establishment in Sri Lanka from local GSNs and police officers to the Colombo cabinet and president against Muslim and Tamil separatism. When Wijedasa Rajapakse as minister in charge of Buddhist Affairs tried to intervene finally, he was removed from the cabinet. Sinhala Buddhists wait helplessly against such actions and reactions by fake Buddhists in power. Can there be conciliation with dollar trees with NGOs in Colombo ministerial office of Mrs. Chandrika and Mano Ganeshan?
Foreign invasions
The song Danno Budunge was like a national anthem for rural people during the white rule before 1948. Singing it in Gothic or Italian tone at an independence-day celebration becomes an affront to long-suffered Sinhala Buddhists. RanilW allowed this to provoke or irritate people and wanted to punish the TV news reporter for sarcastically criticizing the lady's experiment. No one would oppose her experiment if it was done at any other occasion such as a UNP meeting or a UNP funeral. This is at a time the national anthem was changed from matha to thantai. Bringing prince Edward is to go to Colonial times in mind. But politicians, NGOs and people like Dayan Jayatilaka, C. A. Chandraprema, Tissaranee Gunasekara, DBS Jeyaraj hide the fact that the Sinhala Buddhists are facing not just the IKM power but at least three other foreign threats.
Christian fundamentalism is busy with unethical conversions. How many BOI-registered church locations in Sri Lanka? UNP minister Iran Wickramaratna has a hundred of those huts! Next comes the hidden money of Prabakaran, now used by the global Tamil forum. Portion of this money is used to intimidate local politicians in white parliaments in the world, except Russia. The most dangerous now is the Arab dollars. Fake Sinhala Buddhist politicians are trapped to the neck with this power. Sri Lankan women clean Arab toilets and remit billions which these hopeless politicians used to import luxury cars and Russian prostitutes.
Donoughmore Buddhists
After 1931, black-white Sinhala politicians changed their last version of Christian religion and became Buddhists to get Sinhala Buddhist votes. They used village monks to work as translators for them as they could speak only kitchen Sinhala. These fake Buddhists did not do a thing to save or protect the Buddha Sasanaya.  Instead they got rid of the Anagarika Dharmapala and sabotaged the Rural Development and Crime Eradication Program of Ven. Kalukondayave Pragnasekara. It is unbelievable that even Sir D. B. Jayatilaka could not help the monk! Agents of fake reconciliation are blind to the international forces working against the Sinhala Buddhist heritage. They must work to stop Arab money or Tamil separatist money or evangelical money pouring into the island to propagate their extremist views. Apart from bribes politicians take, they keep silent because they want Muslim vote, rich Christian vote or Tamil vote. They are like the fake Donoughmore Buddhists in the past.
Commission Reports ignored
It is another universal truth in Sri Lanka that the original owners of this island, the Sinhala Buddhists, (just like the Japanese own Japan) suffered for 500 years under the iron rule of foreign Christian rule. After 1931 this was continued with black-white rule. From time to time, under pressure, to fool Sinhala Buddhists, black-white governments appointed Commissions of Inquiry to look into the grievances of the majority people. The last one of these, a result of the self-sacrificing silent revolution made by the late Ven. Gangodawila Soma, the 2002 Buddhist Commission Report dealt with unethical conversion and specifically, the growing menace of Sharia-Wahabi halal face covering poison pills, but Mrs. Chandrika and MR, who benefitted in 2005 election from the Soma dowry totally ignored the report. If the new trio after 2015 want true reconciliation they must appoint a commission of inquiry to examine the grievances of Sinhala, Tamil and Muslim people.
Bodu Bala Sena
Why did JHU fail and why BBS had a meteoric rise after May 2012? Why is that the entire black-white establishment hate BBS? The reason was that it exposed the game played by fake Buddhist or half-Christian Buddhist Sinhala politicians. They have been treating the Sinhala Buddhists the same way the men proverbially treated the kind-hearted women. Ven. Elle Gunawansa described this mildly when he said that Buddhists who carried Buddhists flags for these politicians ended up with the flag poles in their hands! The open public conspiracy to isolate and silence BBS monk, to kill the messenger, just like what had happened to so many other active Buddhist monks who faced mysterious deaths stopped after the June 20, 2017 Asgiri Declaration. Yet, the trio allowed their agents to level below the belt attacks on the Sanga establishment, which protected this island for 2000 years. Bodu Bala Sena followed the Anagarika Dharmapala path instead of the late Ven. Gangodwila Soma's soft path.
The exposure of this Buddhist game by BBS rattled all types of Sinhala politicians and they all got united in demanding the head of BBS leader. Even an otherwise honest person like Rajiva Wijesinghe attacks BBS with falsehood or half-truths. Dayan Jayatilaka is in the same boat. He calls (writes) Ven. Soma as Rev. Soma in the Christian way. He does not know the difference. In an opinion page letter dated March 8, 2018 on Islamophobia in the Island newspaper he disclosed new information that the country's Sinhala Buddhists did not know. He begins saying that MR vetoed the anti-conversion bill in 2005. Then, when Dinesh Gunawardena and Wimal Weerawansa urged at a cabinet meeting to ban the birth of BBS, its inaugural meeting at Maharagama in May 2012, Dayan says, MR nodded his head in agreement. Again, after the Alutgama incident while coming back from Japan MR ordered the arrest of BBS leader but the defense circles stopped it. All this came out because of Dayan's dire need to blame Champika Ranawaka as a bad man. C.A. Chandraprema did the same using Christian DBS Jeyaraj's and Colombo Telegraph anti-Sinhala Buddhist websites.
Sri Lanka today is covered with evil triangles large as well as local: politician-officer-NGO. When Sinhala politicians do not take action against sharia acts in the name of reconciliation, somebody has to do something. The Mahason Movement is one such group. For example, it exposed how expired medication is repacked and sold by the Royal pharmacy owned by a Muslim, how Sinhala women are subjected to forced birth control surgery etc. acting as a watch dog. This is not racial act, but courage by dedicated Sinhala youth. For this sin police arrested two of its leaders under emergency order. This is not a path to reconciliation, the bribe-taking politicians must realize.
Proverbial Cat's on rocks
The question is that when BBS is asking for a commission of inquiry on the Alutgama incident, Dinesh, Wimal or MR acted like proverbial cats on rocks. The new trio are also like cats and they are so afraid of BBS coming before a commission of inquiry. There will never be reconciliation as long as these politicians try to hide the truth to thrive in politics. For them a Muslim block vote is more important than the principle of redressing genuine grievances of Sinhala Buddhists. Removal discrimination perpetrated against the majority reasonably, is not discrimination against minority communities. If the new SLPP either misunderstands the map it got in February 2018 or those federal and pro Muslim agents in it plan to cheat Sinhala Buddhists after coming to power, it will face dire consequences. For example, the Wilpattu debacle and allowing a university with an Arab king's name to train Islam mullahs in Arabic for madrassas cannot create reconciliation. Did some get Arab dollars as bribes?
The above paragraphs are an extended introduction to the subject I wanted to present here. In 2006, I wrote an essay titled Federal marriages and water wars" in 2006, a later reprint of which from the Lankaweb appended at the end of this note. It was a general description of how taking the 13-A path toward an F" solution could create an island engulfed in water wars, a common occurrence at the South Indian state borders today. If the purpose of 13-A or 13-A plus or whatever is to bring reconciliation, these reconciliation crooks will be dead and gone to see the results of their stupid actions. My disgust against these politicians, how they destroy Sri Lanka with sets of puppet officers resurfaced again when I saw the essay written by engineer Neville Ladduwahetty, titled, Impact of past and present irrigation works on reconciliation," (Island, March 4, 2018).
In his essay, he reports a specific example of how the Moragahakanda water transfer project could become a new tiger's tail. Northern CM, Wigneswaran has already staked a claim for this water. Simply stated, the government is promising or giving high hopes to northern Tamils that the south will supply them with water. This appears to be a false promise, because there are five ancient tanks, Minneriya, Kaudulla, Giritale, Kantale and Parakrama Samudraya (marked in Map – A as nos. 8, 10, 20, Kantalai & 9, respectively) that depend on water from M reservoir.
Neville states, … despite the high figures assumed in respect of rainfall (2000mm) and runoff (30%) the shortfall of 243,000 acre ft. that represents 57.5 % of the storage capacity of Moragahakanda is needed to augment all five tanks to their full capacity. This has to be released from the Moragahakanda reservoir through the Elahera canal [blue line on Map-A] and directly from the Amban Ganga. This also means that since this quantity of water is available mostly during the North East Monsoon from October to March of any year, and since Moragahakanda is located above the Elahera Canal, any storage at Moragahakanda is possible ONLY AFTER the 57.5% of the storage capacity of Moragahakanda is released to the five ancient tanks…"
….Since storage at Moragahakanda would be at the tail end of the NorthEast Monsoon, the waters that could be stored would only be that amount of water that could be diverted from Polgolla to Amban Ganga, and from any rains from a weakened North East Monsoon plus that from the South West Monsoon. Whether such depleted quantities would be sufficient to serve the intended purpose of Moragahakanda in respect of power generation and delivery to the Upper Elahera Canal which is reported to be currently under construction should be given serious consideration…."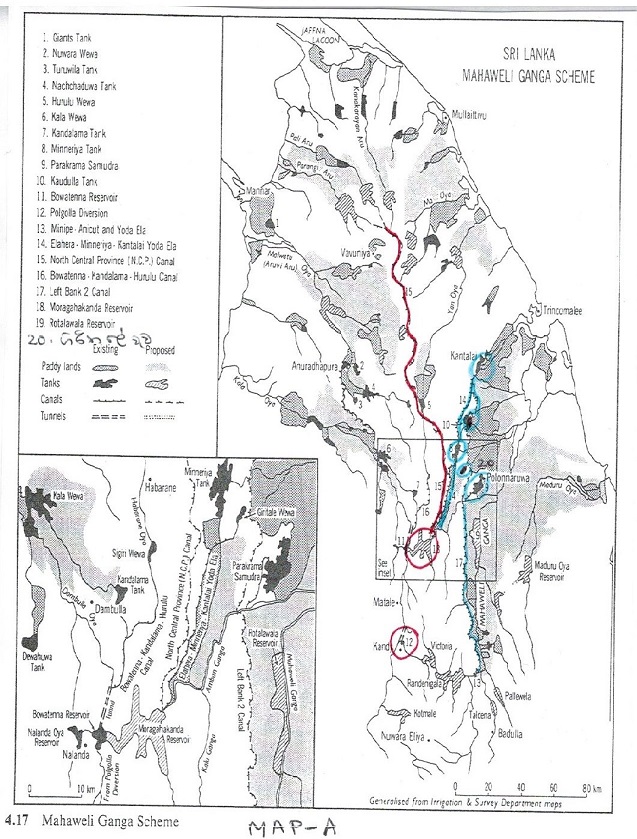 By mixing ancient irrigation system with western brains of hydrologic marvels, politicians and university engineers have created another cement and concrete problem. If Northeast or Southwest Monsoons delayed or not sufficient in quantity new western mega concrete plans and ancient ecology-based irrigation systems both will be in trouble and Tamil separatists will go to Geneva complaining violation of their human right to water. When Gal Oya project did not supply enough water to the Senanayaka Tank, there was no agency to go to Geneva. It was a blunder done by DSS not listening to Dr. S. A. Wickramasinhge's plea not to have one huge tank but to have a number of upstream smaller tanks. Actually, this was the concept that the Tennessee Valley Authority in USA implemented with regard to the Tennessee River. The Gal Oya project was a TVA project done outside USA. But it had to do it the Ceylonese politicians' way!
Civil engineer D. L. O Mendis, now over 90 years old struggled all his adult life to try to stop hydrological engineering madness of university engineers, who did not understand the marvel of ancient irrigation water management of our kings. The first opportunity they get these western-oriented engineers destroyed ancient water conservation systems with bulldozers. DLO in his book, Community based water conservation and development, 2013, has pointed out how the Uda Walawe Basin Project ignored ancient water and soil conservation ecosystem embracing hydrologic engineering, thus destroying hundreds or even thousands of smaller tanks. He blames those who decided on the Moragahakanda NCP canal (Take water to North). He says NCP canal is a ridge channel, traced virtually on the central dividing ridge in the north-central part of the island, whereas other ancient canals such as Kalaweva jayaganga, Minipe and Elahera canals are contour channels (p.161). We hope that the 2,400 tank restoration project of president Sirisena, just launched, will not destroy ancient Vetiya system (p. 147), a system of collecting river flood water above the river basin.
==================
'Federal' Marriages and Water Wars


Posted on August 5th, 2009
By: C. Wijeyawickrama
There is no state without a Tamil – but there is no state for the Tamils." World Confederation of Tamils (www.tamilnation.org)
'India is a Myth':
The merchants of federal formula are reluctant to compare 'Federal' arrangements with marriage contracts. In the recent past we saw this behavior first hand in an exchange of letters with one Kandappa from Jaffna under the titles Federalism and Marriage" and Federalism and Sexism" (Island, Jan 11, 2006). The comparison exposes defects in the Federal method. This is why Mr. Anandasangaree has become the Ambedkar of Sri Lanka preaching to JVP that the Indian model is not really a Federal but a mixture of Federal and Unitary.
Perhaps Mr. Anandasangaree may not be aware of the fact that India is a myth" is a protest movement alive amongst groups of Tamils in India who call India, Hindia or Hindistan. One would wonder why recently Mr. Anandasangaree, himself had to ask in vain from Karunanidhi to not violate the federal decision to train 200 police officers in Tamilnadu if his Indian model is not Federal but mixture of Federal & Unitary! (Island, Aug 10, 2006). The Dravidasthan movement that began in South India in the 1930s is buried and not dead as evidenced by the arrest of MDMK's Manimaran under the Indian Penal Code section 153(b), and the arrest warrant open for Kandanbam of DPI (Dalit Panther of India).
Marvil Aru Anicut:
The blockage and bombing of the Marvil Aru-Verugal Aru area have proven to the world that the theory of a joint Federal and Unitary is also a myth like the hoax of a traditional Tamil homeland in the Eastern Province. The Malaria mosquito simply did not allow it as pointed out by the geography professor G. H. Peiris. If a party filed for a divorce (from Unitary partner) [despite a generous court order (CFA, 2002), the greatest giveaway in history according to the Scotsman Paul Harris, and a humiliating surrender by the other party (I-SL Agreement, 1987], tried to use water supply to make the marriage under one roof unpleasant, what is in store when the parties were to be allowed to move into their own separate houses?
Water Wars in India:
Mr. Kandappa in January 2006 accepted the fact that Tamilnad has had water wars with two of its neighbors, Kerala and Karnataka, under the Indian model. India had water wars with Pakistan and is bound to have water wars with Pakistan in Kashmir. India has water disputes with Bangladesh-a river delta that became a separate country- where the big brother's decisions makes Bangladesh either flooded with excess water or starved of water during the dry season.
I raised the issue of water wars between Tamilnad and its neighbors in order to show that federalism is not the solution to help Sri Lankan Tamils to achieve their aspirations" (mentioned by the late Kumar Pannambalam) or to handle the legitimate Tamil grievances" (emphasized recently by US governmental officers Jeff Lunstead, Richard Boucher and Nicholas Burns, and Indian leaders Manmohan Singh and Sonia Gandhi). Rivers do not respect political boundaries.
Hence there were water disputes between countries (USA-Canada, India-Pakistan, India-Bangladesh, Egypt-Sudan) and between states under 'Federal' marriages. Water (Jordan River) is a hidden time bomb in the Middle East conflict.
Water and 'Federal' marriage Contracts:
Water as an essential human need becomes a political weapon because it operates at the interface of time and space. Water at the wrong place in the wrong time becomes flood and disaster. Water not at the right place in the right time creates drought and famine. Too much water or too little water at a given place and in a given time can be manipulated for political purposes if the two parties to a federal marriage happen to be upstream versus downstream water users.
Water is a good example to show the value of the epithet, You cannot legislate against geography." Water flows from high to low ground irrespective of political boundaries. Actually, 'Federal' arrangements are also examples of acceptance of this epithet because it allows diverse regions to become stronger by the human political mechanism of federation or confederation. EU is the best example in this regard, to treat the European landmass as one political unit.
The Federal arrangement is done by either with two lists or three lists. Two lists give federal powers and state powers. Three lists, is the Indian method with of an additional concurrent list. With regard to water use this is a recipe for disaster.
In a Flat World" of globalization, constitutions, schedules, court cases, water compacts or arbitrations are instruments designed to handle water disputes. Lawyers and constitutional book experts thrive under this arrangement, but in the end, people will die at the water front. USA has followed this litigation method.
Yet even American and Canadian fishermen came close to shooting at each other at sea several times in the past on fishing rights. The two states, Oklahoma and Texas had river water disputes because the Red River between the two shifts horizontally over the years. The Colorado River water use allocation is an issue for all the states sharing it. The mighty Colorado ends as a sludge-toxic canal when it reaches the border between USA and Mexico.
Sri Lanka's Eelam Boundary:
Whether, Sri Lanka's 'Federal' formula merchants could prevent future Marvil Arus by a thick document regulating water rights and water allocations is a life and death issue for all Sri Lankans. Can the national list, the state list and the concurrent list prepared by a group of Colombo, lawyers prevent an aggressive marriage partner who had a bitter divorce fight from demanding more water when a drought prevents releasing more water downstream?
Will there be border clashes or filing cases at the World Court? Is compromise possible? Sri Lanka's situation is unique for four reasons.
(1) Sri Lanka is the first country on earth to go from a single country to 'Federal' country.
(2) Sri Lanka's physical geography and the Eelam boundary do not match at all.
(3) There is an Indian Tamil population in the upstream river catchment areas in the central mountain
regions where a Malayanadu movement is in dormant.
(4) Eelam" is a world Tamil dream and not just a Sri Lanka Tamil or Tamilnad Tamil dream.
The Eelam boundary (red lines on maps) on the Tamil Eealm map (www.tamilcanadian.com) is an attempt to legislate against geography and therefore, even if the two partners to the marriage have new saintly qualities and decided to erase from their mind previous murderous divorce battles, water wars would become inevitable. The panacea presented by the death merchants of the Indian federal formula would not help due to reasons of:
Political Geography:
Sri Lanka will be the only island state divided to create a federal marriage. In all the other Federal marriages (USA, India, Canada, Belgium, Switzerland) it was parties already divided who became united under one roof by 'Federal' arrangement.
Whether, the Federal Sri Lanka will have two partners, eight partners or the Eastern Province will have separate Sinhala or Muslim (Oluvil declaration) units will further complicate water allocation issues.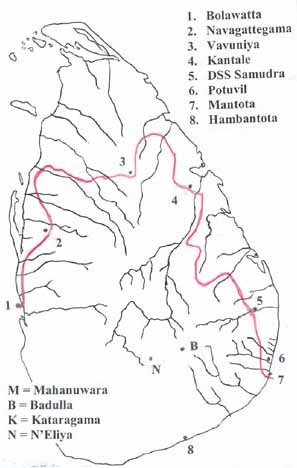 Physical Geography:
Sri Lanka is a pear-shaped island with a central mountain mass surrounded by a hilly landscape region and coastal plains. Because of this physical geography rivers are short and radiate from the central highlands. The only river that could be called a river system is the Mahaweli Ganga".
Cultural Geography:
With an Indian Tamil population living in the central mountain region where the upstream water catchment areas are located, any agitation or collaboration between Northern Tamils, Tamilnad Tamils or World Tamils and the Indian Tamils (Malayanadu) could disrupt water supply especially to the Mahaweli Ganga Scheme by blocking the headwaters during drought.
Climatology:
The island has a weather and climate based on the seasonal Monsoon winds. South-West Monsoons come with a heavy moisture content dropping it on a smaller area.
North-East Monsoons on the other hand come from the Bay of Bengal" with less moisture and spreads over a vast area. This creates two basic water regiments for the Wet Zone and the Dry Zone. Yet, even the Wet Zone is not free of droughts.
With one of the island's Arid Zones in the Eelam" area (Mannar region), the demand for more water for that region could become an issue in the future.
Geology:
The availability of groundwater resources is influenced by geological history, and the demand for surface water is affected by this factor. For example, since Jaffna is a limestone (Karst) region, plans to convert the Jaffna lagoon into a fresh water lake could demand diversion of more water from the Mahaweli Scheme to the Kanakarayan Aru (K on Map 2).
Historical Geography:
Eealm boundary is based on two Provincial boundaries arbitrarily created by the colonial ruler for administrative control. The continuation of these boundaries will become more problematic when two fighting sides become F marriage partners. The two-nation theory was a colonial relic applied only in two previous occasions: India and Pakistan and Israel and Palestine. Under the traditional Tamil homelands myth North and East Provinces were temporarily merged with a sinister move to apply the two-nation theory to Sri Lanka.
It was not based on geography or democracy but forced on a bankrupt President by a car racing Premier. Since it is a myth, hostilities will always remain if it is forced on the Sinhala majority community.
Geopolitics:
Tamil minority community in Sri Lanka enjoys more rights and privileges in Sri Lanka than what Tamils enjoy in Tamilnad, India. But the Tamil dream is to have its own sovereign country (see World Tamil Confederation website) on earth. They failed in the Fiji Island and have no chance in Malaysia or even in India and the best target is Sri Lanka.
With this aim, under a federal marriage scheme water conflicts could be used to harass and weaken the Sinhala majority in Sri Lanka.
Tamilnadu Politics:
Despite proscription separatist politics in India after the invasion of India by China in 1962, the dream of a separate Tamil country in India is not dead. Tamilnadu politicians act as tamed-moderate leaders due to survival pressure from Delhi and the political rivals waiting for a come-back (Rival Tamilnadu chief ministers send each other to jail). The description that Sri Lanka has a majority-minority complex is real.
With 70 million Tamils at next door and websites and politicians supporting a Tamil Eelam in Sri Lanka where can the 10 million Sinhalese go? Water wars are an effective method to keep the pot boiling.
Corrupt Colombo Politicians:
Sinhala-Tamil ethnic issue was a creation of about 200 or so Colombo ruling families. During the past 60 years or so they mismanaged the country, converted the English versus Swabasha issue in to a Sinhala-Tamil language conflict, increased the gap between Colombo and the villages and widened the gap between rich living in Colombo, and the poor in the villages.
For the past 20 years they conspired with foreign agents (Liam-Fox agreement?) to divide the country into two so that these families could continue to rule the southern portion from Colombo. These Colombo black whites who accept that they are avalangu kaasis" will use future water disputes as beggar's wounds to keep common people in bondage. The long boundary line between 'Federal' partners will give room for plenty of mini water wars.
The Solution: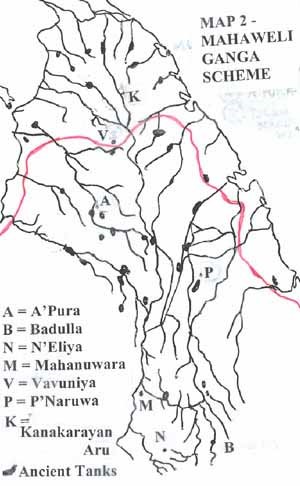 The two maps are not aimed at creating fear against devolution. Devolution is different from the merchandize called Indian federal formula of NGO and INGO agents. Real, as opposed to fake devolution from the concentration of power in the Colombo crowd of politicians (and officers) is what people are waiting for. The political and economic power must be decentralized and given to the people. The PC system and the new election law did not create devolution.
It created a new layer of corrupt politicians. After 1980 Colombo rulers destroyed the VC, TC, UC-based local government system. Rather than fostering a healthy local government system, each UNP and SLFP local govt. minister abused his powers and weakened local democracy and self-governance. The Abhayewardhana Report on Local Government Reforms (1999) provided in detail why the country needed to go back to the pre-1980 system to overcome the mess we are now in, especially the white elephant called PCs.
T. Ariyaratne of Sarvodaya proposed a system of national governance structure based on local building blocks in 1988 in his booklet, The Power Pyramid and the Dharmic Cycle." From time to time Arjuna Hulugalle presents his CIMOGG proposal of devolution at the district level with a base which is similar to the Sarvodaya proposal (Island, July 31, 2006). Actually, all these are so similar to what was presented by president of Pakistan Ayub Khan on October 26, 1959 as Pakistan's new constitution. Under it the whole country was divided into very small constituencies of between 800 and 1000 people.
This novel type of constituency was called the basic democracy." There were 80,000 such elected units as the first tier of the constitutional structure (Pakistan: old country/new nation by Ian Stephens (1964, page 315).
The geographer Madduma Bandara proposed a river basin-based Provincial Division of seven units in 1987 (Chapter 4 in Fifty years of Sri Lanka's Independence: a socio-economic review, edited by A.V. de S. Indraratna (1998, p.83). Actually, this is the best scientific approach for a united" Sri Lanka where the term united really means unity. The AGA divisions and even the Grama Sevaka divisions should ideally be based on River-Oya-Ela basins. This way we will not have a mind-boggling number of 14,000 GS divisions in the island.
The Scotsman Paul Harris recently identified the Muslim factor as a future problem for Sri Lanka. He says that the al Qaeda-Taliban groups will sooner or later become actively involved in helping the Muslims in the Eastern Province to meet Tamil Terror with Islam terror. The geographer G. H. Peiris in his new book, Sri Lanka: challenges of the new millennium (2006), speaks of the growing unrest in the upcountry area among the school going Indian Tamil youth.
Rather than a monster of a merged North-East Provinces, Sri Lanka's homegrown solution must be a District-level devolution where elected members of the local government units in a district creates the DC with super powers given them to operate as an (almost) autonomous administrative units. Such DCs should be allowed to merge for resource use purposes.
Thus, Tamils can have ten or more DCs where they can achieve their aspirations. For example, in their DCs they can decide not to declare Vesak as a public holiday which Prabakaran's cousin brother told this writer when they were students in Canada in 1979.
Since the early 1960s Sri Lanka faced a gradual erosion of its structural democracy (i.e., abolition of the Senate, violation of the separation of powers doctrine, disregard for the rule of law and even lying at the question time in the parliament, appointing politicians as SC judges). Since 1978, in addition to structural erosion there was a death of territorial democracy of the worst possible type. The new electoral laws removed the voter from the elected and prevented honest, educated and dedicated local people contesting elections.
We ended up with a parliament which is a disgrace to representative democracy in the world. While people were denied the right to select what they like, they have been forced to select from the list the party leaders decide from Colombo after job interviews." Then the number of Grama Sevakas" increased from 4,000 to 14,000 in the 1990s. Politicians use them to spy on people and not to serve people.
It is crucial that the territorial democracy restored as soon as possible, and the structural democracy revived by abolishing the 1978 bahubootha viyavastava." The Eelam map is the wrong way to handle this overhauling as it is an attempt to cure a cancer by feeding it. The Vadi Bana preached by NGO peace activists such as the Christian-born Jehan Perera will have no use (Divaina, August 7, 2006).
(The writer taught water resources geography and political geography at Kent State University, Ohio, USA)