FORT HAMMENHIEL IN JAFFNA AND WIJEWEERA
Posted on November 14th, 2018
Dr Sarath Obeysekera
Whole of Sri Lanka is falling into a constitutional trap and uncertInity looms in the horizon when  Sinhala politicians are playing balls ( pandu") Tamil and other helpless minorities  is watching helplessly
I am  in Jaffna having a break combined with a task of combining a study to see how Tamils are co-oping  up with the new life style in unified Sri Lanka .I see teenagers riding bikes where some of them having funny hippy type haircuts with colouring as if they live in ,western society . Tuk Tuks are driven by middle aged people.Younger generation of of 30 to 40 years are not to be seen may be they were either  anihilated during the war or migrated to greener pastures.
Jaffna town is badly neglected where I noted an extremely polluted canal flowing though the town via much famous Jaffna teaching hopspital creating smell and repugnance. .I was wondering whether army and navy can move in to help the people to clean the mess up like in Colombo or Mr Wiggy can do something better rather than lamenting about the occupation by south.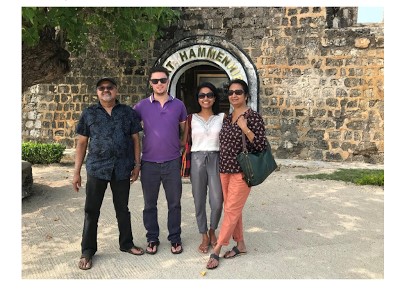 I decided to travel outskirts and visited Port Hammen hiel which was built by Portugese in 1600 or so ,now converted to a somewhat unique boutique hotel .
It is 13th November , death anniversary of JVP leader Rohana Wijeweera  ( RW )killed by his own people of Sri Lanka for fighting against injustice.
During the tour inside the Fort I was shown where RW ( I wondered  whether a politician with same initials will also end up in isolation one day ? ) was incarcerated for few months before being transferred to Jaffna Fort.
There was something written on the wall of his cell and a picture drawn by him which gave some inspiration about the man we considered a muderer .
When you hear and read about the poltical  situation today where the Sinhala Leaders throwing insults and salvos to each other drowning our future ,I wondered whether Rohana and also Prabakaran who were identical in their ideology should still be living to teach the Sinhala. Politicians a long lasting lesson.
We crave for democracy and prefer to consume it rather than trying to find  your three meals per day .
If we had a more aggressive leader like RW ( surely not the champion of so called democracy of today's RW !!) our politics will try to do sensible things due to fear.
I always preached to have a benevolent dictator when MS was selected , but I am disappointed to see that MS has become a dictator with no specific prefix
It is a pity that both RW and VP are no more .
They could have opened the eyes of today's politicins to do more sensible things for the sake of the poor countrymen.
Port Mammen hiel made me sad when I saw his cell and wondered whether we should install statues for not only RW  but also to VP in one place and named the location Leaders who failed their missions but managed to open the eyes of others"
God bless both of them