Sri Lanka's tyrant speaker puts the country in peril.
Posted on November 18th, 2018
By ; A.A.M.NIZAM – MATARA
Sri Lanka's modern historians state that Sri Lankans in the past were proud of having impartial and respectable gentleman Speakers from the first post Independent Speaker Sir Francis Molamure up to the last speaker Mr. Chamal Rajapaksa.  Some speakers were so impartial `from the day of their elect and opposition parties did not field candidates against them in the next election that ensued as in the case of Sir Albert Peiris.  Some speakers gave rulings and clarifications which were historical as in the case of Mr. Anura Bandaranaike and many democratic countries appreciated  and adopted these rulings.  The former speaker Mr. W.J.M. lokubandara said recently that since the day he was appointed as speaker he never stepped into UNP Party office and attend party meetings.  This was how the former speakers safeguarded the dignity of their responsibilities.  They never acted irresponsibly, arrogantly in an undignified manner.  .
It is sad to find in a country with such noble traditions a man wearing that honourable garb acting like a fabled Bull in a China Shop. This despicable, defunct and demented speaker Kalu Jayasuriya has become the worst eve r speaker in Sri Lanka's parliament history who was extremely bias and unruly, who in his utter arrogance deliberately ignored to recognize the majority of opposition group in the Parliament, arbitrarily conferred the post of the Leader of the Opposition to the minority party Tamil National Alliance which had only 16 members in the Parliament as against the 54 members of the Joint Opposition and similarly appointed the Chief Opposition Whip from the JVP with only 6 members in grace to these JEPPOS for that party's blatant and shameless support to his party UNP.  He acted like a dictat5or in allocation of speaking time to and gave extensive time allocations to UNP proxy  JVP's Anura Kumara Dissanayake who was always on his feet to protect UNP, Ranil and government policies.  It was very hard to understand whether he was speaking as the Deputy of Ranil or as a UNP stalwart and what had happened Rohana Wijeweera/Somawansa Amerasinghe's policie4s of national concepts and anti Indian expansionism and anti western, anti IMF/World Bank domination.
Suspended and expelled JO members from attending Parliament on baseless grounds ,for instance expressing people's views and the opinions of Maha Sanga and other religious prelates against UNP MP Vijayakala's call for the revival of the terrorist LTTE. Took arbitrary have vote3ed MPs in the Order Papers. Deliberately and on signals from the Prime Minister obstructed the speeches of JO members
This demented speaker took illegitimate and unconstitutional action over JVP's No Confidence Motion against Prime Minister Mr. Mahinda Rajapaksa despite parliamentary procedures and Standing orders require to give at least 5 days for such motions from the date of submission.  on the guidance terrorist proxy Sumanthiran this demented speaker suspended standing orders took up the motion on that day itself amidst strong protests from government Ministers and MPs and in that commotion announced as per Voice Vote 122 members have voted in favour of the NCM. He has sent the Motion President with a signature list of MPs.  The list this demented speaker was an old list and the dates of the list has been tippexed and changed.  At the same time this man has so far not taken up for debate several pending
NCMs. They include one NCM against Ravi Karunanayake, 2 NCMs against Rajitha Senaratne and 2 NCMs against Faizer Mustapha.  Phot0copied tampered lists are appended below: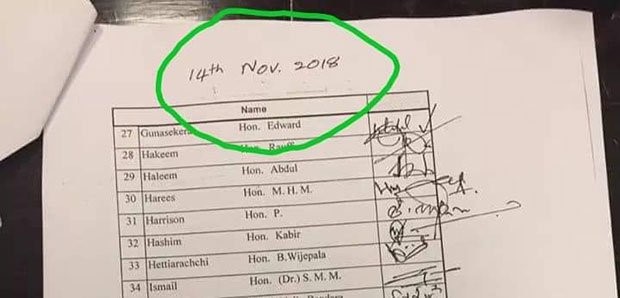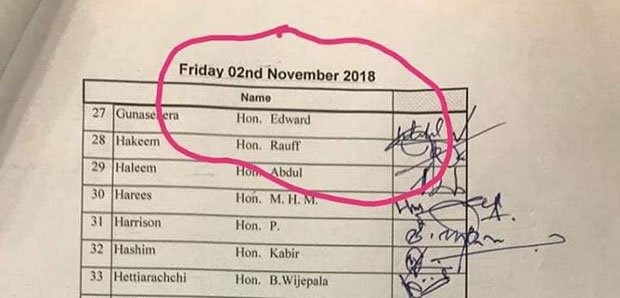 NO Confidence Motion Procedure
AS per parliamentary procedure a No Confidence Motion should be handed over to the Secretary General of Parliament then has to bring it to the notice of party leaders.  Party Leaders upon discussing it should give it to the Leader of the House to get it published in the order paper giving a respite of at least for five days enabling the members to study and prepare for the debate.
What happened on the 14th was that Vijitha Herath brought some loose papers and gave it to the speaker and Anura Kumara said that it is a No Confidence Motion and it should be taken up for discussion on that day itself. Within 10 minutes even without himself reading the document Karuna Jayasuriya announced that it is a No Confidence Motion against the Prime Minister and the government and he was calling for a vote.  Members protested and shouted and amidst these protests Jayaqsuruya said that that the motion was passed by Voice Vote and created the mayhem situation in the Parliament which continues.
This speaker seems to be highly worried about the legitimate sacking of the former Prime Minister and proroguing of Parliament by the President. Since the Supreme Court has given a temporary stay order until 7th of next month on the proroguing of parliament and calling for fresh elections the parliament must be reconvened on a presidential proclamation issued earlier to reconvene the parliament on the 14th of this month.
Sincce14th of this month this demented speaker with his white skinned deities, the western Ambassadors in attendance parliament gallery was behaving as the notorious Choppe of Mariakade forcing parliamentarians to accede to what he says and what he wants done. .  On Thursday he seems to have instigated UNP members and their proxies to come to parliame4nt armed and ready to confront and assault government members. Accordingly, MPs Ranjan Ramanayake, well known as male prostitute and Palitha Thevarpperuma had come armed with assault knives and government members complained about tis to the speaker he has said that he does not mind even with swords.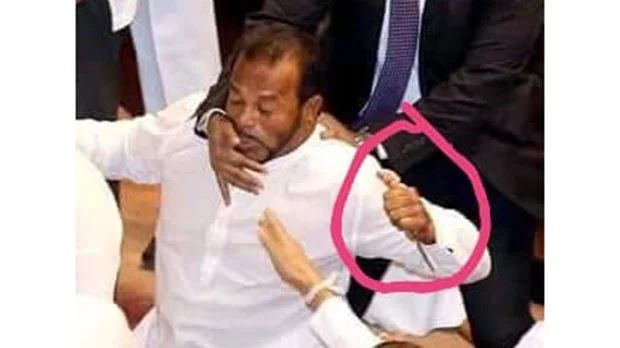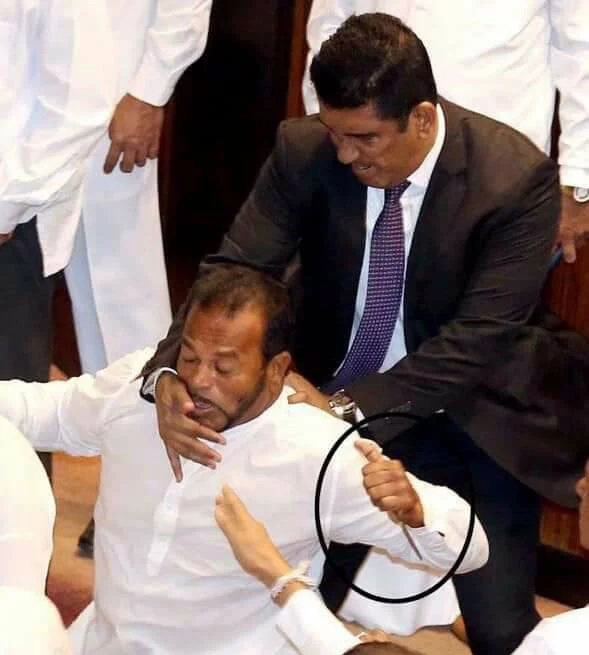 (Photograph of MP Thevarappurama holding a knife)
Parliamentarian Susantha Punjhi Nilame told a media conference that he went and told the speaker that there are some members armed with and make security arrangements he said that the speaker responded let anyone get killed but I am not going to do anything. The notorious UNP funded and owned by Ranil's family members the reactionary press  A video clip
showing murder instinct demented speaker saying he does not mind even if there were 19 or 15murderws is being circulated in social media. Ref: v The Sunday Times has devoted all its weekend columns to project the demented speaker as a saviour of democracy.  Is this the way this Karumaya is going to save democracy by instigating and promoting to kill elected members within the Parliament??
It was hilarious to find MP Rishad Badiudeeen who went on an unlawful Umrah pilgrimage recently allegedly sponsored by the reactionary and neo liberal UNP with Bomb Scam funds together with his pretended bête noir Rauf Hakeem has hailed the highly partisan anti Sri Lankan dictatorial and anti democratic acts of the demented speaker. It is prudent to ask him whether it was following parliament and democratic traditions that this demented speaker allowed UNP MPs to bring in life threatening dangerous weapons to parliament. The Muslims should discard these two bogus Muslim politicians whose only interests are amass wealth at the expense of betraying Muslim interests. As there could be no financial gains, they remained over Gintota. Ampara, Digna, Katugastota incidents and only
Mohammed Muzammil, Wimal Weerawansa Dikum Amunugama and JO spoke about it.
It was with the good intention solving the crisis that has been deliberately by the
demented speaker that President Sirisena called for an all-party meeting at his secretariat
on Sunday evening.  The arrogant and demented speaker has turned down the request although he was invited.  Together with the JEPPOs whose primary objective is to destabilise, create chaos and mayhem in the country despite failures in the last two attempts have turned down the request extended to them. The meeting has ended without reaching any agreement.
The Maha Sangha, Lawyers, University Teachers, Professionals, patriotic associations and politicians in and out of government have several media gatherings today (Sunday) and severely condemned the demented Speaker for creating chaos in the country and accommodating notorious thugs and underworld operatives in the parliament for the last few days threatening the lives of elected members.  His Eminence Cardinal Dr. Malcolm Ranjith addressing a media conference has urged the speaker to refrain precipitating chaos in the country.  Today, there were also demonstrations condemning Karuma Jayasuriya throughout the country and in many demonstrations the effigies of the Karuma Jayasuriya were set on fire after they were beaten with slippers and cow dung.
(Too be continued)