Brother Charles & governor Raghavan
Posted on February 26th, 2019
C. Wijeyawickrema, LL.B., Ph.D.
Tambiah got his 1992 book banned in Sri Lanka because of this cover page. By using this picture of a socially active Buddhist monk, Tambiah insulted the 2500-year robe-based Buddhist civilizational foundation in the island. The monk was a freedom fighter against the semi- dictatorial regimes of JR Jayawardena and R Premadasa.  In 2014, American embassy in Colombo lured the same monk to float a regime change in Sri Lanka.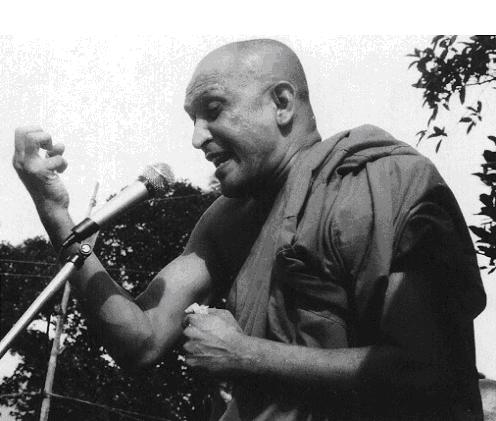 Two anti-Bodu Bala Sena governors 
The behavior of two brand new governors, Azath Salley and Suren Raghavan, reminds one of the Sinhala expressions, pudana kotama kaapi yaka (the devil ate the offering before the offer was done). Of the two, Azath's rash interference in the Dhamma school issue at Anula Vidyala, Nugegoda, could be described as a case of what happens when a neckless of gems is tied on a lizard's neck. He should have ordered Rosy Senanayaka to replace the Buddha statute that she had allegedly removed from the Colombo mayor's office because now he has constitutional power to correct it. But we know that Azath has been a notoriously anti-Bodu Bala Sena man.
Buddhist Zionism
The story of Raghavan is different. He is now denying that he spoke about a Buddhisaization of North and East. Before the Ceylon Today reporter came forward to 'certify' that Raghavan did not say so to her, Raghavan himself gave a clarification. He said the mistake occurred in translating his interview conducted in English into Sinhala and Tamil. But can there be smoke without fire? On top of this 'error' comes Raghavan's demand for police and land powers under 13-A. Then comes TNA's Sumanthiran's sudden disclosure that there will be one minister for the development of NP and EP.  I decided to look for background information about Raghavan, after witnessing these dramatic developments, because this new NP governor gives the impression that he is in a hurry to get on with the unfinished business of Wigneswaran.
The Naaga Deepa temple monks think Raghavan is an excellent selection for the job, but my search indicates otherwise. I hope someone did not give president Sirisena a dead-rope, to sabotage the conciliation work now in progress in Jaffna by appointing a Tamil just because he is a Tamil. Reginald Cooray and the previous governors were popular among people, disliked by TNA politicians. Unwise, short-sighted decisions expecting to win over the hearts and minds of Tamil people via separatist TNA politicians cannot bring lasting peace.  Each such act is interpreted as one more victory on the path to separation. Wigneswaran praised the new governor because he is a Tamil. A cancer cannot be cured by feeding it. IKMs-controlled (international king makers) Sinhala black-white politicians think this bribing will work to get them Tamil vote.  Just like ex-JVP Marxist Reginald Cooray has lately uncovered that Wigneswaran is a racist separatist, sooner than later the black-white operators in Colombo will realize if Raghavan is a messenger of peace or not.
Unlike Suren Raghavan, Brother Charles, did not cross the ford in England where oxen used to wade, so he does not have a Ph.D. But as HLD Mahindapala once pointed out any ox can still pass through this ford to any center, including the center for Buddhist studies. That is why I think Raghavan should watch the two Kandula programs of the 8th grade school dropout Brother Charles, held in Jaffna and London respectively.  Both shows by this Catholic, non-Sinhala social worker are Dharmic and Rule of Law answers to separatist Jaffna politics and Eelamist Tamil diaspora. Raghavan is wearing both shoes.
Long time ago (1958?), as a young sociology graduate, Stanley Jeyaraj Tambiah, decided to ignore caste oppression problems in Jaffna, where Math professor Sunderalingam was preventing low caste Hindus entering Kovils. Instead, he decided to go to Thailand with a Christian scholarship to analyze the intricacies of the Theravada Buddhism. He was disturbed by the title, Betrayal of Buddhism, of the 1956 report of Buddhist Commission of Inquiry, and went on a crusade to produce a book titled, Buddhism Betrayed in 1992. The Marxist Kumari Jayawardena provided the devil looking facial picture of the monk Maduluvawe Sobhita for the cover of the book; her late husband Lal provided UNU-Wider funds from Norway for printing and volunteered to write a forward. When he was alive, I challenged Tambiah about several falsehoods in his book, and I answered the stupid question he asked in his book, Why do Buddhists kill?" as well.
The quotation below from a recent Raghavan essay (Groundviews, 1/15/2013) gives a clear picture of his efforts to copy the Tambiah track.
….I have argued elsewhere (as several other scholars before me), that the modern Sinhala Saṅgha have become more of a brand of political activists with utterly ill prepared and under–discoursed ideologies. It is a serious ethnoreligious development that reshapes the total state and its social structure creating serious democratic deficit.  During the last century, especially in the post independent era, Sinhala Saṅgha have become more Bhumi Putras than Buddha Putras (Amunugama 1991) this has led to the Betrayal of Buddhism within (Tambiah 1992). They attempt to contribute to the Work of Kings (Seneviratne 1999)   than to advance dhamma, because their Present is always in the Past (Kemper 1991). The Colors of   their Robes (Abeysekara 2002) are more of a symbol of caste, regional and theological divisional identities than the symbol of a renouncer life. Their contribution to the Conflict and Violence in Lanka (Deegalle 2006) only endorsed in a military solution to the ethnic crisis causing more death and suffering. Because according to them, Redesigning Democracy for Sinhala Buddhism (Rāghavan 2014) is based on their bodily reactions to the ontological insecurities that are present around them…"
Tambiah and his disciples, however, did not talk about a Buddhist Zionism. But according to Raghavan, in 1948 two Zionist states came into existence; Israel and Ceylon. Both based on the purity of the land. He links his crazy idea with about 50 songs Ven. Elle Gunawansa wrote praising the soldiers at war in the 1990s! Blaming Buddhist monks for the ills of black-white rule is a popular sport among the Tambiah crowd. For example, HL Seneviratne thought Vens. Walpola Rahula and Yakkaduwe Pragnarama were responsible for the plight of Sri Lanka. Recently, he proposed, that young monks should take the lead for a revolutionary course correction of the role of the Sanga fraternity. Because, he thinks that the golden era existed before 1956, was ruined by the political monks. Raghavan also blames monks for the saga that (began in 1923 or so and) ended in May18, 2009. On this Dayan Jayatileka replied pointing out why Prabakaran lost irrespective of the involvement of the monks in just war psychology. Yes, monks played a major role in defeating the this war is not winnable" propaganda.
In 2013, Raghavan called the military victory of 2009 over the Tigers 'repugnant.' Dayan Jayatileka identified Raghavan as an employee of the anti-Sinhala Buddhist CBK faction. Now in 2019 as governor of NP, Ragahavan is not a changed man. His first interviews are about the spread of Buddhism in the East and North and about getting land and police powers. Raghavan like Wigneswaran before him proves the hypothesis that there are only two types of Tamils in Sri Lanka; poor Tamils and Eelam Tamils. There are no Moderate Tamils. They jumped over the fence at the right time. The best example was Paskaralingam who acted as the trusted servant cum master of RPremadasa, who left the country the day after RP was killed to join the LTTE agents in Australia. DBS Jeyaraj, K T Rajasingham (Asian Tribune website), Rajan Phillips, Pakiyasoothy, Kumar David are other examples. Michael Roberts in Australia gave a reluctant hint of this idea when Jane Russel in London opened his eyes to this fact.
Tamil people are happy with the army and police, and a Ragahavan will be a taxpayer funded new cancer spoiling the goodwill already established by the security forces. Tamil people need a governor concerned with their welfare and not a shadow politician who wrote a dissertation misinterpreting the role of Buddhist monks in the island, thus promoting hate between Tamils and Buddhists. In the past, Dayan Jayatileka noted the shallow socio-political knowledge of Raghavan, and if he learns anything from Brother Charles, he will work with Buddhist monks to protect the destruction of Buddhist ancient temples and archaeological sites by separatist politicians.
Naaga Deepa monks ought to ask from Raghavan, how TNA politicians could forcibly enter the Gurukanda purana Rajamaha Viharaya at Nairu, Mulathive and try to build a Kovil in temple land as soon as he became the governor, unless they are now encouraged by the new Tamil governor's negative attitude on Buddhism in the North and East    As part of his continuing education I would invite him to visit the Lankaweb, website to learn about the tolerable attitude Buddhists have toward minorities. It was the Sinhala, Tamil and Muslim black-whites who destroyed Sri Lanka, ethnically, economically and ecologically. Raghavan must work to protect low caste Tamils from Tamil versus Tamil discrimination. Meeting religious leaders on eradicating the drug problem is not a bad idea, but harmony is more important to build conciliation. Raghavan should protect and preserve ancient Buddhist ruins at least because of their tourism value.
Sri Lanka has no ethnic problem. Sri Lanka has but a mismanagement problem starting from the 1920s. The spatial inequality, equal access to opportunity is the problem affecting Tamil, Muslims and Sinhalese. In the city of Colombo, the rich are the Tamils and Muslims. Go to a private hospital, you see few Sinhala patients. Go to the general hospital, you see it filled with Sinhala patients. In Muslim majority areas such as Batticaloa, Sinhala people face discrimination from the local GSN upwards. Even the Sinhala local police officers harass them after taking bribes from Muslim/Tamil agents.
13-A must be abolished. Instead people must be empowered at local level. Local units must be re-demarcated based on ecology as in New Zealand. Sri Lanka has 103 rivers and river basins, wewas or underground water basins must be identified as political/administrative units. Language or religion should not be used for this purpose. Nearly 350 local government units could be re-demarcated to become natural units. An action plan on this basis was presented to the LLRC in 2010.
http://www.srilankaguardian.org/2013/03/bodu-bala-sena-and-llrc-buddhist-self.html
Because Raghavan is so angry with the Bodu Bala Sena movement, I hope the above link would help him to understand it better. Brother Charles and Bodu Bala Sena tells the same story. BBS is asking the politicians to implement the Buddhist Commission Report of 2002. Conciliation is not a magic carpet to block foreign anti-Buddhist invasions such as Wahabism, Christian fundamentalism, Tamil diaspora separatism and geopolitics of exploitation of poor countries by global corporations.
The governor of NP, if he got a Ph.D. by doing research on Buddhist monks, and if he is concerned with the welfare of Tamil people has a choice. Is he going to listen to Sumanthiran who is now titled as the savior of Tamils in Jaffna (how many had this title in the past? SJV Chelvanayagam was called the Tamil Moses) or is he going to listen to the president of Hindu Federation of Sri Lanka, Arunkanthan, who is appealing president Sirisena to release the BBS monk from a prison? Everyone knows that the AG department, Police and Bar Association agents and a JVP lawyer got him fixed as promised by Mrs. CBK to put bala sena in balu kuudu.