Such Men Are Dangerous …..!
Posted on November 8th, 2019
Punsara Amarasinghe Scuola Superiore Sant Anna Pisa, Italy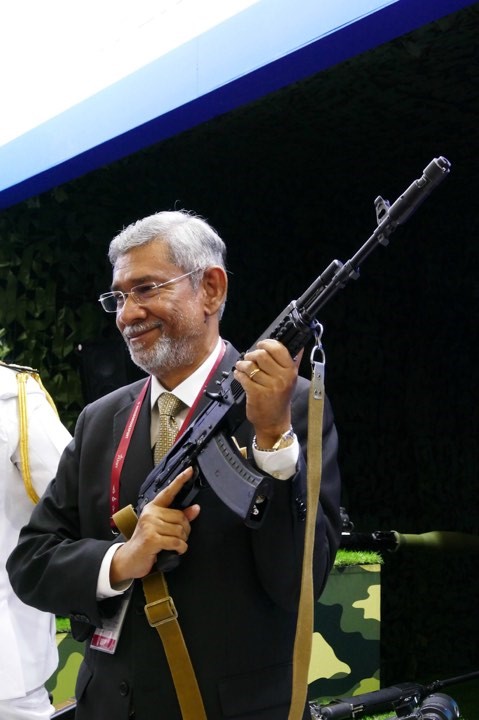 The presidential election in Sri Lanka has already produced enough humor at this moment and also the opinions coming from so-called public intellectuals too have given great entertainment to the gallery. In particular, if somebody observes our envoy to Moscow Dr. Dayan Jayatilleka's FB these days, it becomes an evident factor that Dr. Jayatilleka suffers from a paranoia towards an imaginary fascist rule.
As an example, one of the recent posts he shared on facebook states that Fascism is coming unless you defeat it . Well. This is simply a reference to Gotabaya Rajapaksa as Dayan hypothetically assumes it to be an utter fascist rule like Hitler, Mussolini or General Franco in Spain, also in his post, he invokes people to defeat it. Most of the posts shared by Dr. Jayatilleka since the announcement of the presidential campaign have been mainly focused on fantasizing a reign of terror under Gatabaya Rajapaksa and Jayatilleka's alternative has been supporting Sajith Premadasa through and through. Well. Indeed, it is a democratic right for somebody to have dissenting political views as it enhances the objective of good governance. Yet, the views held by Dr. Dayan from time to time give us a greater picture of his psyche. Moreover, the posts created by him on FB and his write-ups filled with his urbanized English are no more than mere rhetorical quibbles claiming his own personal agendas.
Now, it would be much important to examine the most notorious political history of this character. In the days of his youth, he remained a fan of Marxism as a student in Peradeniya University and at the end of his youth transformed him to be a lover of Tamil separatism and furthermore, he excelled himself as one of the Sinhalese ministers in the infamous Eastern and Northern provincial council under Varadaraja Perumal. Then his power transformation again took another U-turn as he supported president Premadasa and the public agitation towards Premadasa finally emancipated upon poor Dr. Dayan when he attended the funeral of General Kobbekaduwa on 1oth August in 1992 where he and his wife were stripped off and hammered. In fact, I am not trying to legitimize the thuggery faced by him, yet it is being said that one will reap what he sowed. I am sure being a devout Catholic and perpetual critique of Sinhalese Buddhist ideology, Dr. Dayan was well aware of this biblical phrase.
His second inning of the dubious character was started during president Mahinda Rajapaksa's era where he was appointed as our representative in Geneva and the initial victory we gained by defeating human rights violation charges at UN human rights committee was completely snatched by Dayan as he pretended to be the man of the match. But what happened, in reality, was India did support us in the initial stage that paved the path for saving Sri Lanka in Geneva, but when India voted against us later we lost terribly at Human Rights Committee in Geneva by that time our good doctor Dayan chickened out. When President Rajapaksa called him back from Paris and in particular, when his needs and wants were not properly addressed by the Rajapaksa government, Dr. Dayan changed his voice by again exposing his dubious nature. In the last months of the Rajapaksa rule, the interviews given by him to English and Sinhalese newspapers were filled with some anti-Rajapaksa slogans displaying his ardor for restoring good governance in the country, because in the last stage of president Rajapaksa's rule, the phrase good governance became the common phase to bring Maitri Palanaya", which has probably marked the weakest rule after Mahinda V rule in Sri Lankan history. Nevertheless, the logic I cannot fathom is the intensity of Dr. Dayan Jayatilleka in changing his political allegiances in accordance with his existential needs. After having realized his inability to infiltrating into the Yahapalana government in its first stage, Dayan became a harsh critique of Ranil and his gang and published some coarse newspaper articles and then we saw him in the settings of Viyath Maga as a professional association that rallied around Mr. Gotabhaya Rajapaksa. He was much eager in his words of criticizing the Yahapalana government and still one can read his given interviews and opinions on news websites like Colombo Telegraph in order to understand his political position then. However, again his appetite for status overcame principle as he meekly accepted president Sirisena's offer to Moscow as our ambassador. In fact, he became a GR critique overnight with this move and it was rather strange the way he began his criticism towards Gotabaya Rajapaksa by portraying him as a fascist, because when he was honeymooning with Viyath Maga during its initial stage, he often described Goatabhaya as a realistic, pragmatic statesman and I can recall the way he roared at the first meeting of Viyath Maga held in Boralasgamuwa. However, since the day he stepped into the office of Sri Lankan embassy, his political expressions were only rotated around posting pics with wife in the snowy roads in Moscow and blabbering about his utopian foreign policy strategies. As a matter of fact, Sri Lankan envoys to Moscow since Gunapala Malalasekara have played vitally important roles in promoting the relations between two countries and it is also true Moscow embassy became a sanctuary for some other dubious characters like Udayanga Weeratunga whose notoriety made him an international rouge. Yet, our good Dr. Dayan seems to have been doing nothing except posting pictures on his facebook account with some minor Russian officials and taking selfies with his wife. The sources coming from Moscow, in particular, from its Sri Lankan student's community have affirmed Dayan's attitude towards fellow Sri Lankans is quite arrogant and boorish unlike the most amicable manner of his predecessor Dr. Saman Weerasinghe, who was a product of Russian education. It is true that people like Dayan can be found from every society and they would continue to be a scum bug and will do everything as long as they are given the needs and wants in life. Having realized his duplicity, there is no wonder why Dayan is quite occupied now apart from posting a picture on Facebook to pamper Sajith Premadasa and vehemently painting Gotabaya Rajapaksa as a fascist. I vouch if later becomes the president by any chance, Dayan will become a Sinhalese nationalist from the following day to stay a bit longer in Moscow. In Shakespearian sense Such men are dangerous ….!
Punsara Amarasinghe
Scuola Superiore Sant Anna
Pisa, Italy