Yaha Palanaya or Gava Palanaya?
Posted on February 14th, 2015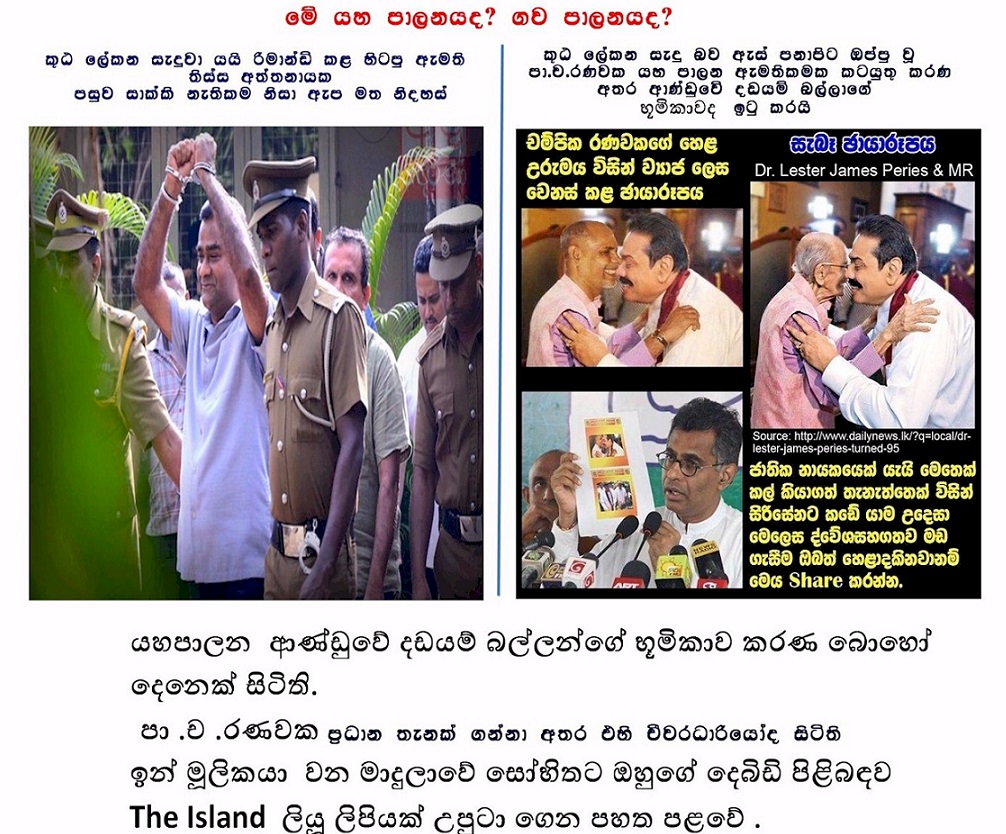 Open letter to Ven. Sobitha Thera
February 13, 2015, 7:54 pm
Your demand for the arrest of all those who accused the then presidential candidate, Maithripala Sirisena and UNP leader Ranil Wickremesinghe of a secret electoral pact is front page news in The Island of 12.02.2015. As for Tissa Attanayake's role in producing the said document, you ascertain that this was meant to cause political turmoil.
However, the JHU had also committed a similar offence when Minister Patali Champika brandished a doctored photograph of the then President Mahinda Rajapaksa and Dr. Lester James Peiris cause political turmoil.
It is alleged that in the document flaunted by Attanayake the signatures of Sirisena and Wickremesinghe are forged. My intention is not to defend Attanayaka, but to highlight the simple fact that a signature is difficult to verify. It could indeed be a genuine mistake or not. Though the CID suspects Attanayaka to have used a forged document, it must be proven in a court of law that it was indeed a forged document and used with the full knowledge that it was forged with the intent of causing political turmoil. Until such time, we must keep an open mind.
However, in the case of the document Patali Champika used, one does not need expert analysis to conclude that it was a forged document as the glaring discrepancies was obvious after a cursory glance. It is difficult to accept that one with a sharp intelligence like Patali Champika missed the obvious. Either way, mistake or deliberate, it is a matter for a court of law to deliberate.
 A Buddhist monk should not disregard the errors/offences of one person and call for the blood of another for the same errors/offences.
Shivanthi Ranasinghe