The story about Rene
Posted on February 24th, 2015
From the author: Brian Wicklin
The story about Rene
ISBN – 13: 978-1-50595-148-6
ISBN – 10: 1-50595-148-8
From the author: Brian Wicklin
Contact details: Brian@statveca.com  (wicklin@gmail.com)
Skype: brianwicklin           M. +46 70 607 38 96 www.statveca.com
Front book cover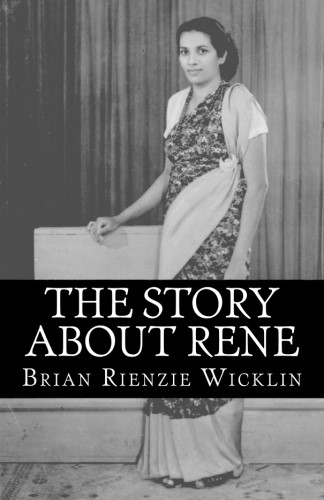 News release
This book is about RENE who lived in Kalapaluwawa a village in Sri Lanka, the island country off the southern coast of India that was once known as Ceylon.
Brian Wicklin is the author. He is the next youngest of the 6 children she gave birth to in her marriage with Basil, who was a building engineer in the government services. She settled down to her role as housewife.
The book spells out the emotionally compelling story about his mother and the troublesome life she endured living with her husband, how it all ended in the most unusual of ways, her departure for London not being able to say goodbye to her children and not knowing anyone who was out there to meet her. Against all odds in its favour she met her children one by one as grown-ups 15 to 20 years after her departure.
The idea in writing this book has been to find a part of his life that was missing and that was a problem he had to manage by himself throughout his adult life. This story will hopefully convey to others the need for sharing experiences about challenges and struggles as well as failures in overcoming adversity in family life.
The story that is told starts around the early years of the previous century and ends in the Isle of Wight in 1973.
A very special book and it is well written. It describes wonderfully well the story about Rene and her family life in Sri Lanka in the early years of previous century. How she endured a troublesome marriage and the break up of the family in an extra ordinary way.
Rene was young and school educated and she had gathered social values both at school, church and home. She failed to capture her husband's attention about social values in living together and upbringing of their 6 children.
When the marriage ended she fled to England without knowing anyone out there to meet her and without giving a hug and saying goodbye to her children. Against all odds in its favour she met them one by one as grown ups after 5 – 20 years. How did she feel about meeting the children she gave birth to after all those missing years?
This book is available from the internet book stores;
Amazon USA:
http://www.amazon.com/dp/1505951488
Amazon UK:
http://www.amazon.co.uk/dp/1505951488
Adlibris Sverige:
http://www.adlibris.com/se/bok/story-about-rene-9781505951486