After Effects of Yaha Paalanaya – Only few months passed !!
Posted on March 28th, 2015
Yahapalanaya
TNA පාර්ලිමේන්තු මන්ත්‍රී සුමනතිරන් ,GTF ප්‍රදානී සුරේන් සුරේන්තිරන් සමග ඕස්ට්‍රේලියාවේ දී පහුගිය සතියේ හමුවී ඇත.එම හමුවෙන් පසුව ලංකාවට පැමිනි සුමනතිරන් මෛත්‍රිපාල සමග යාපනයේ යෙදුනු සන්චාරයට එක්වීමෙන් අපට පෙනී යන්නෙ මොවුන සැමගේ සිත් තුල ඇති එකම ප්‍රාර්ථනාව හිටපු ජනපති යුද අදිකරනයට රැගෙන යාමට සැමදෙනාම එක් වී මහාපරිමාණයේ උගුලක් අටවමින් පවතින බවයි.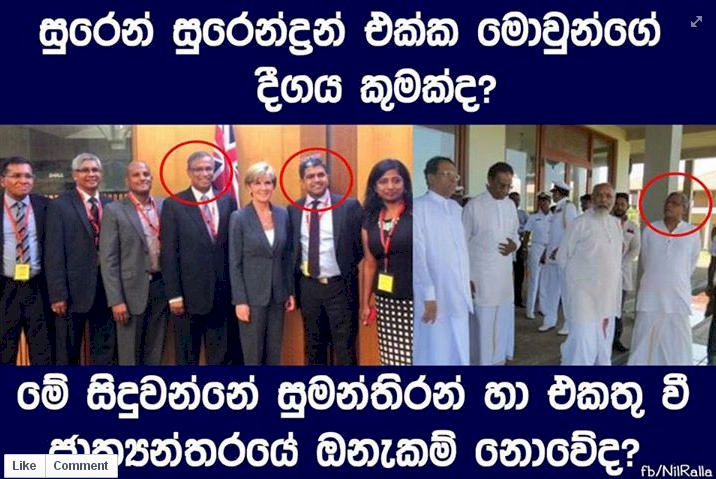 අපේ ඌරු රැලට පාරතොට ලස්සනට තියනව පේන්න බෑනේ. මෙහෙම තමා උන්ගේ ආතල් එක. ජරාවලේම තමයි උන්ට සැපදැනෙන්නෙ. දැන් මේ තියෙන්නෙ නියමෙට. මුන්ව ගිහින් දාන්න ඕනෙ තමිල්නාඩුවට. උදේට වතුර බාස්කට් එක අරන් කෝච්චි පාර අයිනෙ ඒ වැඩෙත් කරන්න තිබ්බ නන් මුන්ට තවත් ආතල්. See attached photos of City of Colombo now !!