Inviting War Criminal Tony Blair: How could UNP be so insensitive to the Muslims of Sri Lanka?
Posted on August 15th, 2015
Shenali D Waduge
 When US advisories are released regarding Sri Lanka elections it was a surprise to see Tony Blair disembark with family claiming to be on a holiday. The surprise got worse when media announced Blair had been a special invitee of UNP via foreign minister Mangala Samarasinghe. The immediate response by Sri Lankans was why should Sri Lanka invite a war criminal to the country moreover how would it affect the sensitivities of the Muslims who have every right to feel angered and upset by the presence of a man with blood-soaked hands, an imperial agent peddling corporate deals pocketing millions for himself and one acting as a virtual pimp plotting trouble. If Sri Lanka's Muslims are to learn any lessons they just need to look at the Middle East burning to turn to Ranil Wickremasinghe and ask for all the years of blind loyalty is he sacrificing the Muslims to be used as the next bait for West's geopolitical agenda?
The manner that Tony Blair has carved out a very lucrative globetrotting position conveniently combining business with personal business and adding deals for wife to add spice certainly raises valid questions of what is he doing in Sri Lanka and that too in the middle of an election and immediately scooting off to Anuradhapura and Jaffna. We are told that his Faith Foundation has been distributing 'gracious giving's' to UPFA families to help change their vote to the UNP and we certainly hope that is just rumour too. We also hope that the visit to Jaffna has nothing to do with Wiggy wailing for separation and demilitarization and isn't it just convenient that all these chorus fits so well when Diego Garcia falls vacant in 2016 and its just a matter of a short distance to transfer that base to Sri Lanka's north. Wonder who may be funding both the TNA and SLMC calls for a remerger of the North and East and it just so happens that a remerger is sought simply because Trincomalee falls in the Eastern Province. How nice too that Wilpattu deforestation and the accusation that some weird language speaking people wearing funny dresses are settled in Saudi funded villages as IDPs. Where are these IDPs springing up from we wonder.
Now that loosely gives an idea of the plot but for anything else to happen you need to have gullible people and the West has 30 years of success with Tamils and they continue to be loyal to an utopian 'homeland' cause drummed long enough for West to prepare their manoeuvres.
Now the theatre is the West and having used a wonderful plan to place a puppet in power and make sure the greed of politicians are satisfied well enough to keep them busy with elections and canvassing the arrival of Blair certainly affords a surprising new twist to it all.
Before approaching the question of what Blair intends to do in Sri Lanka what we all are damned annoyed about is why a war criminal should be garlanded and given a rapturous welcome by the UNP when he should be getting a citizens arrest as advised by a web portal 'Arrest Blair'. The media now tells us that this war criminal is soon to be the guest at various forums speaking to our public … on what we may ask 'how to lie, mislead, invade nations and kill innocent people' may be a good topic to start off with.
He may put that wry British colonial grin and think we are gullible fools that may be so to Mangala, Ranil and all others party to the invitation but it is not just Muslims who are angry with Blair it is a lot of people loving people the world over and in Sri Lanka.
We are annoyed that nations like Britain, US and NATO deem it their god given right to use their corporate owned media, feed us unending lies, pay journalists, hold expert panel discussions, produce false evidence, use the UN as puppets and showcase to us that Saddam Hussein was a threat to the world and then invade, bomb and occupy and then take over all of Iraq's assets…. And they have not stopped there… how many other nations have been attacked and taken over similarly? There is no stopping of lies and sheer disregard for people's lives and what makes it even more annoying is that having committed so many murders planned and calculated they want to appear as Guests, enjoy full State honours and preach to us about good governance and how to live virtuously!
The problem with us Asians is that we are taking all this nonsense without pulling the red card to remind them of their atrocities. India's Shashi Tharoor must be commended for taking a lead and others must surely follow.
Blair in town showcases two glaring scenarios. The UNP cares two hoots for Muslims who have been loyal to the UNP since its inception, otherwise knowing Blair is a declared war criminal and in the midst of an election the UNP would not have invited him to Sri Lanka.
The next and more possible scenario is that UNP & Blair are jointly working out the next theatre of conflict in which UNP leader is ready to sacrifice the Muslims for him to remain in power.
The question Muslims now need to ask is whether they are going to take the same treacherous path as the Tamil leaders did in using Tamil low caste as bait in a conflict that lasted 30 years. In the end who are the beneficiaries? If the East jihadi conflict starts we don't need to imagine what life will be like we just need to look back and see how much we suffered in the 30 years. Are Muslims really ready for this, of course they are not asked for permission which happened to the Tamils too, the plotters have a way of simply mesmerizing them automatically to be roped in never to return alive. Muslims in Sri Lanka may find their roots to the Middle East must they have learned to live as the Sinhalese and in many ways are less violent than their counterparts in the Middle East. The Muslims must feel anxious that the UNP & in particular Ranil has shown callous regard for the Muslims if as all clues show the jihadi war is next on the menu list as per Blair's masterplan now being discussed and ironed out!
IF RANIL/UNP CARED ABOUT THE MUSLIMS BLAIR WOULD NOT HAVE BEEN INVITED.
THAT UNP'S MUSLIMS LEADERS ARE SILENT IS ALSO STRANGE AS ARE THE MUSLIM ORGANIZATIONS IN SRI LANKA.
IT WAS THE SINHALA WRITERS WHO BROUGHT UP THE ISSUE OF WHY WAR CRIMINAL BLAIR SHOULD BE INVITED BECAUSE HIS HANDS ARE BLOOD-STAINED AND BECAUSE WE ARE COMPASSIONATE ENOUGH TO FEEL THE SADNESS OF THE IRAQI PEOPLE AND ALL THE OTHER NATIONS THAT BLAIR / THE WEST AND NATO HAVE TRESPASSED ON AND RUINED FOR THEIR POLITICAL GOALS AND CORPORATE GREED.
Muslims voting for Ranil/UNP will mean they are actually mandating what Blair has come to Sri Lanka to advise Ranil/Government on how to launch the next theatre of conflict!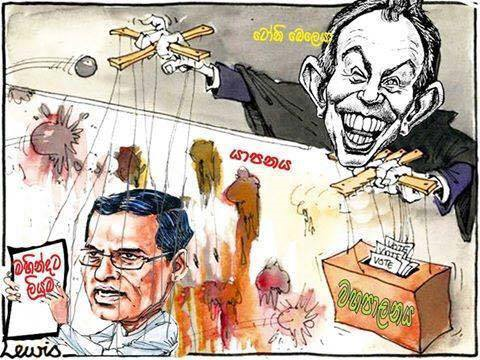 Shenali D Waduge
http://www.lankaweb.com/news/items/2015/08/12/tony-blair-war-criminal-imperialist-agent-docks-sri-lanka/
http://www.lankaweb.com/news/items/2015/08/13/tony-b-liar-the-harbinger-of-doom-is-in-sri-lanka/