Were The Lankan Cricketers Castigated Needlessly Through Wicked Innuendo Just Because The Kiwis Were Simply Better.
Posted on January 15th, 2016
Top Spin  By Suni 
January 17th 2016

The New Zealand Herald just yesterday has asked "Has an over-enthusiastic, flamboyant Sri Lankan sports minister under pressure to fix the national cricket team got the wrong end of the stick?"
This seems a very valid question in view of the stories floating around about excessive partying and drinking during the tour just concluded and that the team had showed rank disregard  for discipline and conduct expected of them which appears beyond speculation as distorted and blown our of proportion and the New Zealand Herald  has  provided just cause to assert this.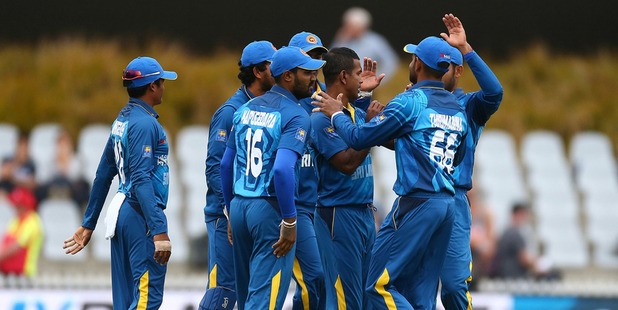 Were the Sri Lankan cricketers really partying their way around New Zealand,  and squabbling with each other as the stories go? And if this is a mere figment of the imagination on the part of some with no proof to corroborate the accusations it seems a pathetic display of vindictive rumour mongering by those responsible!
Certainly, skipper Angelo  Mathews whose credibility rating for discipline, integrity and honesty is an outstanding one has chosen to shrug off the allegations while demanding a full inquiry and if he was unaware of such goings on as did other senior members of the team asa well as the management staff serious as they might sound attests to the possibility that there could be a kind of conspiracy against the players simply because they did not bring home the bacon.
Furthermore It appears that social media posts from Sri Lankan fans in New Zealand have inspired sports Minister Dayasiri Jayasekara to call for an investigation into the just-completed tour where the tourists were overwhelmed in the test and short-form games.
But from the "no-smoke-without-fire department" quoting the the Herald " there may have been some inner tensions, particularly an issue between captain Angelo Mathews and middle order batsman Kasun Vithanage, who played in the two tests and final T20 game. But what cricket team doesn't include a bit of angst? And there is an impression for now that a new minister eager to show he will not be mucked around is playing to the crowd, and giving a cricket mad country what it wants to hear." and set fire to an angered  Global Sri Lankan following it certainly has, judging by certain indiscreet and wicked comments which hardly need putting into perspective as it is blatantly obvious whom they are directed at and why.
Quoting The Herald further it says " Minister Dayasiri is not backwards in coming forwards in media profile. His latest claims – which appear to be based on scant evidence – come after he alleged in December that wicketkeeper Kusal Perera's food or urine sample may have been tampered with as retribution for blowing the whistle on a match-fixing approach. Early this month, and in relation to the Perera claim, he demanded that police arrest two Sri Lankan cricket support staff who he said "have been involved in match fixing for some time now".
To stir the pot of speculation further- Sri Lankan cricket writer Andrew Fidel Fernando, whose work appears on ESPN's highly regarded CricInfo, has told the Herald that he (Fernando) had found just a handful of media posts from Sri Lankans living in New Zealand about player behaviour, and they were vague rather than damning. One suggested players had been up until 2am before the final T20 match in Auckland. Fernando said that as the game started at 2.30pm those players still had plenty of time to sleep and prepare.
"I didn't see more than four posts, and they said things like "Did staying up until 2am help you see the ball?'," Fernando said.
The Sri Lankan management did not impose blanket curfews to Fernando's knowledge, and relied on players using their own judgment especially when it came to senior players.
"You might not get on with all your colleagues but you can still do your job," said the Colombo-based Fernando, who was still in Auckland when spoken to by the Herald .
Perhaps it may be in conventional wisdom to say in agreement with  Fernando that as with other cricketing countries, there have been spats between Sri Lankan players in the past including one involving Tillakaratne Dilshan and Upul Tharanga, who still formed a decent opening partnership.
But with the current Sri Lankan team struggling to match the glories of old, the spotlight is becoming much harsher. Especially with a team taht has been depleted through the absence of Lasith Malinga and other notables as well as the Illustrious names of Sanga and Mahela whose absences speak louder than words.
The new sports minister, appointed in September, is a rather flamboyant figure with a background in martial arts. Restoring the lustre of the Sri Lankan cricket team was seen as one of his prime objectives but at what cost. Certainly not through the incarceration of up and coming young players at times based on hearsay sans the proverbial salient truth one might surmise!
One profile described him as "a sensation with the general public for his appealing nature, overly popular as an entertainment draw as a vocalist and tele drama theme song writer with a fun going personality going by his appearance at television reality shows". so lets raise a glass to this one than for its veracity and the poit it is trying to drive home.
Fernando, who has covered the Sri Lankan team for three years, was unsure if the minister had legislative power to force an inquiry but he certainly had the influence to do so.
"It will depend on how this plays out in the media and what is in the manager's report. There could be some ramifications," he said.
"There has been nothing like this around the Sri Lankan team (in the last few years) and I would say they are among the best behaved teams in international cricket."as the NZ Herald puts it.
But almost undeniably – accusations and finger pointing aside,  the Sri Lankans  were grossly outplayed and out manouuevred by the red hot Kiwis on their own patch and time for some serious soul searching towards a panacea for the rot which seems to have set in without which they will be a sorry lot as they head for the T-20 World Cup as defending Champions in March 2016.
And the burning question will continued to be asked until the correct answers are found – Were The Sri Lankan Cricketers Castigated Needlessly Through Wicked Innuendo Just Because The Kiwis Were Simply Better?
In which case, those responsible need to be taken to task as the charge could be Slander!

(some excerpts taken from the New Zealand Herald News Paper )