Bandula breathes fire and Comes out all guns blazing against UNP
Posted on March 25th, 2016
Courtesy FT.lk
The Government should expose what happened to Rs. 1,176 billion before they accuse the former regime of undocumented borrowings, Joint Opposition strongman and Sri Lanka Freedom Party Parliamentarian Bandula Gunawardena said, in an interview with the Daily FT.
According to the former Minister, the Government has said that it has earned over $ 8 billion after coming to power. What did the Government do with all these money? Development in the country has come to a halt. Where is the money?"
Gunawardena slammed Premier Ranil Wickremesinghe and Finance Minister Ravi Karunanayake for making irresponsible statements regarding the country's economy which would further discourage both local and foreign investors. The UNP is in troubled water due to its own blunders," he added.
In 2001 I was in the Finance Ministry. The economy was a minus 1.4. Within two years we were able to boost the economy. But the current regime's approach is a different one. Their concern is not to revive the economy or develop the country. Their only concern is revenge on the previous regime," Gunawardena pointed out.
– See more at: http://www.ft.lk/article/531634/Bandula-breathes-fire#sthash.oLBa3Uwt.dpuf
Following are excerpts:

Q: What do you think about yesterday's protest?
A: After one-and-a-half years in power the Sirisena-Wickremesinghe administration has proved they are a failure. They present a Budget; even before completion of the first quarter they revise it and bring in new proposals. Foreign reserves have dropped drastically and it has to be the lowest in the country's history.
The stock market has collapsed. Continuous rupee devaluation is dangerous to Sri Lanka's economy. A large number of small and medium scale enterprises are facing difficulties. Tea, rubber and paddy are the worst hit. While the economy is experiencing the worst downturn, the Government has put off holding elections undemocratically.
Politicians and especially journalists holding opposing views are openly threatened by the ruling party members. War heroes who fought to free this country from terrorists are put behind bars without a reason. The rally was organised is protest of all these factors. Numerous rallies were held prior to the main rally in various districts such as Anuradhapura, Polonnaruwa, Matara, Hambantota and Kalutara.
The Government knew this would be a success and they were frightened. That is why they decided to use State power and bring people by the thousands to Hyde Park grounds. Unfortunately the UNP rally was nothing but a flop. They were unable to hold the meeting at the Hyde Park ground as scheduled and were compelled to take the crowd to Lipton Circus. The rally blocked roads in the area and caused heavy traffic.
The Government set an example that it is alright to unlawfully block the roads and hold rallies. We will make sure that this privilege is applicable to all political parties and other organisations in the country.
Q: What's the latest with regard to the clash between the Joint Opposition and the Government?
A: We have already complained to the Inter Parliamentary Union (IPU) about this Government's violation of the rights of the Joint Opposition. The IPU is the international organisation of parliaments. They have requested us to meet them on 31 March to study our complaint.
A team of representatives comprising myself, Dulles Alahapperuma, Rohitha Abeygunawardena and Udaya Gammanpila and several other Joint Opposition members will be going to Switzerland later this month to meet the IPU officials.
We will discuss with the IPU General Secretary to tell the Sri Lankan Government that the Joint Opposition should be allowed to represent public issues in as well as outside of Parliament as a separate political body. It is no secret that our members are not given sufficient time to speak in Parliament and they deliberately side-line us, especially on Parliamentary committees.
The international community is aware of this situation. We will continue to alert the IPU and other world bodies on this matter.
Q: Prime Minister Ranil Wickremesinghe has blamed the ongoing economic crisis in the country mainly on the undocumented borrowings by the past regime. Your comments?

A: Had the Prime Minister and the Finance Minister made such a remark before Fitch Ratings downgraded Sri Lanka, things would have been much worse. Thanks to Wickremesinghe and Karunanayake, today Sri Lanka would have rated with Greece.
As Wickremesinghe and Karunanayake claim, if a country could borrow money without financial records, it is the Central Bank and Finance Ministry that should be held responsible. Any sensible individual in this country knows it is not possible to borrow money without documentation proof. Can you even pawn jewellery without a record?
If it is so simple to borrow $ 6.8 billion as the Government claims, then why is it struggling so much to obtain a $ 1.1 billion loan from the IMF?  Wickremesinghe speaks as if this $ 6.8 billion was put in sacks and secretly delivered to Medamulana.
After this Government came to power, investors withdrew more than $ 2 million from Government securities. This is in the Fitch Ratings report. When the Prime Minister and Finance Minister make such foolish and irresponsible statements, investors will soon withdraw the remaining reserves.
Due to the bond issue scam, the Central Bank lost its credibility. Having presented a Budget and then revised it several times, this Government has lost its credibility. Why would any investor come to such a country? Any sensible person who could do a simple economic analysis can understand this pathetic situation in Sri Lanka.
Do you think any investor would come here? The country's economic crisis has today become an internationally-discussed matter due to idiotic statements made by Wickremesinghe and Karunanayake.
From day one this Government has acted irresponsibly. With rage over the past they imposed the Super Gains Tax. Last week they imposed a Capital Gains Tax. Income Tax rate was increased.
I learn that over 697 middle class local companies were called over to the FCID. What are they trying to say? That all 697 businessmen are rogues? The UNP has never acted in this manner before.
In 2001 I was in the Finance Ministry. The economy was a minus 1.4. But within two years we were able to boost the economy. The current regime's approach is a different one. Their concern is not to revive the economy or develop the country. Their only concern is vengeance on the previous regime.
Q: What are your remarks about the Government's plan to obtain a $ 1.5 billion IMF loan to boost foreign exchange reserves?
A: Various statements made by State Finance Minister my good friend Lakshman Yapa Abeywardena are a classic example that he does not get correct information from his sources. He is misled by the black market mafia.
In 2015, the Government saved $ 2.5 billion from oil imports as a result of the reduction in world oil prices. They have earned $ 2.15 billion though sovereign bonds. From Sri Lankan development bonds, the Government has earned $ 1 billion. They obtained a short term loan of $ 1.5 billion from India. Unidentified depositors have deposit $ 1.2 billion in the banking sector.
These figures were all given by Government Ministers. When you add these, the total is higher than the reserves. The total is over $ 8 billion or Rs. 1,176 billion. What did the Government do with all this money? Development in the country has come to a halt. What happened to the money? Before accusing us of unaccounted borrowings, they should reveal what they did with this money.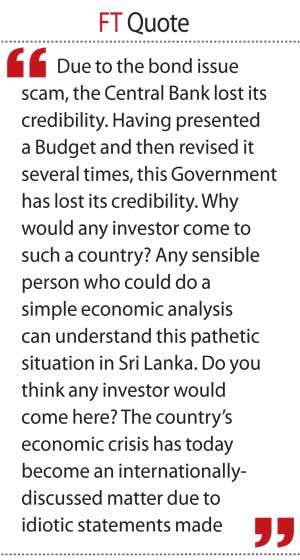 The short-term loan obtained from India, the Government was supposed to pay $ 1.1 billion on 4 March. They didn't have the money to pay this, so they went to India and pleaded. India called for an urgent Cabinet meeting and decided that since the Sri Lankan economy had collapsed and was not in a position to pay the loan as scheduled, they would grant another $ 700 million for a period of another three months. India is cunning; they know Sri Lanka will receive $ 1.1 billion from the IMF in another three months. When we pay off India's money, we will be left with only $ 400 million.
The Central Bank early this month sold $ 103 million within two days. If the Central Bank continues to sell dollars, imagine what will happen to the remaining $ 400 million IMF money? I have already warned that by next year the dollar will be Rs. 160. Today the dollar is sold at Rs. 156 in the black market.
It is the Indian Cabinet that decides the day-to-day economic activities of Sri Lanka. Today Sri Lanka is ruled by India.
During the Mahinda Rajapaksa regime, a barrel of oil rose to $ 124, but we gave it at a subsidised price. Due to this we incurred massive losses. Yes we went against finance theories because our Government did not want to burden people. Now the so-called economic pundits who always utter economic theories are in power; can they do any better than us?
When we were in power, Ravi Karunanayake went to courts demanding a removal of the Oil Tax. For mere political gains, they brainwashed the people that when world oil prices come down, local prices could also be reduced. See what has happened today. They are in troubled water due to their own blunders.
Today the Government is unable to reduce local oil prices due to two reasons. The UNP sold one-third of the petroleum company to Indian Oil Company. As a result a massive amount of profit we earn from oil today goes to India. If we reduce local prices, India will not be able to enjoy this benefit. Therefore India does not allow Sri Lanka to reduce oil prices. There are many unseen political deals.
They shouldn't blame the Rajapaksa administration for the economic crisis. India plays a major role in our economy and politics. The UNP criticised China's involvement during the previous Government, but that was their biggest mistake. They criticised Chinese projects – Port City, Lotus Tower and Highway projects. It was the UNP which created a dark picture of Sri Lanka to the international community. Today foreign investors are reluctant to invest in Sri Lanka. They cannot obtain a loan. Then there is the balance of payment woes. Today the country is at a very critical juncture politically and economically.
Q: The Government initially accused the Joint Opposition of being behind the recent power crisis. What are your remarks?  A: In the past, who set fire to country's Agrarian Service Centres? Who sabotaged the country's transportation by setting fire to buses? Who burst transformers? These are the very same people who allied with the UNP and ousted Mahinda Rajapaksa. Is this Government trying to say the Joint Opposition is capable of such destructive work?
Do we need a Government that places the blame on the previous regime for every single problem that arises? People didn't like what the previous regime did so they brought a new government to power.
It is their responsibility to deliver what was promised to the people. What is purpose of having a new ruling party if all they do is blame the previous Government? Anyone can do that.