India gave birth to LTTE & Tamil militancy in Sri Lanka
Posted on April 1st, 2016
Shenali D Waduge
Prabakaran was never employed. He formed his first militant group at the age of 18. His first killing was when he was 21 years. How can a man who has never had a job pay for sophisticated arms, ammunition and be able to fund a movement of terror unless he had assistance. India provided that assistance and enough evidence prevails to showcase this. However, all calls for accountability and justice conveniently omits calls to investigate how terror started. LTTE and all other militant groups were not created in Sri Lanka or by Sri Lanka but created in India by India. Until and unless this key factor comes out into the open and is properly investigated there is little point in dangling onto 3 months and trying to fix the Sri Lankan military only. It is simply baffling how the international authorities and UN are using LTTE terror to carve out a separate state citing discrimination of Tamils totalling ignoring LTTE was a terrorist movement and India was the state that created it and many others. The Indian involvement in training LTTE & other militants nullifies claims of an ethnic problem and also nullifies that Tamils took to arms after the 1983 July riots. It would be most interesting to know how India came to first tap Prabakaran to be their rebel leader, just as we came to know that his deputy Mahaththaya was tapped to succeed Prabakaran and take over leadership after assassinating Prabakaran on the instructions of Indian intelligence.
How did LTTE start killing in the 1980s? Using arms and ammunition supplied by India under RAW instructions. This also raises the question on whose instructions the LTTE would have killed the 13 Sri Lankan soldiers.
Over 35 Tamil groups have been trained by India over the years https://en.wikipedia.org/wiki/List_of_Sri_Lankan_Tamil_militant_groups
LTTE & Other Militant Groups before 1983
26 Nov 1954 – Birth of Prabaaran (father Malaysian Tamil origin belonging to fisher caste)
22nd May, 1972 – Prabakaran forms Tamil New Tigers (TNT) at the age of 18.
In 1972 Prabakaran sailed to India with Thangadurai and Kuttimani and after living 2 years in India's Tamil Nadu returned to Sri Lanka in 1974.
27 July 1975 months after returning from India Prabakaran shot dead Alfred Duriappah the Tamil mayor of Jaffna and chief organizer of the SLFP in the North. (Prabakaran's first killing was on a Tamil, Prabakaran was only 21 years old)
5 March 1976 Prabakaran raided People's Bank in Puttur stealing 500,000 in cash and jewellery worth Rs.200,000 after holding employees at gun point. A month later he formed a new party.
5 May 1976 – Prabakaran rechristens TNT as LTTE Liberation Tigers of Tamil Eelam
16 Aug 1977 – Clashes with police and Tamil youth.
January 1978 – LTTE shoots dead M Canagaratnam (TULF MP who joined UNP) in Colombo. This was LTTE's 1st attack outside North East.
7 April 1978 – police led by inspector Bastianpillai (Tamil) raid LTTE training camp & are attacked
25 April 1978 – LTTE accepts responsibility for murder of Mayor Duraiappah (1st time LTTE does so) LTTE also admits to killing a police agent N Nadaraja and 9 Tamil policemen including Bastianpillai. www.tamilarangam.net and published in Veerakesari.
22 May 1978 LTTE banned by President J R Jayawardena Proscription of the Liberation Tigers of Tamil Eelam and Other Similar Organizations Ordinance".Sri Lanka also issues a list of 38 'wanted' men. Prabakaran's name also included.
7 September 1978 – the day Sri Lanka Parliament introduced new constitution an AVRO 748 aircraft of Air Ceylon was blasted by LTTE after it landed at Ratmalana airport
5 December 1978 – LTTE bank heist at Tinnevelly People Bank stealing 16.8lakhs and killing police officers and taking their weapons.
5 December 1979 – LTTE raid People's Bank stealing Rs.12lakhs killing 2 policemen
Violence forced GOSL to repeal Proscription of Liberation of Tigers Ordinance and enacted Prevention of Terrorism Act (PTA) and police launched hunt on militants forcing Prabakaran to flee to Tamil Nadu.
1982 May shootout between Prabakaran and PLOTE chief Uma Maheswaran. Bomb blast at Meenambakkam Airport Madras in which 30 died Tamil Eelam Army claimed responsibility.
By 1986 LTTE was having 6 camps in India – in districts of Sirumale in Anna, Thanjavur West, Thanjavu East, Kumbarapatti in Salem, Madurai, Ramnad in Tamil Nadu. These camps had close to 500 cadres including 90 females. TELO had 5 camps, EROS had 2 camps, EPRLF 7 camps,  PLOT had 18 camps training over 2200 cadres including females. As you can see the EPRLF had more camps and more cadres than LTTE by 1986. By 1986 close 3500 cadres had been trained in these camps. Lets be realistic and agree that none of these trainings would have taken place if it did not have the approval of the Indian Government. The Indian Government cannot claim that they were unaware that Sri Lankan Tamils were being trained in armed warfare inside India, in over 30 camps across districts of Tamil Nadu.
The Tamil militancy-Muslim-Palestinian connection
EROS Eelam Revolutionary Organization of Students was formed in London in 1975 by Eliyathamby Ratnasabapathy after General Union of Eelam Students was formed in Madras. EROS cadres were from Batticoloa and Amparai (East SL). EROS first organization to unite with Muslims. www.tamilarangam.net
1976 EROS began militant training camps in Vavuniya which became both LTTE and EROS main base for training.
EROS leaders in London were linked with Syed Hameed, PLO representative in UK who arranged for EROS and LTTE to be trained in Lebanon. Training took place in 1976 and 1977
1980 EROS and student wing split to form EPRLF Eelam People's Revolutionary Liberation Front. EPRLF formed a militant wing in 1982 and led by K Padmanabha. EPRLF had direct links to India for Varatharaja Perumal became the first Chief Minister in the merged North-East Provincial Council.  K Padmanabha was assassinated on 19th June 1990 in Madras.
PLOTE People's Liberation Organization of Tamil Eelam founded in 1980 by Uma Maheswaran. He was earlier Chairman of LTTE from 1977-1980 and trained in Lebanon & Syria. PLOTE was linked to Dr. George Habash's PFLP Popular Front for the Liberation of Palestine. In July 1989 Maheshwaran was shot dead in Colombo.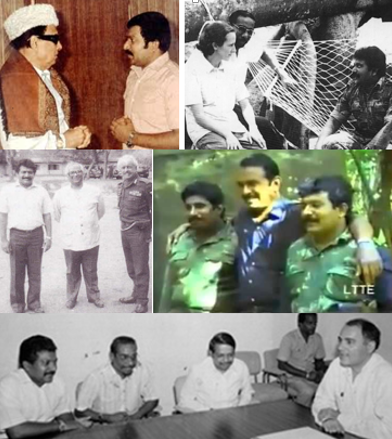 Why India created Sri Lankan Tamil militancy
Fact 1: Tamil Nadu had been calling for self-determination far before it was launched in Sri Lanka.
Fact 2: Tamil leaders from both countries have been peddling pseudo-historical interpretations to justify that 76million Tamils should have a separate homeland.
Fact 3: This Tamil psyche is what ails any solution because their mind is only set on a separate homeland.
Fact 4: Just as Tamil Nadu objected to Hindi as official language of India, Sri Lankan Tamils object to Sinhala as official language of Sri Lanka.
Fact 5: It was after India introduced the 16th amendment to India's Constitution that Sri Lanka became the venue for the calls for self-determination.
Fact 6: Sri Lankan militancy birthed by Indian government had Tamil Nadu support and Sri Lankan militants used Tamil Nadu freely.
Fact 7: India held discussions with Sri Lankan Government ONLY AFTER it had trained Tamil militants and were satisfied that these armed men could be used to force Sri Lankan Government to fall at India's feet.
Other noteworthy facts
An interview with J N Dixit India's high commissioner to Sri Lanka confirms that by 1985 Rajiv Gandhi had decided to stop all training and assistance to Sri Lankan Tamil groups and had even given orders to intercept a large consignment of arms to be given to them. This invariably means that India had been training and assisting Tamil militancy. In that same interview Dixit also admits that Prabakaran became disillusioned with India by end of 1986 because Indian material assistance stopped (which indirectly implies that India had been supplying material support to terror groups). Dixit also concludes that it was only after India stopped supplying material support that Tamil militants sought linkages elsewhere through expatriate communities. http://www.rediff.com/news/oct/30dixit.htm
Dixit, in his memoirs, says that arming Sri Lankan Tamil youths was one of the two major policy blunders of Prime Minister Indira Gandhi. Intelligence agencies (RAW) said….these are boys who were trained by us from 1977" (Dixit, Assignment Colombo)
Intelligence agencies (RAW) said….these are boys who were trained by us from 1977" (Dixit, Assignment Colombo)
April 5, 1988 Wikileaks cable quotes J N Dixit that India had agreed to pay LTTE Rs.50lakhs per month which was paid in July 1987. This was to make up for the tax loss for the LTTE upon IPKF arrival. It was also a payment that sealed Prabakaran's agreement to the Indo-Lanka Accord.
RAW chief Gauri Shankar Bajpai had admitted that Colonel Kittu (Sathasivam Krishnakumar), the LTTE commander, was India's mole in the militant outfit. RAW chief Gauri Shankar Bajpai had admitted that Colonel Kittu (Sathasivam Krishnakumar), the LTTE commander, was India's mole in the militant outfit. RAW chief Gauri Shankar Bajpai had admitted that Colonel Kittu (Sathasivam Krishnakumar), the LTTE commander, was India's mole in the militant outfit. then RAW chief Gauri Shankar Bajpai had admitted that Colonel Kittu (Sathasivam Krishnakumar), the LTTE commander, was India's mole in the militant outfit.Then RAW chief Gauri Shankar Bajpai admitted that Col Kittu (Sathasivam Krishnakumar) LTTE commander was India's mole. http://timesofindia.indiatimes.com/city/chennai/Ex-RAW-chief-said-LTTE-commander-was-Indias-mole-Rajivs-case-investigator-says/articleshow/39723139.cms
India's former Union Law Minister and advocate Ram Jethmalani has said that the Liberation Tigers of Tamil Eelam (LTTE) was created by former Prime Minister Indira Gandhi for the protection of Indian interests. They were trained by our own agency RAW. When the Chinese and the Pakistanis were establishing their power in Sri Lanka, Indira wanted some force inside Sri Lanka to safeguard our Indian interests,"  
Mark Salter, author of the book To End a Civil War Norway's Peace Engagement in Sri Lanka says Tamil Nadu Chief Minister late MGR was Prabakaran's 'pillar'. It is said that MGR had given Rs.110million to build the LTTE https://www.ceylontoday.lk/51-109440-news-detail-mgr-was-prabhakarans-cash-machine.html / http://www.tamils4.co.uk/mgrs-help-to-ltte/
J.R.[Jayewardene] labeled the LTTE as `the private army of Mr.M.G.Ramachandran`,
MGR gave us Rs 6-crore, says LTTE http://expressindia.indianexpress.com/news/fullstory.php?newsid=27903
Justice Jain has said only "very few" Tamils in Tamils Nadu had supported the LTTE.
Subramaniam Swamy exposes Sonia Gandhi and LTTE https://www.youtube.com/watch?v=Zry5lkR69Sc / https://www.youtube.com/watch?v=S27BruX7KX4
Affidavits in the RAW chief Gauri Shankar Bajpai had admitted that Colonel Kittu (Sathasivam Krishnakumar), the LTTE commander, was India's mole in the militant outfit.  Jain Commission report
Nedumaran : Para-6 :- It was at that juncture, the Late Prime Minister Mrs. Indira Gandhi entrusted the full responsibility of Military training of the Tamil Militant youths, to the Research and Analysis wing (popularly known as RAW).
Karunanidhi – It is a well known fact that the LTTE and other Sri Lankan Militants camps were established in India ever since 1982 in tune with the policy of the Central Government at that time. The Tamil militants were given military training and allowed to have their own training camps in India."
Shri K. Mohandas Dir Gen. Police Para 13 :- ….The issue had become very sensitive, and meanwhile, the Prime Minister's advisors were working overtime, giving facilities to the militants, particularly the TELO (Tamil Ealam Liberation Organisation) to be trained in the use of modern arms in the camps organised in Tamil Nadu, Karnataka, Uttar Pradesh, New Delhi and elsewhere. The idea was that after the training, they would be supplied with arms and sent to Northern Sri Lanka to engage the Sri Lankan troops in guerrilla action. It was supposed to be a top secret operation without even the knowledge of the State Government and its Intelligence agency. (at least as far as Tamil Nadu was concerned."
It is imperative that the role India played in fostering terrorism in Sri Lanka is brought out into the open and India held to account. In ignoring
this India has bulldozed itself upon Sri Lanka first via arm twising Sri Lanka to sign the Indo-Lanka Accord in 1987, bringing down Indian
troops into Sri Lanka in 1987, tweaking Sri Lanka's constitution to India's advantage and changing the entire structure of the constitution and
governance by introducing the 13th amendment and a provincial council system that is a colossal waste of money and unproductive. Pushing
forward a bogus homeland theory that camaflages India's real intent to link Eastern province so that India can take over Trincomalee habor.
Influencing through Norway the Cease Fire Agreement that once more gave India leverage and now the attmept by India to economically
stifle Sri Lanka via ETCA agreement enabling a flood of Indians to legally invade Sri Lanka while also influencing the drafting of another
constitutional change that would once more be to India's advantage only.
It is time Sri Lanka started demanding that if any investigation is to begin, India's role in starting Sri Lanka's troubles is investigated first.
Shenali D Waduge