PM visit reboots equilibrium with China; seeks conversion of loans into equity
Posted on August 27th, 2016
Sunday Times
New plans to reshape Hambantota port, Mattala airport and Norochcholai; Visit to Beijing successful
Crucial decisions tomorrow on standby  facility from IMF; new tax laws and reform of loss-making state enterprises
 Ranil holds tête-à-tête with Rajapaksa to discuss deals with China, withdrawal of Army security
By Our Political Editor
A crucial final round of talks between Government leaders and the International Monetary Fund (IMF) for a standby loan to stave off a balance of payment crisis gets under way in Colombo tomorrow. This is the culmination of consultations a visiting IMF mission had in the past days with Government officials. Due for discussion tomorrow, Government sources said, were some important issues relating to policy level matters.
This includes putting a stop to what is being described as haphazard Government spending, improvement of revenue management and the introduction of comprehensive legislation on taxation matters, instead of piecemeal amendments. Besides these, a Government source said, there has been consensus on some eleven different matters between the IMF mission and Government officials. Finality tomorrow's talks will see Sri Lanka's request going before the Board of Directors of the IMF in Washington D.C. The talks have centred on a standby facility of anything between US$ 1.5 billion and US$ 2 billion.
Some of the taxation proposals due to take effect from April 1 this year were put on hold in the light of these discussions. They were the Value Added Tax (VAT), Corporate and Non-Corporate Income Tax and the Withholding Tax on Interest. They are to be made effective from later this month. Another contributory factor to suspend these taxes followed a request from President Maithripala Sirisena who did not wish to place what may appear to be a burden on the people when they were celebrating the national New Year. More taxation proposals, based on the IMF's advice to enhance Government revenue, are to take effect from September this year.
High on the agenda of the IMF-Government talks at official level in the past days has been the issue of colossally lossmaking state owned enterprises. SriLankan Airlines, the country's national carrier, which has been haemorrhaging public funds, was one of the focal points. Senior IMF economists have studied voluminous documentation about the financial status. They have been assured that immediate measures were being taken to arrest the situation since Treasury funding to the national carrier will be available only until October.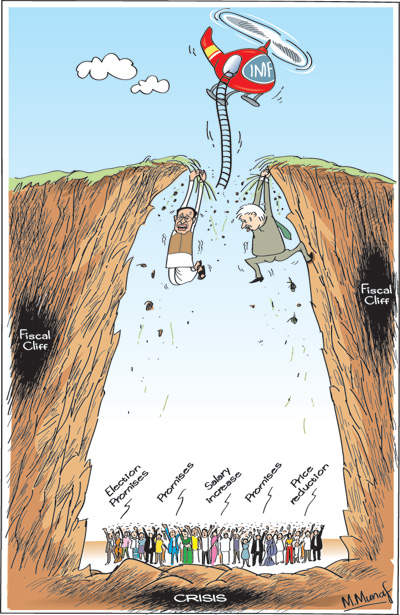 On Thursday, Lakshman Yapa Abeywardena, State Minister of Finance, told a media briefing, after the previous day's weekly ministerial meeting, that it was possible there would be a change of management of SriLankan. In other words, the move under consideration, is for persons with proven private sector experience to form a new Board of Directors and ensure Government's guidelines are strictly followed. Prime Minister Ranil Wickremesinghe has been discussing several options with Finance Minister Ravi Karunanayake and Enterprise Development Minister Kabir Hashim.
Abeywardena told the media briefing, At the moment SriLankan Airlines is in debt to the tune of Rs. 998 million. In 2009 the airline, managed by Emirates made profits and paid taxes, but with the weaknesses in the management, after the Government took it over, we have acquired losses of Rs. 998 million. Due to this, in the future we will have to change the direction of this airline by making changes to the management and other policy changes.
There is a possibility of change in the management of SriLankan Airlines, but there will be no sale. A Committee appointed by the Prime Minister has taken some decisions on how to proceed in this connection because the Airline cannot carry on in this way. The Treasury cannot bear a loss of one billion. Hence there has to be a major overhaul. This is an institution that made profits in 2009. When another organisation was handling its management, it made profits and paid taxes. This is a crime. Today plantations are managed by private companies. If they were in state hands, we would have had a big problem by today. We cannot give benefits to the people if we have to maintain this kind of institutions."
Pilots back ST story, but not captain
Abeywardena was confirming disclosures made in these columns on March 27 and last week. Last week's references to a meeting of the Pilots Guild of Sri Lanka have drawn a response from its President Captain Renuke Senanayake. He says in an e-mail: I wish to bring to your notice that a story containing incorrect information regarding the Airline Pilots Guild of Sri Lanka has been carried under the caption " Crucial talks with IMF as Govt. grapples to avoid financial crisis" in your publication of the Sunday Times 3/4/2016. The said article has been written by your political correspondent.
None of my committee members nor have I officially provided any statement with regard to the contents published.
I would appreciate if you could exercise my right of reply and provide me with the same space and prominence by carrying a correction in your page.
I wish to state below the following that was discussed and agreed by members present at the meeting.
1. A decision was taken by the members to forego their annual increments on condition.
2. It was decided to form a committee within the Pilots Guild to look only into this aspect.
3. The pilots argued about the perks and privileges currently provided to the Chairman, CEO and Board of Directors of Sri Lankan Airlines.
I wish to place on record that all other contents of your published article to be false and inaccurate."
Interesting, indeed Firstly, SriLankan pilots are not authorised to speak to the media. That is a policy of the management and cannot be countermanded either by the President of the Guild or the Committee members.
In the light of this, at least four of the senior pilots spoke to me on the strict understanding that they would not be identified. I spoke with them again (besides others) after Captain Senanayake's e-mail was received. They insist that no decision was made at the Guild Meeting on March 27 to forego their increments. This was the express reason why a Committee was appointed to formulate a course of action for a dialogue with the Management. In fact, the Guild is to meet again to discuss the Committee's action plan. As for the criticism against the Chairman, CEO and Board of Directors, Captain Senanayake concedes the matter was discussed.
Therefore, the question that begs answer is Captain Senanayake's sweeping remark that all other contents of your published article to be false and inaccurate." Captain Senanayake confirms that there were arguments about the perks of the CEO, Chairman and the Board of Directors that were discussed. As we revealed, the speeches by pilots centred on them and were reported last week. So, how can that be false and inaccurate?" There were no other issue except for Captain Senanayake's claim that all pilots agreed to forego their increments on condition" and the denials by his own colleagues that no such decision was made. They have made clear the Committee was appointed for that purpose. For whom is Captain Senanayake speaking, for the Pilot's Guild or any others who have engaged him on auto pilot?
The pilots who spoke at the meeting alleged that the Chairman and the Board of Directors had done little or nothing in the past 15 months when they took office. Whilst the discussion centred on the Committee at that meeting, one pilot said a condition to be included was a call for the resignation of the Chairman and the Board of Directors for the same reason. Not surprisingly, Captain Senanayake's e-mail was circulated to all members of the Guild. I am waiting for the next meeting to ask why a false and inaccurate statement has been issued on behalf of all pilots," said one of those who was a strong critic at the last meeting. He said he would raise this at the next meeting.
The e-mail came as another senior staffer whose future role is also in question in the national carrier summoned a meeting of all crew members as part of a public relations drive. Some 600 chairs were hired for the event but only about 90 attended. Dismissing criticism against SriLankan, this staffer said, I don't read tabloids" and urged those present to follow suit. However, he did say that there was uncertainty on the airline's future after October when the Treasury funding would end.
Ranil's China visit
Premier Wickremesinghe, who returned after a successful visit to China, will head the Government side during talks with the IMF mission headed by Todd Schneider. He will, among other matters, speak on Government's strategy to make lossmaking state-owned enterprises productive. This includes SriLankan Airlines.
One of the key areas focused by the Sri Lanka delegation during talks in China is a move to convert into equity loans given by Beijing for the Mattala Rajapaksa International Airport (MRIA) and the Magampura Port, both in Hambantota. The move has been prompted by serious difficulties faced by the Government in debt servicing. The Chinese Government gave an outright grant of 500 million Yuan (US$ 77.2 million) to Wickremesinghe. Chinese Premier Le Keqiang described Wickremesinghe as a senior statesman, (who) has been working constantly to promote the sound relationship between China and Sri Lanka."
Mattala Rajapaksa International Airport (MRIA) was built at an estimated cost of US$210 million with financial assistance from the Chinese government. Construction of the first phase began in 2007 and the airport was opened on March 22, 2011. In 2009, EXIM Bank of China committed US$ 891 million for the second and third phase of the project under a Preferential Buyers' Credit Scheme. This is a 20-year soft loan with a 5-year grace period and 2% interest.
The Magampura Mahinda Rajapaksa Port (also known as Hambantota Port) was built at a cost of US$ 1,308 million. It was with loans from the Exim Bank in China, in two instalments. The first phase of the building was estimated at US$ 306 million, which was borrowed at an exorbitant 6.3% interest. The second phase cost US$ 800 million, also at the same rate of interest. Other expenses, including the blasting of rocks, cost US$ 202 million. The total cost according to the Sri Lanka Ports Authority (SLPA) is US$ 1,308 million. According to the Department of External Resources, the loan has a repayment period of 20 years including a five-year grace period.
The likelihood of converting into equity the Chinese assistance for the oft-malfunctioning Norocchcholai power plant is also receiving the Government's attention. The cost of the entire project is US$ 1,346 million. The first phase cost US$ 455 million for a capacity of 300 Mw, and the second and third phases US$ 891 million. In 2009, EXIM Bank of China committed US$ 891 million for the second and third phases of the project under a Preferential Buyers' Credit Scheme. This is a 20 year soft loan with a five-year grace period and 2% interest. The Sri Lankan Government contributed 11,000 Million Sri Lankan rupees (Rs. 11 billion) for this phase of the project. The second phase was implemented in 2010 and completed in 2013. The final phase of the project was officially opened on September, 16 2014. This plant is sometimes referred to as the Lakvijaya Power Plant. China Merchants Group owns an 85% stake in this power plant as of 2012.
PM meets Rajapaksa before China visit
Premier Wickremesinghe has appointed a three-member team to finalise matters relating to the conversion of loans into equity so action could be initiated early. It includes Development Strategies and International Trade Ministers Malik Samarawickrema, Special Assignments Minister Sarath Amunugama. A third will be a representative to be named by the Prime Minister. It is expected to be Dr. Harsha de Silva, Deputy Minister of Foreign Affairs. Wickremesinghe has also directed that matters related to the Free Trade Agreement with China be formulated before the end of this year.
A significant development before Premier Wickremesinghe's departure to China was a meeting with former President Mahinda Rajapaksa. Associated with the Premier was Minister Samarawickrema whilst 'Joint Opposition' Leader Dinesh Gunawardena, accompanied Rajapaksa.
During the near hour-long discussion at the Prime Minister's office in Parliament, Wickremesinghe briefed Rajapaksa on his China visit. He said a main theme was to focus on an export processing zone, the port and airport, all in Hambantota. He said this would bring another positive effect. Rajapaksa endorsed the statements of Wickremesinghe.
Wickremesinghe told the former President, other than that, the main area where attention was being focused by the Government is the formulation of a new Constitution for Sri Lanka. The three key aspects were the abolition of the executive presidency, strengthening of the parliamentary system and ensuring greater devolution. He noted that the electoral reforms were a time consuming process but said priority would be given to the issue.
It was Dinesh Gunawardena who raised issue over the withdrawal of the Army from the personal security detail of Rajapaksa. He noted that the move had come at a time when threat perceptions to the former President were high. Wickremesinghe agreed to take the matter up with President Sirisena and also raise it at the National Security Council. He noted that another report regarding Rajapaksa's security was now being awaited and the matter would be studied further.
There appeared to be consensus between Premier Wickremesinghe and the 'Joint Opposition' on the constitution-making process. Gunawardena told the Sunday Times we will fully support the process" and added that we are being offered the chairmanship of some of the committees." Even if the 'Joint Opposition' is not formally recognised, the move to give it more time to make speeches and now serve in committees to formulate matters relating to the Constitution is de facto recognition.
This is at a time when the present Opposition led by Tamil National Alliance (TNA) leader Rajavarothayam Sampanthan has been largely confining its role to minority issues in the North and East and that too somewhat rarely. Ensconcing itself to that position with Government backing, the TNA's muted approach not to offend those in power has also brought about disapproval among Tamils. This is particularly so in the North and East. This is in marked contrast to late Appapillai Amirthalingam who spoke out on many a national issue and influenced Government actions at that time.
Sirisena's bid to strengthen his position within the SLFP
The Wickremesinghe-Rajapaksa tete-a-tete came as President Sirisena continued his efforts to win over Sri Lanka Freedom Party (SLFP) parliamentarians to his side. This week he named two more MPs – Lakshman Seneviratne (Badulla District) and Manusha Nanayakkara (Galle District) to ministerial positions. Whilst Seneviratne has been appointed as Minister of State for Science and Technology, Nanayakkara has been named as Deputy Minister of Foreign Employment. UNP's Palitha Thevarapperuma (Kalutara District) who has been in the media limelight in the past week with complaints of being overlooked, has been appointed North Western Province Development and Cultural Affairs Minister. The latter appointment, no doubt, to balance off the two from the SLFP, virtually duplicates the role played by Councillors in the North Western Province. It is they who are tasked with the development of the NWP. In other words, this duplicates their work. As for the two SLFPers, it is a clear sign that Sirisena is making a strong bid to ensure there is no further erosion of MPs from the SLFP. He was conciliatory during the Central Committee meeting of the SLFP too. He proposed that Pavithra Wanniarachchi, a strong and vociferous pro-Rajapaksa backer, be included in the SLFP Committee to make arrangements for the May Day rally in Galle. Another inclusion was Kumara Welgama. On the other hand, all three who have been newly sworn in will be entitled to all perks including personal security detail and vehicles. That it comes at a time when the Government is cash strapped and the ordinary masses are asked to cough out monies to the Government coffers.
Code of Conduct for MPs
Also in Parliament this week, Speaker Karu Jayasuriya tabled an eleven-page document (with translations in English and Tamil) — a draft Code of Conduct for parliamentarians. Other than the usual provisions to establish standards and principles of conduct, the Code contains some important provisions. Here are some:
4 Members of Parliament shall disclose sufficient information regarding their business relationships and financial interests, including information of close family members. This would increase the public trust in Members of Parliament and confidence that they will act to advance the public interest rather than private interests.
4 Members shall fulfil conscientiously the requirements of the House in respect of the registration of interests in the Register of Members' Financial Interests. Each Member shall disclose to Parliament all relevant interests that a reasonable person might think could give rise to the perception of influencing behaviour between the Member's duties and responsibilities and his/her personal interests (e.g. land and property, assets, share-holdings, gifts, foreign travel, symbolic rewards (e.g. honorary degrees), sources of income, remunerated employment, directorships, liabilities, hospitality and affiliations). This applies to items received and could also apply to items donated or given. These shall be disclosed immediately following election and continuously updated within a reasonable period specified in Parliament.
4 A Member shall not vote in a division on a question about a matter, other than public policy (i.e. government policy, not identifying any particular person individually and immediately) in which he or she has a particular direct pecuniary interest.
4 Parliament shall publish the interests disclosed. In addition Parliament should publish the purposes and amounts of expenditure of public funds by each Member as soon as practicable. Both should be published in the most accessible means available — e.g. the parliamentary website. These provisions also apply to interests held by the member's spouse or close family members.
4 Members are personally responsible and accountable for ensuring that their use of any expenses, allowances, facilities and services provided from public money is in accordance with the rules laid down on these matters. Members shall ensure that their use of public resources is always in support of their parliamentary duties. It should not confer any undue personal or financial benefit on themselves or anyone else, or confer undue advantage on a political organisation.
4 A Member shall not accept any form of inducement that could give rise to conflict of interest or influence his or her conduct as a Member, including any fee, compensation or reward in connection with the promotion of, or opposition to, any Bill, Motion, or other matter submitted, or intended to be submitted to the House, or to any Committee of the House.
4 A Member shall not engage in paid lobbying, paid parliamentary advice or paid advocacy.
4 A Member shall not use his position to seek or secure future employment, paid lobbying, consultancy work or other remuneration or benefit upon ceasing to be a Member of Parliament.
The Committee on Privileges is to be re-designated as the Committee on Privileges and Ethics. This shall be appointed on the recommendation of the Committee of Selection. This Committee may investigate a specific matter relating to a Member's adherence to the rules of conduct under the Code. Parliament will consider conclusions and recommendations in the reports from the Committee to it and may impose sanctions on the Member where it considers necessary.
Such sanctions can take four different forms (a) Censure, (b) Reprimand, (c) Suspension from the House for a specific period not exceeding the limits set by the Parliamentary Privileges Act; and (d) Any other sanction the Supreme Court may prescribe on a matter that has been referred to it by Parliament under the Parliamentary Powers and Privileges Act.
Speaker Karu Jayasuriya has told Parliament that the draft code of conduct has been compiled using the principles declared by the Commonwealth Parliamentary Association and procedures followed by other democracy based developed nations of the world.
The upcoming national New Year comes at a time when Sri Lanka faces critical issues on the political and economic fronts. The coming weeks and months will be a pointer to how much stability and improvements in these fields could be achieved. Whatever portends, prices of goods and services vital to the community, will keep mounting. At least that much remains a certainty