Examples of discrimination by Sinhalese against Tamils
Posted on October 15th, 2016
Shenali D Waduge
We stand guilty. The world claims Sinhalese discriminate Tamils. That they have no say in the affairs of the country. Their grievances are many. The allegations cover the lack of opportunity for Tamils in all spectrum and strata of society at public and private. These allegations are globally propagated and of late a UN official arrived to ascertain the rights to Tamil minority. Please pass on this to the official, a testament to the crime committed by the Sinhalese for discriminating against the Tamils.
In Colombo District Tamils account for 97,690 of the population while Sinhalese are only 79,468 and Muslims are 126,345.
Tamils claim colonization of Tamil areas which has now turned to Buddhisization of Tamil Areas. Visit Wellawatte, Dehiwela, Mt. Lavinia, Kotahena in the Western Province to see how Tamils have increased. Every road in Wellawatte is now turning single storey houses to flats and these are rented to anyone except Sinhalese.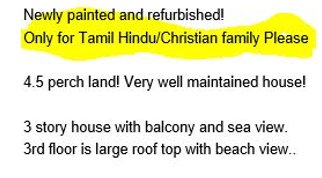 The discrimination by Sinhalese are such that the following examples will reveal very clearly the extent of discrimination that prevails.
Tamils currently holding top portfoliios
There are currently 33 Tamil MPs in Parliament
Opposition Leader – R. Sambanthan (TNA Leader)
PM's Financial Advisor – R Paskarlingam
SL Bar Association – Geoffrey Alagaratnam
Governor Central Bank – Indrajit Coomaraswamy / previous Governor Arjuna Mahendran also Tamil had to step down following allegations of insider-trading
Constitutional Council – Radhika Coomaraswamy (sister of Indrajit Coomaraswamy)
Murugesu Ganeshamoorthy Secretary, Ministry of National Integration & Reconciliation
Sri Lanka Press Institute – S. Nadesan (Chairman)
The Constitutional Reforms Committee comprises the following Tamils
S.C.C. Elankovan – Consultant to the National NGO Action Front
S Wijesandiran – Lecturer in Economics
S. Thavarajah former Leader of Opposition NPC
N Selvakkumaran – lawyer
Task Force: Secretariat for Coordinating Reconciliation Mechanisms comprises
Secretary – Pakiasothy Saravanamuttu – Head of NGO Centre for Policy Alternatives
Daya Somasundaram
Shantha Abhimanasingham PC is the President of the Jaffna Bar Association
Sitralega Maunaguru Professor from the Eastern University
Academics/Scholars
Rajini Thiranagama – murdered by LTTE, human rights activist and author of books; head of the Department of Anatomy, University of Jaffna; member of University Teachers for Human Rights
Rajan Hoole – Professor, Department of Mathematics, University of Jaffna; member of University Teachers for Human Rights
Ratnajeevan Hoole – – Professor of Electrical Engineering; appointed Vice Chancellor of the University of Jaffna but could not take up post due to threats from LTTE
Professor Suppiramaniam Vithiananthan – first vice-chancellor of the University of Jaffna in 1979.
T. Nadaraja – Chancellor of the University of Jaffna; Professor and Dean of the Faculty of Law, University of Ceylon
S. Raveendranath – Vice-Chancellor of the Eastern University of Sri Lanka
K. Sivathamby – emeritus professor of University of Jaffna; prominent Tamil scholar, sociologist and author of books
X. Thaninayagam – scholar, author and historian
T. Varagunam – Chancellor of the Eastern University of Sri Lanka
Professor Shan Ratnam – Head of the Department of Obstetrics and Gynaecology, National University Hospital of Singapore
Professor Karthigesu Indrapala – academic, historian, archaeologist, author and former dean of the Faculty of Arts, University of Jaffna.
Professor Alfred Jeyaratnam Wilson – academic, historian and author. was a constitutional advisor to President J. R. Jayewardene between 1978 and 1983. Married daughter of SJV Chelvanayagam
Professor Kandiah David Arulpragasam first vice-chancellor of Eastern University,
Professor Vasanthy Arasaratnam – current vice-chancellor of the University of Jaffna.
Prof S A Ariadurai – Vice Chancellor Open University
Activists
Radhika Coommaraswamy – human rights activist; Under-Secretary-General of the United Nations and Special Representative for Children and Armed Conflict. Now member of Constitutional Council
Richard de Zoysa – journalist, author, human rights activist and actor; was abducted and murdered
Kethesh Loganathan – Deputy Secretary General of the Peace Secretariat of the Government of Sri Lanka; assassinated by LTTE
Chelvy Thiyagarajah – feminist and International PEN award winner
Neelakandan Tiruchelvam – lawyer, academic, politician and Member of Parliament killed by LTTE suicide bomber in 1999
Politicians
Kaarthigesar Ponnambalam Ratnam – academic, politician and Member of Parliament.
William Gabriel Rockwood physician and member of the Legislative Council of Ceylon.
Late Chellappah Suntharalingam academic, politician, Member of Parliament and government minister.
Amirthalingam – former Opposition leader, Member of Parliament and Tamil separatist
Hon. M. Sivasithamparam – former Deputy Speaker of Parliament
Kanagasabai Ganeshalingam politician. Mayor of Colombo
Virasipillai Albert Alegacone lawyer, politician and Member of Parliament.
V.S. Kumar Anandan was a Guinness World Records holder Swimming the Palk Strait, from Sri Lanka to India and back [1] in 51 hours, in the year 1971. Standing on 1 leg for 33 hours!
Veerasingham Anandasangaree
Samuel James Veluppillai Chelvanayakam founder ITAK
Deniswaran contested under TNA in 2013
K. Sayanthan – TNA MP
Diplomats/Public Servants
Sri Lankabhimanya Lakshman Kadirgamar – lawyer and statesmen. He served as Minister of Foreign Affairs of Sri Lanka from 1994 to 2001 and again from April 2004 until his assassination in August 2005 by LTTE.
Yogendra Duraiswamy, SLOS – first batch of Ceylon Overseas Service, 1949
Tamara Kunanayakam – Sri Lankan Ambassador to Cuba (2008-2009); Permanent Representative of Sri Lanka to the United Nations Office at Geneva
Arambamoorthy Thedchana Moorthy – a former High Commissioner to the United Kingdom.
Nadarajah Balasubramaniam – diplomat and civil servant. ambassador to France, high commissioner to Singapore and deputy permanent representative to the United Nations (UN). Chairman of the UN's Indian Ocean Peace Zone (IOPZ) committee. He was also senior director general of the Foreign Office
Chellappah Coomaraswamy – civil servant, diplomat and member of the Senate of Ceylon. appointed to the civil service in 1910. was Police Magistrate in Puttalam in 1913, District Judge and Registrar General. served as the Ceylonese High Commissioner in New Delhi between 1950 and 1955
Sir Velupillai Coomaraswamy, CMG, CCS – Ceylonese civil servant and diplomat. He was Government Agent for the Western Province from January 1946 to December 1947 and again from February 1948 to October 1949. He was knighted in the 1952 New Year Honours
Sir Arunachalam Mahadeva (son was Deshamanya Baku Mahadeva and son-in-law was Professor T. Nadaraja.) – prominent colonial era legislator and diplomat. He was Minister of Home Affaires[1] of the State Council and Ceylon's High Commissioner to India
Rajendra Coomaraswamy, CCS – former Regional Director for Asia and the Pacific of the UNDP and President of the Colombo Plan Council
Alfred Thangarajah Duraiappah – Jaffna Mayor first victim of LTTE
Coomarasamy Balasingham civil servant
Deshamanya Shivakumaran Pasupati is a leading Sri Lankan Tamil lawyer, President's Counsel, Solicitor General and Attorney General.
Samuel Ariaretnam Sabapathy – lawyer and the first Mayor of Jaffna.
Lieutenant colonel Sabdharatnajyoti "Thambirajah" Saravanamuttu – lawyer, politician, military officer, cricketer and sports administrator.
Military/Police
Major General Dr. Chelliah Thurairaja, USP, SLMC – former Director Army Medical Services and Colonel Commandant of the Sri Lanka Army Medical Corps
Rear Admiral Rajanathan "Rajan" Kadirgamar – second Ceylonese Captain of the Royal Ceylon Navy from 1960 to 1970 (brother of Lakshman Kadiragamar)
Selvanathan Kadirgamar – (brother of both Lakshman and Rajan) a Major in the Ceylon Army
Major General Anton M. Muttukumaru, OBE, ED, ADC, CLI first Ceylonese Army officer to serve as Commander of the Ceylon Army. He also served as Ceylon's High Commissioner to Australia, New Zealand, Pakistan and Ambassador to Egypt
Air Vice Marshal Ravi Arunthavanathan – Deputy Chief of Staff of the Sri Lanka Air Force and current Additional Secretary, Ministry of Defence
Major General Y. Balaretnarajah Chief of Staff of the Sri Lanka Army; Commandant of the Sri Lanka Army Volunteer Force; GOC, 1 Division
Major General E. George Thevanayagam Commandant of the Sri Lanka Army Volunteer Force, Chief of Staff of the Sri Lanka Army and later first Director of the National Cadet Corps
Viswanather Casipillai was a Crown Proctor and co-founder of the Jaffna Hindu College.
Rudra Srichandra Rajasingham – Inspector General of Police and Sri Lankan Ambassador to Indonesia.
Thangarajah Edward Anandaraja is a former Sri Lankan Inspector-General of Police and Commissioner, Human Rights Commission of Sri Lanka.
Sportsmen
Tambyah Murugaser – former Vice President of the Board of Control for Cricket; Sri Lanka team manager
Mano Ponniah – former Ceylon cricketer and member of the Cambridge eleven
Ignatius Anandappa – late Sri Lankan international cricket umpire
Russel Arnold – former Sri Lankan Test cricketer and international commentator
Kandiah Thirugnansampandapillai Francis – international Test/ODI umpire
S. Illangaratnam – late Sri Lankan cricketer,
Pradeep Jayaprakashdaran – cricketer
Sridharan Jeganathan – cricketer
Vinothen John – cricketer
Selliah Ponnadurai – late international cricket umpire
Mario Villavarayan –   cricketer
Mahadevan Sathasivam – cricket batsman
Nagalingam Ethirveerasingam – high jumper
Muttiah Muralitharan – former Sri Lankan off-spinner
Angelo Mathews – current captain of the Sri Lankan cricket team
Actors/Directors/Engineers/Accountants
Chandran Rutnam – film producer / director
Balu Mahendra – film producer
Robin Tampoe
Lenin M. Sivam
Velupillai Sivayogan engineer contested under TNA in 2013
Nadarajah Shanmugarajah was a Ceylon Tamil engineer and general manager of the Ceylon Electricity Board
Chelliah Loganathan Tamil banker and the first Ceylonese general manager of the Bank of Ceylon.
Journalists/broadcasters
(some names of Tamil journalists have been omitted in view of allegations of links to LTTE and separatist ideology)
S. P. Mylvaganam – first Tamil announcer of the Commercial Service of Radio Ceylon
K. S. Raja – Radio Ceylon announcer
Claude Selveratnam – Radio Ceylon announcer
Kailayar Sellanainar Sivakumaran – broadcaster and Journalist in English and Tamil
Aiyathurai Varnakulasingham Kulasingham lawyer, politician, journalist and editor of the Ceylon Daily News and Hindu Organ.
Taraki Sivaram – journalist, military analyst editor of TamilNet news website, author of books
Late Kalasuri Ratnadurai Sivagurunathan journalist, lawyer, academic and editor of Thinakaran.
Kanagasabapathy Kailasapathy journalist and academic. First president of the Jaffna Campus of the University of Sri Lanka.
DBS Jeyraj – writer, had his legs broken by LTTE
Claude Selveratnam was a popular radio announcer of Radio Ceylon
Lawyers/Judges
Aiyathurai Gnanathasan lawyer, President's Counsel and Additional Solicitor General.
Deshamanya Justice Pathmanathan Ramanathan (1 September 1932 – 7 December 2006) lawyer and judge. a High Court judge, Court of Appeal judge, provincial governor, university chancellor and a judge of the Supreme Court of Sri Lanka
Deshamanya Suppiah Sharvananda (also spelt Suppiah Sarvananda) was the 37th Chief Justice of Sri Lanka and the first Governor of the Western Province.
H. D. Thambiah – Justice of the Court of Appeal, Justice of the Supreme Court, and Chief Justice of Sri Lanka
H. W. Thambiah – Justice of the Supreme Court
Hon. Justice V. Manicavasagar – Justice of the Supreme Court of Sri Lanka, Chancellor of the University of Jaffna and Chairman of the Commercial Bank of Ceylon
Justice Herbert Dharmarajah Thambiah – lawyer and judge. 39th Chief Justice of SL
Justice Tellipalai Wanarajah Rajaratnam (21 December 1920 – 15 January 1994 lawyer, judge and politician. Commissioner of Assize, Supreme Court judge and Member of Parliament.
Justice Vincent Thambinayagam Thamotheram – lawyer, judge and writer, crown counsel, Commissioner of Assize and Supreme Court judge
K. Sripavan – 44th Chief justice, Democratic Socialist Republic of Sri Lanka
Kanaganayagam Kanag-Isvaran lawyer and President's Counsel
Kandapper Chinniah Kamalasabayson – , Solicitor General of Sri Lanka and Attorney General of Sri Lanka.
Robert Rajanayagam Selvadurai lawyer and civil servant.
S. Selliah – Justice of the Court of Appeal, Judge of the High Court, Magistrate
Samuel J.C.Kadirgamar Sr, JP, UM a Proctor (father of Lakshman Kadiragamar), President of the Colombo Proctor's Association and the founder President of the Law Society of Ceylon
V. Casipillai – Crown Proctor, President of the Jaffna Hindu Board, co-founder of Jaffna Hindu College, founder of Parvathy Maha Vidyalayam and other educational institutions
Justice Sundaram Sriskandarajah – lawyer and judge.
Justice Canagasabapathy Visuvalingam Vigneswaran – lawyer, judge and politician. a judge of the District Court, High Court, Court of Appeal and Supreme Court. Current Chief Minister of Northern Province.
Business People
Conglomerates – Tamils holding key positions at Capital Maharaja
Rudrani Balasubramaniam
Pradeep Maharaja
Sashi Rajamahendran
Mohan Bharara
Chinnaiyah Kananathan
Kirubha Kumarakulasingham
Shanthi Bhagirathan
Cargills Ceylon – key Tamils
Louis R. Page – Chairman
Valentine Ranjitkumar Page – CEO
Sri Lankan Tamil billionaires
Ms.I.R.Rajaiyah – (Renuka Holdings)
Mr.Ken Balendra- (Brandix)
Mr.J.M.S.Brito – (Balangoda Plantations)
Mr.G.Sathasivam – (Wattawala Plantations , Zesta Tea)
Mr.Romesh – (Euro Nippon Group)
Note: Out of the top 20 Sri Lankan Billionaires of the Stock Market 8 are Tamil.
Tamil Businessmen/women in Sri Lanka
Ken Balendra – Sri Lankan corporate leader and executive; holds and has held many corporate positions in Sri Lanka and the region
Ratna Sivaratnam – retired Chairman/CEO/Managing Director of Aitken Spence, a leading blue chip conglomerate in Sri Lanka
Harry Selvanathan – Deputy Chairman, Carsons Cumberbatch PLC
Ranjit Page – Chairman Cargills Ceylon
R Theagarajah – MD Hatton National Bank
Sohli Captain – Chairman Paints & General Industries
R Renganathan – MD/CEO Ceylinco Insurance
Ganesan Ampalavanar – MD Nestle Lanka
I R Rajiyah – Chairperson Renuka Holdings
Cecilia Muttukumaru – Chairperson C T Smith Stockbrokers
Nimmi Thambiyah – Deputy Chairman Renuka City Hotels
R N Ponnambalam – MD/CEO Macbertan
Sithie Tiruchelvam – John Keells Holdings
Anushya Coomaraswamy – Janashakthi Insurance
Anthony Page – C T Holdings
Louise Page – Cargills Ceylon
I Paulraj – Chairman Ceylon Guardian Investment Trust
Alagarajah Rajaratnam – Chairman Colombo Fort Lanka & Building Group
Vijay Shah – Chairman Piramal Glass Ceylon
Raymond Bickson – Chairman Taj Lanka Hotels
Shanthi Bhagirathan (CEO)MBC Networks (part of Capital Maharaja)
Tirukumar Nadesan – Chairman Hotel Developers (Lanka)
S R Rajiyah – Chairman Renuka Agri Foods
R B Thambiayah – Chairman Renuka City Hotel
R Nadarajah – Chairman Seylan Developments
R Selvaskandan – Chairman C T Land Development
Noel Selvanayagam – President Senok Group
A S G Gnanam – Chairman/MD St. Anthonys Industries
V Balasubramaniam – Chairman N Vaitilingam & Co
D Easswaran – Chairman Eswaran Brothers
Ken Nirmalan – Chairman Aqua Packaging Group
Kumar Nadesan – Chairman Express Newspapers Ceylon
Dr S Selliah – Deputy Chairman – Asiri Hospitals
Joseph Page – Deputy Chairman, CT Lanka Development
S R Gnanam – Jt Managing Director – Tokyo Cement PLC
V Govindasamy – Group MD Sunshine Holdings
J A G Anandarajah – MD Kelani Valley Plantations PLC
K R Ravindran – MD Printcare PLC
E J Gnanam – MD Rhino Roofing Products
K Mathivanan – MD East West Marketing
A P Jayarajah – CEO Wellawatte Nithyakalyani Jewellers
Vikas Anand – CEO Bata Sri Lanka
N Sivakumaran – MD Industrial Stainless Steel Fabrication
Christopher Joshua – JT MD Access Group
J M Swaminathan – Senior Partner Julius & Creasy
Kandiah Neelakandan – Neelakandan & Neelakandan
Krishan Balendra (Son of Ken Balendra) – Chairman of the Colombo Stock Exchange & Nations Trust Bank
Jeevan Gnanam – CEO Orion City
Thirukumar Nadarasa – CEO Hutch Sri Lanka
Prageeth Balasubramaniam – MD Blue Ocean Ventures
Indrajit Coomaraswamy – Director John Keells Holdings (now Governor of Central Bank)
Jegan Durairatnam – Director Commercial Bank of Ceylon
Ranjan Seevaratnam – Diretor Aitken Spence PLC
R N Asirwatham – Director Aitken Spence PLC
Rusi Captain – Director Hatton National Bank
Suresh Rajendra – Director Asian Hotels & Properties
R E V Casie Chetty – Director Aitken Spence Hotels
Krishna Selvanathan – Director Lion Brewery
Nikhil Hirdaramani – Director Hirdaramani Group
Suren Mirchandani – Director Favorite Group
Ramesh Schaffter – Director Janashakthi Insurance
Thirukumar Nadarasa (CEO) – Hutch
The above list of Tamils is inconclusive as it covers only an iota of Tamils that have held portfolios in both government/public sector and private sector. For lack of space the list has been shortened and also does not cover the appointments made by the British during colonial rule.
Please tell us what have the Sinhalese done wrong?
Shenali D Waduge