Don't underestimate Ven Athureliye Rathana Thero
Posted on January 27th, 2017
BY MALINDA SENEVIRATNE
Ven Athureliye 

Rathana

 Thero, quite silent and almost a non-factor in the public domain for almost a year, made the headlines of all national newspapers last week.  '

Rathana

 Thero goes independent,' or versions of this, made the headlines.  The truth is that 

Rathana

 Haamuduruwo had already been made independent.  He had been unceremoniously evicted from the Jathika Hela Urumaya.  Although a national list MP of the United National Party(UNP), it is no secret that he does not identify with that party.  Although close to President Maithripala Sirisena, he has no truck with the Sri Lanka Freedom Party.  The JVP doesn't consider him a friend.
It was almost as though the obvious was being stated.  

Rathana

 Haamuduruwo has since stated that he will support the government.  The JHU has called for his ouster from Parliament.  What happens next, no one knows.  Some insights into the haamuduruwo's character, going by his history, might help infuse some reason into conjecture.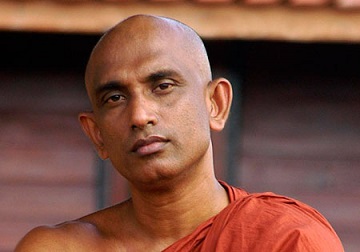 One Wednesday afternoon in early April 2001, while making my way from Town Hall to Jayasekeraramaya (Kuppiyawatte Pansala), I came across a small crowd of people staring in shock and horror at the Punchi Borella bo tree.  Mangala Samaraweera, then a minister of the People's Alliance government headed by Chandrika Kumaratunga had ordered the half-wall surrounding the tree to be demolished.  There was debris all over the place.  The intent, according to reports, was to remove the bo tree, supposedly to alleviate traffic congestion.  No warning.  No explanation.  Just a bulldozing with scarcely a concern for hurting the sentiments of Buddhists. Strange for a man and a colleague of others who then and now preach 'reconciliation' and demand 'sensitivity' from Sinhalese and Buddhists.
I proceeded to the temple where Ven Athureliye 

Rathana

 Thero (then of the Sihala Urumaya) was to explain the Satipattana Sutta to a few of us as he had every Wednesday morning for several weeks.  I reported what I saw and that signaled the end of the 'class' for that day.  

Rathana

 Thero took off.  Anuruddha Pradeep Karnasuriya, now a senior lecturer in Political Science at Jayawardenapura University and a spokesperson for the Jathika Hela Urumaya told me (in Sinhala), 'the haamuduruwo will be standing on a barrel and making a speech in a few minutes'.  
There was no barrel, but he did climb on to a block of concrete displaced by Mangala's machines and addressed the crowd which grew and grew to make within a few hours turned a full blown demonstration.  Among those who came to check things out were UNP members, Dinesh Gunawardena and Mahinda Rajapaksa, all of whom were duly booed by the protestors for dishonesty, cowardice and even complicity in the anti-Buddhist operations of that regime.  
I relate this incident because I believe it gives an insight into the political thinking and practice of '

Rathana

 Hamuduruwo'.  
I first saw him in December 1986 when he addressed students of Dumbara Campus, University of Peradeniya at the Weerasooriya Commemoration (Weerasooriya being a student who was shot dead at Peradeniya during a protest 20 years previously when Sirimavo Bandaranaike was Prime Minister).  He was articulate.  Compelling.  Quite the orator.  Quite a character.
Two years later he headed a panel set up by the Action Committee of the university to inquire into various allegations leveled against a group of students who opposed the JVP dominated student movement.  At the time he was one of the key leaders of the Inter University Student Federation (IUSF) and appeared to be a JVP loyalist.  He was fair and did his utmost to settle the issues without the matter snowballing into a mini war.  
Then came the bheeshanaya.  
I saw him again in July 1990 when I visited Peradeniya while on vacation.  I saw him walking into the enclosure reserved for the clergy in the WUS canteen.  I was surprised and even happy that he was still alive.  So I spoke with him.  And that was the beginning of my long friendship with 

Rathana

Hamuduruwo, a friendship marked by agreement and disagreement, much affection and many a light moment.  He took criticism.  He could take a joke.  
Less than two years later we shared a cell at the Wadduwa police station.  The OIC of that police station, Karunatilleka, was a man with a reputation for brutality.  I heard sounds of people getting assaulted.  There was screams.  I asked the hamuduruwo if we would be beaten up.  He said 'hmmm'.  I asked if we would be killed.  He said 'probably not,' adding, 'are you scared?'  I was, but lied.  He knew.  He said, 'don't be scared; after a few blows your body will go numb and you won't feel anything.'  He was correct.  After I had been dragged out and 'treated', it was his turn.  

Rathana

 Haamuduruwo began chanting the Karaneeyametta Sutta.  The OIC blurted out, 'karaneeyametta thoge ammage h…..,' caught hold of the hamuduruwo's head and banged it several times against the wall of the cell.
Back then he was the chief incumbent of a temple in Palliyamulla, Matara.  Rights to the temple he relinquished and moved to Colombo in the late nineties.  He went from temple to temple like a vagrant.  Kind and accommodating chief incumbents suffered the 'strange' comings and goings and one by one, inevitably, asked him to move on.  Those who talk about his 'maaligaava' (palance) on Gothami Road, Sadaham Sevana," clearly haven't seen his room or observed the life he leads.
So he has a history.  It all began with the fact that the great left leader, Dr. S.A. Wickramasinghe was from his village, Athureliya.  His beginnings, therefore, were heavily influenced by the Marxism of the then 'old' left.  Ranjithan Gunaratnam, the older brother of the current leader of the Frontline Socialist Party, Kumar Gunaratnam, then the convenor of the IUSF, had spent many hours discussing politics with 

Rathana

 Haamuduruwo at Peradeniya.  
'He must have talked to me for more than 100 hours over many nights; we discussed late into the night and he would sleep on the floor,' is how he described that association.  'Ranjithan was a wonderful human being,' he added, implying that his humanity had a larger part to play in the political choices that he, 

Rathana

 Haamuduruwo, made as a student.  
When the student movement went 'military' he quit and as was the way at the time because a prime target.   He survived both the JVP and the vigilante groups of the then UNP government.  He survived — hence my surprise at seeing him in the WUS.  He was a prime mover in the formation and activities of several political groups: Ratawesi Peramuna, Janatha Mithuro, National Movement Against Terrorism, Sihala Urumaya and Jathika Hela Urumaya (JHU).
On the 14th of February, 2005, I went to see him at the Vihara Maha Devi Park where he was to address young people attending an event that offered an alternative to the crass and commercialized thing called 'Valentine's Day'.  Ama Wessa was the name of that programme, interestingly organized by Rev Galabodaaththe Gnanasara Thero of the Jathika Sanga Sammelanaya.  
I asked him what was happening, referring to rumours that the Buddhist clergy was planning to contest the upcoming Parliamentary Elections.  He smiled and said 'What's happening?  Athureliye 

Rathana

 is going to the Parliament — that's what is happening.'  We were and are friends, so the arrogance was in part due to friendship.  And due to friendship I said 'before this election is over, you will consider me one of your key political foes'.  
The JHU never had the numbers that the JVP had.  It never had a party machinery that could hold a candle to that of the JVP.  And yet, the JHU made maximum use of meagre resources, 

Rathana

 Hamuduruwo being one of the key individuals who could at any given moment alter equations and change the political direction of the entire country.  If the JHU and 

Rathana

 Hamuduruwo had the parliamentary strength that the JVP enjoyed from 2005 to 2010, it is reasonable to state that they would have done much more than the JVP did, for better or worse as the case may be.
But we saw how the march on Mavil Aru changed perceptions and policy.  We saw how that 'first move' turned out to be a 'necessity' in altering the policy of appeasement, mollycoddling and going through the tired and unproductive motions of 'peace' such as ceasefire agreements and negotiations.  
We saw how 

Rathana

 Haamuduruwo, accidentally invited to a donor conference in Kandy, took the microphone uninvited, said a few words, distributed a leaflet and thereby stymied efforts to channel aid directly to the LTTE in the post-tsunami context.  
We saw how he single-handedly pushed the JHU out of the coalition led by Mahinda Rajapaksa in late 2014 and how this move expand the space for the consideration of an alternative like the Maithripala Sirisena candidacy.  
We also saw how the signature project 'Mathata Thitha' lacked the support to bear any real fruit but we see that his vasa visa nathi ratak project to rid agriculture of chemical inputs is slowly but surely gaining ground. 
Ven Athureliya 

Rathana

 Thero has been deservedly accused of lacking in organizational discipline.  He is outcome-focused and sometimes he sets multiple destinations for himself and therefore leaves followers stranded high and dry.  Whether or not we like his preferred outcomes, whether we endorse what appears to be an ad hoc manner of engagement, it has to be acknowledged that without human resources to write home about, without an organizational machinery that is robust or even in barely working order, and despite a multitude of political detractors he's 'gathered' over the years over and above those ready and able to vilify him at every turn, this bikkhu has nevertheless surprised one and all at key political moments. 
So what do we make of this Unilateral Declaration of Independence (UDI)?  A longtime friend and political associate who has known Ven 

Rathana

 Thero as long as I have, when it was put to him that the Thero had been made independent anyway, had this to say: 'Stating the obvious, yes; but what it means is that a ball has been bowled to create doubt in the mind of the batsman'.  
What the response indicates is that there's a new turn of events that the general public is anticipating.  Others, after all, have 'left' or declared 'independence' from the yahapaalana political establishment, but no one generated anything close to the kind of media curiosity that Ven 

Rathana

 Thero's statement precipitated.  There's a demand for a rallying point, one might say, an anticipation of a first stone that needs to be cast.  Whether or not we will see Ven 

Rathana

 Thero doing another 'unexpected' we cannot predict.  Neither can we predict the kind of configuration that might result if there is such an eventuality.  The possibility lurks, though.  That's quintessential '

Rathana 

Haamuduruwo'.