President calls on politicians, state officials to be honest and committed
Posted on February 5th, 2017
Dr Sarath Obeysekera
– See more at: http://www.adaderana
Good old days statements made by leaders are taken very seriously .When I read above news in the media ,I was wondering whether His Excellency President knows the state of affairs in the country. All of us know that 99% of the politicians are corrupt .Politics is a dirty business and people go to politics to earn money.
Recently HE made a statement that procurement officers in the country are highly corrupt .
Quote from Indian Express
Half Sri Lanka's public procurement contracts are corrupt: President Maithripala Sirisena
"We say call tenders to prevent corruption, but in reality we know that the tender procedures are also corrupt," said President Maithripala Sirisena
Unquote
About the state officials I would not say that 99% is  corrupt .But having experience in dealing with many state officials in official matters, I found that most of them want something in return .The word committed may be construes as committed to make some fast buck but not to the well being of the people and the country.
Graph below shows how bad we are .Even under Yahaplanaya we are doing not doing well
Is it ?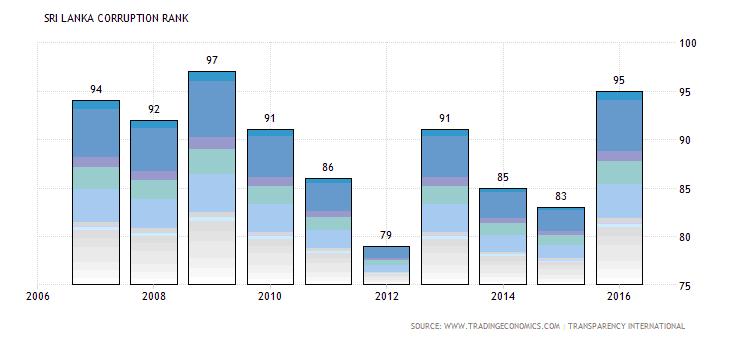 THE The president should do something and strengthen the anti-corruption drive by way of  appointing a Attorney General with a string team to bring culprits into books .