JOB OPPORTUNITY- VACANCY FOR A LEADER IN SRI LANKA
Posted on June 17th, 2017
By M D P DISSANAYAKE
What has happened to Sri Lanka in many ways can be drawn as a parallel to what did happen in Indonesia.  Prez Soeharto developed the nation, cost of living was affordable, religious extremism well managed, retained East Timor in spite of Western push.
What was lacking. Though he did lot of good work, in later years, he became a problem than a problem solver.  Famous "KKN" korupsi, kolusi, nepotisme destroyed his government. He restricted political parties to 3, Golkar (his own party), Partai Pembangunan Persatuan (United Development Party) and PDI (partai Democrasi Indonesia).
After toppling Soeharto, a well respected Muslim Gus Dur, a Blind Old Man, was appointed Prez.  He was portrayed like a saviour of the Nation and a saviour of Democracy by the Western World and by well   educated Indonesians such as Dr Amein Rais.  This strategy was  very similar to portraying Maithreepala  as a saviour of Democracy and a compassionate Leader, far superior than Prez Mahinda Rajapakse.
It took couple of decades for Prez Soeharto to become corrupt, but it took around 18 months for Gus Dur to become most corrupt and inefficient leader. Unemployment became the worse enemy of the nation, cost of living sky rocketed, labour unrest almost daily, increase in number of political parties from  3 to 16, increase in number of newspapers from 2 to almost 12, massive decrease in Foreign Direct Investment.   Americans were only interested in toppling Prez Soeharto, but did not help the economy afterwards, just like in Sri Lanka.
Just like Maithreepala Sirisena was seen eating his lunch on a Banana Leaf, Gus Dur was seen wearing pyjamas and lousy shorts in bright day light, facing media. Gus Dur wanted to be the leader of Common Man, just like Maithreepala.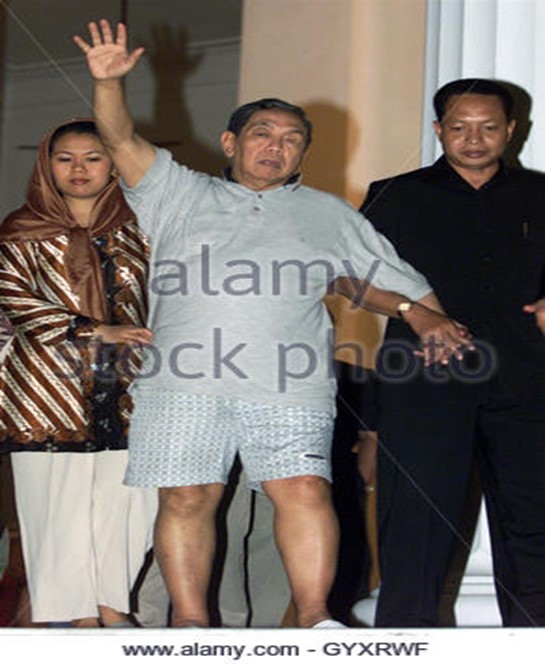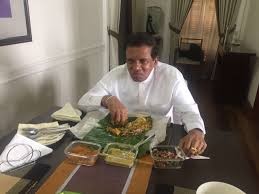 His love affair with a young woman came to the spotlight.  Created confusion at the Presidential Palace issuing conflicting  policy statements, just like what is happening in Sri Lanka now.
Gus Dur was an ardent supporter of Megawati Soekarnoputri, the two political parties PKB and PDI-P worked together.  But Gur Dur back stabbed Megawati, just like Maithreepala to Mahinda, to become President by joining with Golkar and PPP.  Once again this is parallel to Maithreepala joining with the UNP, just to become the Prez.
The very same Dr Amein Rais team impeached Gus Dur.  Gus Dur refused to leave the Palace for couple of weeks.  He became a JOKER, just like Maithreepala.  Dr Amien Rais destroyed his own political fortunes in the process,  just like some of the Professors in Sri Lanka.
Today once again the Political Machine of Prez Soeharto, the Golkar Party is quite popular amongst Indonesians.
In Asia we had few great leaders.  Lee Kuan Yew, Dr Mahatir, Prez Mahinda Rajapakse.  Though some may dislike Prez Soeharto, he transformed Indonesia with an iron hand.
Without a leader like Prez Soeharto, the vast archipelago with 18307 islands would disintegrated many years ago, if Prez Soeharto was not power, just like Sri Lanka would have  disintegrated if Prez Mahinda Rajapakse was not in power.
Quote:
 The only definition of a leader is someone who has followers." …Prof.  Peter Drucker